Trevor Seamon made a devastating passport mistake, and it ruined his family's dream vacation. In all the preparation for the journey to Italy, he neglected to check the validity of their passports. That error led the Seamons to arrive at the airport with passports expiring within 90 days — invalid for travel. Denied boarding, they missed their eagerly anticipated trip and ended up right back home at the end of the day.
Seamon believes Air France is responsible for this passport mistake, and he wants our team to negotiate a refund. But is the airline responsible for the family's ruined vacation?
If you are a regular reader of this site, then you know the simple answer. No. It's always the passenger's responsibility to check his/her passport's validity for their intended destination.
But hold on a second. Although the lesson is the same, there is a twist at the end of this cautionary tale.
Making a devastating passport mistake while planning this trip
Almost one year ago, Seamon began planning the family's holiday adventure to Rome (via Paris).
"I bought four airline tickets last January through Expedia on Air France," Seamon recalled. "We were so excited! It was to be my kids' first trip out of the country."
Seamon says he checked all their passports and noted that they would not expire until after their trip. Assuming the expiration date on the passports confirmed that they were valid for travel to Europe, he tucked them away. And the family excitedly began to make their hotel arrangements and other plans.
Seamon didn't know it, but he had just made the most common (and devastating) passport mistake our team encounters. Every week, without fail, our advocacy team receives pleas for help from travelers who assumed, just as Seamon did, that the expiration date is the final word on the validity of the passport.
Not so.
Fact: The expiration date on your passport is only one measure of its validity for travel to wherever you're going. But Seamon was not aware of this detail.
So the family spent the next 11 months happily looking forward to a vacation that would never happen. And their passports gathered dust in a drawer; inching closer and closer to the date they would become useless for this trip.
Air France: "You're denied boarding. Your passports are not valid for travel to France."
Seamon says on the day their vacation was to begin, they arrived early to the airport. The family stepped up to the check-in counter for their flight to Paris and handed over their passports. They waited patiently for their boarding passes and chatted about all the "firsts" they were about to experience: first time out of the country; first time on an international flight, etc.
But suddenly, the family was jolted into a different reality.
This first was not one they had even considered: the first time being denied boarding a flight that was to take them on their dream vacation.
Instead of boarding passes, the Air France agent handed back their passports. She explained that children's passports were not valid for entry to France or Italy. The family was not going to Europe that night.
"I never heard of this passport rule!"
Taking a second to digest the information, Seamon asked the agent what he could do. He hoped there was some way to save the trip that they had anticipated for so long. It seemed incomprehensible that their vacation could be ruined so suddenly in this way.
I had never heard of this passport rule. The agent said that our passports must not expire for many months after our trip dates. My kids' passports were good through February 2020, but that wasn't far enough out. I was devastated, to say the least.
The agent recommended that the family visit a passport office and apply for emergency passports. There was nothing further that she could do.
In shock, the family walked away from the counter and back to their car. Seamon was stunned at the turn of events.
"It was a nightmare, and telling my kids we were canceling the trip was heart-wrenching," Seamon recalled. "Worst Thanksgiving ever."
The 90 days of validity passport rule that ruined this dream vacation
France and Italy are part of a group of 27 countries in Europe called the Schengen Area. Once granted entry to one of those countries, the traveler can move about freely throughout the area. There are no further border checks once inside the bloc.
U.S. citizens do not need a special visa to enter the Schengen Area. However, they must satisfy two entry requirements:
The traveler must have proof that they intend to leave the entire Schengen Area within 90 days. This proof typically comes in the form of the return portion of a round-trip ticket. An onward ticket to a destination outside the area can also satisfy this requirement.
The validity of the passenger's passport must extend 90 days beyond the date of onward travel from the Schengen Area.
If the traveler isn't able to meet both conditions, he/she won't be granted entry to the Schengen Area.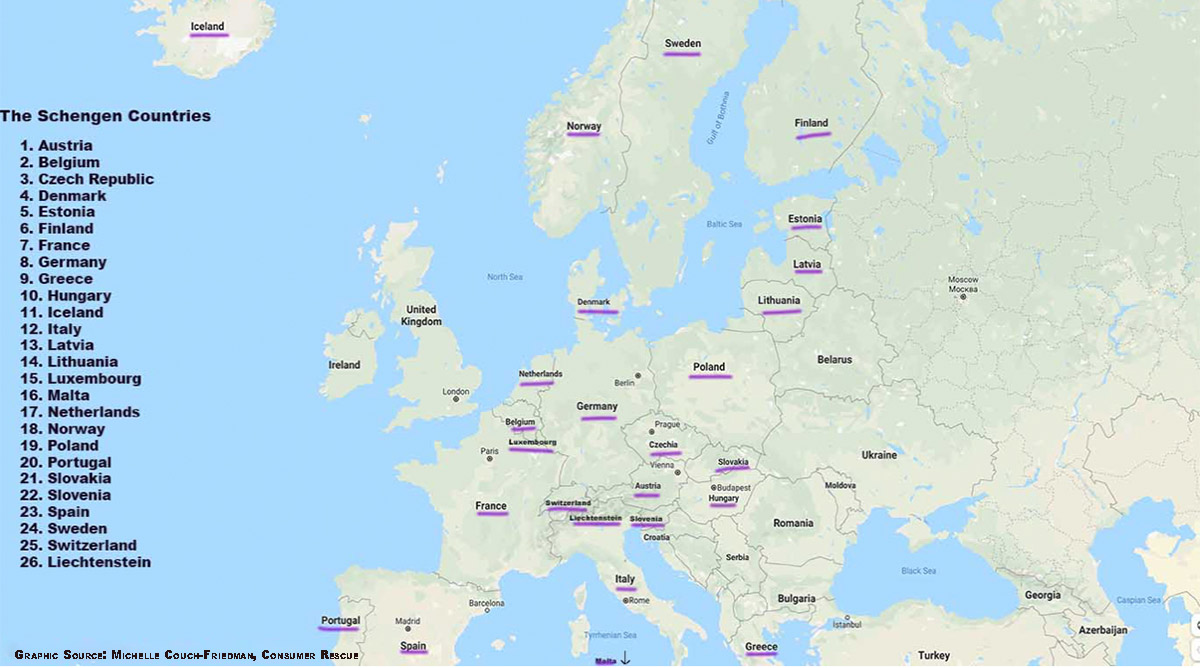 Bad things happen when you land in a foreign country without the required entry documents
Unfortunately for the Seamons, both of his children's passports expired just shy of the 90-day requirement. This problem made both ineligible for entry to the Schengen Area.
Fortunately, the Air France agent caught the problem. This catch prevented the family from landing in France without the required 90 days of passport validity. As in past cases that I've reported about, arriving at foreign destinations without the required entry documents can end in shockingly awful ways.
After the family showed up at the airport with the invalid passports, the best possible outcome was being denied boarding.
But Seamon didn't know that either — yet. He was still under the impression that Air France was responsible for their ruined vacation.
New passports, but you're still going to miss your vacation
After Seamon and his family left the airport, they made an appointment at a regional U.S. passport agency for Urgent Travel passports. A few days later, the children had their new passports. Seamon called Air France in hopes that they could salvage part of their scheduled trip.
Now, Seamon says, a new barrier to their dream vacation appeared, and this one proved insurmountable.
We called Air France immediately after leaving the passport offices to reschedule our flights. Air France said since we bought through Expedia, we would need to go through them. We called Expedia. Expedia initially said they would change for a fee and price differential (the new ticket vs. the old ticket). But after hours on hold, Expedia said they could no longer access our reservation since the first leg of the flight was [considered] flown at that point.

Air France refused to do anything since it was a nonrefundable ticket. I spent hours and hours on the phone with Expedia and multiple supervisors. Finally, Expedia's corporate office told me that we must forfeit our entire ticket.
Fact: The passenger always pays a high cost for this passport mistake
Suddenly, Seamon was aware of the high cost of this passport mistake. And he was beginning to realize that no one intended to take responsibility for the error.
When a passenger is denied boarding because they lack the necessary documents for travel, airlines can handle the situation in one of two ways. But both options are quite expensive for the traveler. The airline can:
Mark the traveler as a no-show:
Some airlines are sticklers for the rules. If a passenger shows up without the required documentation for travel, the airline may mark him/her as a no show. When a passenger is marked as a no show, the ticket is forfeited, and the airline provides no credit or refund.
Force the passenger to pay change fees and the fare differential:
In other cases, the airline may grant a credit for the traveler minus change fees. These fees can be quite high for international tickets. When the passenger is prepared to travel, he/she will be permitted to apply the credit to the new flight. That new last-minute ticket will likely be much more expensive than the original one.
In this case, Air France decided to mark the family as no-shows, and no credit remained.
Seamon had reached the end of his options. But then, an online search for an answer to his dilemma led him to our advocacy team.
It's always the passenger's responsibility to have the required documentation for travel
When Seamon's request for help hit my computer screen, it was just before Christmas. I sat down and read through his plea for help. Unfortunately, I knew immediately that neither Air France nor Expedia owed the family a refund. Of course, I felt terrible for the family, especially for the kids. Arriving at the airport ready for such an exciting journey and then to be sent home, I'm sure was crushing.
Seamon was still holding out some hope that Air France was the genesis of this passport mistake. He believed that the airline made an error by not informing his family ahead of time of the passport rule.
This mistaken belief is commonly held among many of the troubled travelers who contact us. The truth is that it's always the individual's responsibility to know what they need for travel to their intended destination. The airlines, the cruise lines, online booking agencies, all make this rule clear in their terms and conditions.
The personal responsibility to be ready for travel with all required documents never shifts from the passenger to the travel provider.
Don't forget to read the information in your confirmation
However, to avoid their customers ending up with ruined vacations, many travel providers now include a variety of warnings about passport rules and other entry requirements in their confirmations.
Of course, passengers must read those confirmations from the airline, and we know that often doesn't happen. In fact, Expedia had placed a warning at the top of Seamon's confirmation to make sure to check entry requirements.
I explained all of this to Seamon, but I still thought that the family might have some flight credit available. It's my experience that airlines have a bit of flexibility about how to handle this type of situation. So I thought it was worth a shot to reach out to our executive contact at Expedia. I hoped we could mediate a flight credit for the family — minus the change fees.
Seamon was gracious and told me he now understood the passport mistake was his. And he hoped, minimally, we could tell his story so that other travelers might avoid his family's fate.
Is there a way to save this ruined vacation with a future flight credit?
Because Seamon had booked the original tickets nearly a year ago, I knew we were up against a deadline. If granted, airline credit almost always expires one year from the date the traveler purchased the original ticket. So with that in mind, I contacted Expedia on behalf of the Seamons.
I have one more case here that I hope your team could take a look at. This one is time-sensitive since I believe if the family has a travel credit, it will likely expire in January.

Unfortunately, Trevor Seamon didn't check the entry requirements to the Schengen Area before they showed up for their flight. Air France denied the family boarding since their children's passports didn't have the required 90 days validity. Could your team find out if they have any flight credit and if there is any possibility of extending it a little longer? Thank you!😊

Michelle to the Expedia executive resolution team
Surprise! Here's your Christmas present from Expedia — a refund
And less than one week later, on Christmas Eve, Expedia sent this unexpected news for the Seamons.
Hi Michelle,

I wanted to share an update on this case. I can confirm we've refunded the customer for the full amount and sent an email letting them know.

The background here is that we were unable to get a refund from Air France. But our team did put in the request on the customer's behalf. You're right that it's the customer's responsibility to make sure they have all the correct, valid documents they need to travel. But we also know that sometimes things don't go as planned. That's why we decided to help in this instance. I can't imagine the disappointment that day when they had to go home. And after having looked forward to their trip for so long.

While we can't provide a refund every time something like this happens, we want to do even better to inform our customers so they can avoid things like this. Our customer service portal includes tips about valid documents (including that some countries require your passport be valid up to 3-6 months post-trip). Our product team is actively looking into ways we can stress the need to double-check documents during the booking process, such as through our live chatbots. Also, we're working through ways we can get faster responses from the airlines during situations like this so our customers aren't waiting for days or weeks for a response on their refund.

Expedia executive resolution team to Michelle
To say that Seamon was thrilled with this unexpected refund from Expedia is an understatement. He immediately booked the family a new vacation to make up for the ruined one. And this time he's sure to check all entry requirements before the family makes their way to the airport.
Don't ruin your vacation. Check your passport's validity and other entry rules before your trip
The internet makes travel planning more effortless than ever. Many travelers research all the fun things they'll do on vacation while overlooking critical passport details — like the destination's entry rules. But misunderstanding your passport's validity isn't the only mistake that could end with your vacation in ruins. Here are some tips to help you be certain that you have all the correct travel documents before you head to the airport.
Always check with the U.S. State Department:
On its website, the U.S. State Department maintains essential travel information about every country in the world. With a visit to the site, you can discover your passport, visa and health requirements for your intended destination. You'll also learn safety tips, cultural information and more.
Bookmark this handy document checker:
The International Air Transport Association (IATA) offers this free online tool to help you make sure that you have all the required documents you'll need for your adventures.
Use a professional travel advisor:
If you're a novice traveler or if you intend to travel to somewhere unfamiliar, consider using a travel advisor. The expertise that a professional planner provides can be invaluable. The American Society of Travel Advisors (ASTA) can help you find a verified travel advisor who specializes in your destination and mode of travel.
Renew your passport six months before it expires:
Most passport mistakes have to do with misunderstanding the expiration date of the document. Remember, the expiration date on your passport is not the deciding factor about its validity for entry to your destination. Many countries require three months beyond the date of the end of your trip. There are a handful of countries that require six months of validity beyond your return date. The safest thing for you to do is to renew your passport at least six months before it expires.
Visit the consulate of your intended destination: Either online or in-person, it's a great idea to visit the consulate of any foreign country you intend to visit. This is especially true if you have a complicated citizenship. Also, make sure to confirm if you need a visa or specific health certificates. And don't forget to check on any countries through which you intend to transit as well. (Michelle Couch-Friedman, Consumer Rescue)
*Before you go: Yes, kids need passports too. So why didn't this mom know?
Last Updated on August 3, 2023 by Michelle Couch-Friedman