Norwegian Cruise Line forced a triple-vaccinated husband and wife to stay inside their cabin without reprieve for four days. And when the ship finally returned to New York, two burly NCL crew members inexplicably continued to prevent the couple's escape. How is this possible? That's what the bewildered COVID-negative duo wants to know.
Kelly Cotto and her husband had never taken a cruise before their bizarre experience. But after what they endured aboard Norwegian Cruise Line's Gem, they likely never will again.
Now, finally released from their involuntary confinement, the Cottos want answers from Norwegian Cruise Line – and a refund. The couple is asking us to find out why NCL forced them inside their cabin for nearly the entire cruise.
But with the cruise line staying tight-lipped about NCL's written COVID protocol, that might be a tall order. (Originally published on Dec. 30, 2021, updated Aug. 30, 2022)
Planning to celebrate their 25th anniversary with a Norwegian Cruise Line adventure
Last November, the Cottos decided to take a cruise to celebrate their 25th wedding anniversary. It was a last-minute decision – and one they're now regretting.
We had never taken a cruise before and we wanted to try something different to celebrate our 25th wedding anniversary. We had heard good things about Norwegian Cruise Line.

Kelly Cotto
They began browsing NCL's website, looking for an itinerary that would leave from their home state of New York. They zeroed in on a 5-night closed-loop cruise from New York to Bermuda and back.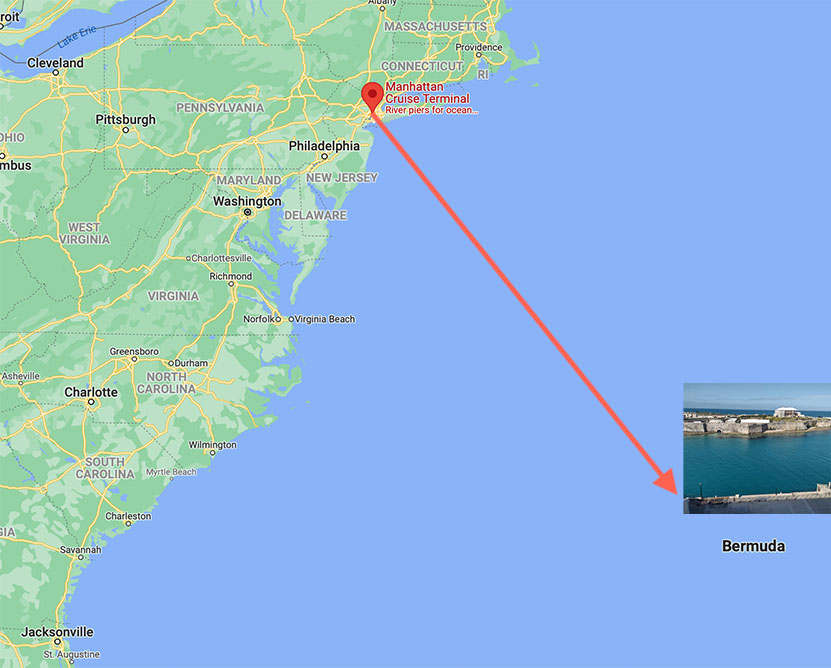 After confirming their reservation directly with a Norwegian Cruise Line consultant, the couple read through all the documentation provided.
Having seen previous cruise fiasco stories I've written about, the Cottos knew they had some research to do. They didn't want to end up being denied boarding their cruise as others have been.
In hindsight, it might have been better if they had been denied boarding this cruise.
Boarding Norwegian Cruise Line's Gem
Before the couple knew it, it was embarkation day. They excitedly drove to the pier with all of their required documentation.
We weren't sure what to expect, but we were really looking forward to boarding our first cruise ever. When we arrived at the pier, we stood in line and were required to show our birth certificates, photo IDs, vaccine cards, and Bermuda travel authorizations. Then the crew instructed us to go to the lab area responsible for administering our pre-boarding COVID tests. Norwegian Cruise Line requires this testing even if a passenger already has a negative test (which we had).

So we had a rapid test and a PCR test at the dock. We then sat in front of multiple computer screens that notified the passenger when the rapid test was complete and with a negative result. After that, we were instructed to get a green wristband and return to the original pier. (Kelly Cotto)
That green band gave the couple the all-clear to board the Gem. Soon NCL handed the enthusiastic couple the keys to their cabin, and they made their way onto the cruise ship.
Kelly says the first 24 hours of the cruise were fabulous.
"We went to a buffet and the casino," Kelly recalled. "The ship was impressive, and we intended to enjoy all it had to offer. We were thrilled that we had decided to take a cruise to celebrate our 25th anniversary."
Unfortunately, the next day, the fun and excitement came to a screeching halt with a phone call from guest services.
That's when Norwegian informed the shocked couple they would need to stay inside their cabin for the rest of the cruise.
NCL: "Thank you in advance for staying inside your stateroom for the remainder of the cruise."
Kelly says she couldn't believe what she was hearing. The crew member told her that the cruise line had determined that the couple had encountered someone with COVID since boarding the Gem. As a result, the husband and wife would be spending the rest of their cruise confined to their cabin.
No casino, no fine dining, no shows or socializing – and no Bermuda.
The cruise that had started with such great promise had quickly devolved into a nightmare. It certainly wasn't the way they expected to be spending their 25th wedding anniversary.
Looking around the small cabin, Kelly says she couldn't imagine being stuck inside the room for four days. She tried to reason with the NCL team. She explained that she and her husband had been triple vaccinated and had had multiple negative COVID tests in the past several days.
I asked if the medical center could give us another COVID test to prove we were still negative. The crew member said that Norwegian cannot conduct COVID tests onboard the ship. I asked about our food and drinks. The representative told us all of our meals would be delivered to our cabin.
Kelly immediately emailed the Norwegian Cruise Line consultant who had booked the cruise. She hoped he might be able to help clear up the confusion and get them a reprieve. He had never mentioned that there was a possibility of an involuntary quarantine for fully vaccinated passengers.
"[Norwegian's cruise consultant] never even gave me the courtesy of a response," Kelly recalled. "We also called guest services onboard asking for the written protocol that allowed NCL to confine us to our cabin."
In response, all the couple received was a note under their door the next day.
Strangely, it referenced that they had come into contact with someone "unwell." There is no mention of COVID exposure or how and where they encountered this unwell person. But the message reiterated that Norwegian expected them to stay inside their cabin for the rest of the cruise.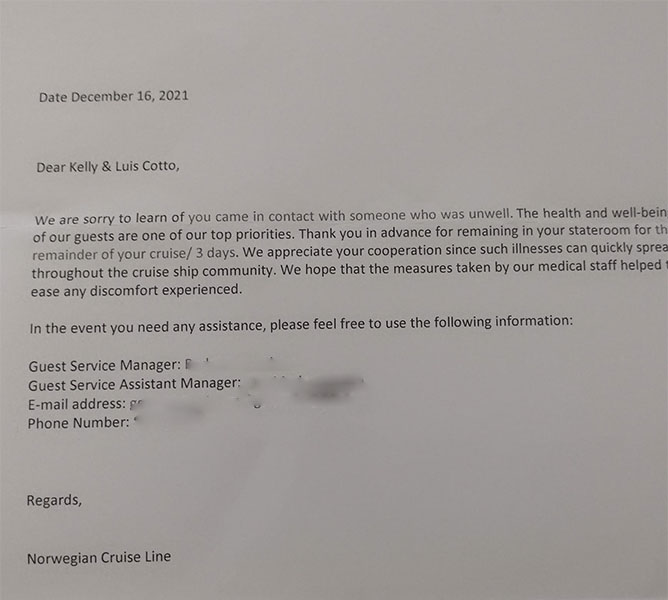 Can our advocacy team do anything to help?
On the second day of the couple's disastrous anniversary cruise, Kelly emailed me from their confinement. Still believing that Norwegian must have put them into quarantine in error, she hoped I could alert someone at the executive level of NCL about the situation.
Hi Michelle, My husband and I are currently on our first cruise ever. We got to enjoy it for a little more than 24 hours before receiving a call that we had come into contact with someone who tested positive for COVID. Now we're confined to our cabin for the remainder of our trip. We are both fully vaccinated and have our booster shots too. We also had COVID 3 months ago, so we have our own protection from the virus. How could we end up in quarantine?

We have not been given any paperwork regarding the ship's COVID protocol. The NCL staff told us we would get this hours ago. We have been in touch with ship personnel and called the toll-free number for Norwegian, too. No one can give us the answer.

We aren't sure what guidelines they are following because, according to the CDC, you don't have to quarantine if you are fully vaccinated and not showing symptoms. We are both just so frustrated and discouraged by this whole experience. Any suggestions?

Kelly Cotto
As I read Kelly's plea for help, I couldn't help but think of it as a modern-day message in a bottle from a stranded traveler at sea. She hoped I would deliver it to someone who could spring the couple from their misery.
Surely NCL couldn't be confining fully vaccinated passengers to their cruise cabin without some written protocol.
It was time to contact Norwegian Cruise Line to find out.
Asking Norwegian Cruise Line why the vaccinated couple is quarantined
Regular readers of our site know that the Norwegian Cruise Line executive resolution team is always receptive to correcting problems that NCL passengers bring to our team.
So I assumed that if there were any chance that the couple's confinement was a mistake, they would soon be released.
After explaining the couple's situation to the NCL executive team, I asked about the written protocol.
… Can you point me to the official documentation that explains this protocol that fully vaccinated, boostered, and negative COVID passengers can be forced to isolate inside a cruise cabin for days? Also, is there any chance of a reprieve? Is the couple stuck in their cabin until the Gem returns to New York? I assume they will be fully refunded, but no one has made that clear to the couple either.

Kelly has been emailing me frequently since early yesterday from her cabin, and I would like to be able to give her some answers as soon as possible. She and her husband are, as you can imagine, quite distraught. (Michelle to NCL)
The NCL resolution team responded to me quickly. But unfortunately, there would be no reprieve for the Cottos, and there was no mistake.
NCL: These guests must stay in quarantine.
Hi Michelle.

Thank you for reaching out. For the latest information on our health and safety protocols, including refund policy, please visit NCL Sail Safe. Due to Bermuda's policies and regulations, all guests identified as a close contact with an individual with COVID-19, regardless of their vaccination status and history of previous infection, must be quarantined until the end of the voyage even if the guests are asymptomatic.

As the guests complied with the policies and procedures of Norwegian Cruise Line from its SailSafe Health & Safety Program, the guests are entitled to a prorated refund, or an optional Future Cruise Credit, for the amount paid to Norwegian Cruise Line for the unused portion of their fare. Our Guest Services team will work directly with the guests on how to apply for the refund.

Norwegian Cruise Line executive team to Michelle
I reviewed the information in the link that NCL provided, and there was nothing that would alert a passenger to the possibility of long-term involuntary confinement for a triple-vaccinated, confirmed COVID-negative passenger. Ironically, the page seems to say something entirely different.
You want to cruise. We want to keep you safe. With Norwegian, our leading Health & Safety Program allows you and your loved ones to cruise with the ultimate safety and confidence. All guests and crew are required to be 100% fully vaccinated so you can safely do what you've always wanted to do on a cruise — EVERYTHING. Let's get back to living life to the fullest, together. Sail Safe. Feel Free.

From the webpage that the Norwegian Cruise Line team implied would explain the Cottos' situation
Feel Free??? The couple was being forced against their will to stay inside their cabin on their Norwegian cruise. They definitely weren't feeling free at all. They were actually feeling the opposite of free — trapped and desperate.
And they certainly weren't doing "everything"! They were actually doing nothing — but sitting in their cabin staring at each other and wondering how this happened.
Asking Norwegian Cruise Line again
I tried again.
But I'm trying to figure out (as is this couple) where did they encounter COVID? They boarded the Gem COVID-negative, triple boostered. Then within 24 hours of boarding the Gem, they've encountered a COVID-positive person. Where? How is this possible? Can you explain further? They assume they were boarding a COVID-free cruise.

Your passenger who has never cruised before was triple-vaxed and COVID negative. How did this couple end up locked in their cruise cabin for nearly all of this cruise? I'm receiving consistent sad emails from your passengers who did everything right to take their first cruise ever. And now they are locked down in a cabin on the Gem while all other passengers are having a wonderful time… AND it is their 25th wedding anniversary.

PS, Kelly ordered a club sandwich today and received a hotdog instead… she hates hotdogs!! Imagine getting a hotdog when you're expecting a club sandwich!

Michelle to Norwegian Cruise Line
Unfortunately, it was soon apparent that NCL was done talking to me about this case. It was also clear that there was no written quarantine protocol to show the Cottos or me. That would become more clear two days later when the ship docked back in New York, and the couple tried to leave.
NCL: How are you enjoying your cruise?
I continued to check in with the Cottos for the rest of their cruise. On the day the Gem docked in Bermuda, she sent me a photo she took from her cabin.
"My husband convinced me to get out of my pajamas and take a selfie photo with him," Kelly told me. "I'm feeling very low, and this is the only photo we'll have of our time in Bermuda."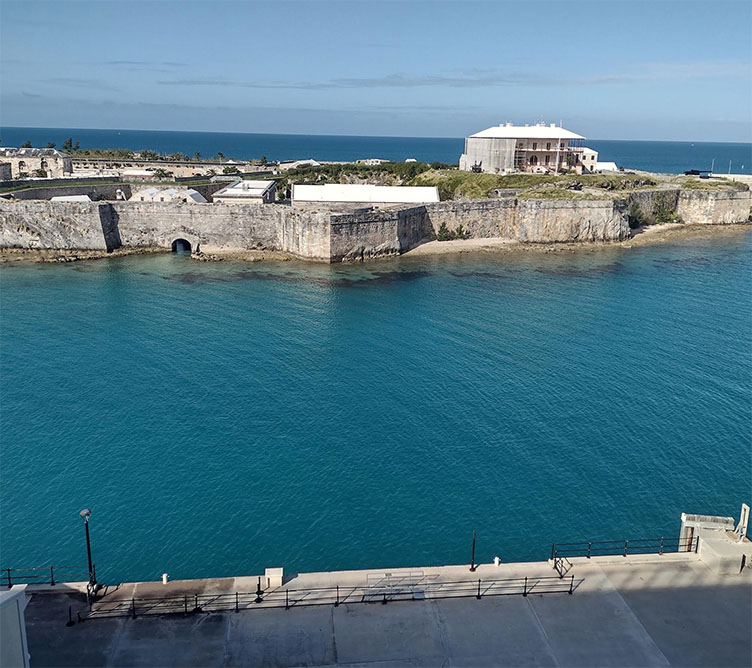 Over the next several days, Kelly reported on various aspects of confinement. The food was hit and miss. She would order one thing and receive another — or nothing at all. Sometimes crew members seemed to be unaware the couple was in quarantine.
My husband ordered a bowl of mixed fruit compote for breakfast today. He had it yesterday and it was really good. But today they sent a bowl of prunes instead. Definitely not good. And my entire breakfast was missing. But I don't feel like eating anyway. So I didn't even complain.

Kelly in one of her emails to Michelle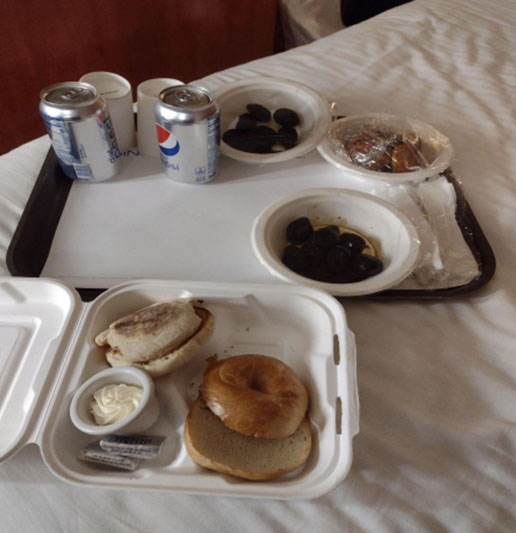 One afternoon, the phone rang. The Cottos hoped it was someone with news about their situation. Instead, to add insult to injury, it was a crew member from guest services who cheerfully asked how the couple was enjoying their trip so far.
Of course, the answer was that they definitely were not enjoying anything about their cruise and couldn't wait for it to end.
Another day, Kelly contacted me to show that NCL was adding a daily auto-tip charge to the couple's onboard account. Incredibly, the cruise line appeared to expect the Cottos to pay about $36 per day additional in gratuities for their troubles.
As we've instructed other cruise ship passengers, I recommended that she call guest services and ask that NCL remove the gratuities. Of course, the duo didn't want to tip anyone during this cruise. They just wanted the journey to end. Cotto called guest services, and Norwegian Cruise Line quickly removed the gratuities from their account. But it was yet one more outrageous event during this miserable anniversary cruise.
But NCL wasn't done with this couple. Arguably the worst was yet to come.
The cruise is over, but NCL "guards" tell them they still can't leave
Finally, the cruise ship arrived back in New York. The couple had been ready to leave for hours. The overhead announcements alerted all passengers to leave the Gem by 9 a.m. That message was music to the Cottos' ears.
But when they burst open their cabin door, ready to finally escape their confinement, they found two men outside blocking the way. It was already 9:15 a.m.
When the NCL crew members, dressed in paper scrubs, face masks, and shields, would not move, Kelly began to film the situation. One of the men takes out his phone and reports to the person on the other end, "She's filming me." The other "guard" stares blankly into the camera.
NCL crew member on video: "We don't have any written procedure."
The following is a partial transcription of the two-minute video between the Cottos and the men someone at NCL sent to prevent them from leaving after the Gem had docked in New York City.
Kelly Cotto: All we're asking for is your procedure for departure in writing. Why do we have to wait to be escorted off the cruise?
NCL guy on the left: We're waiting for the advice of the authorities and guest services…just following doctor's orders.
KC: Ok, so you don't have anything to give us in writing to explain this procedure?
NCL guy on the left: (shakes his head) No.
NCL guy on the right: We don't have any written procedure.
KC: Well, we're back in New York State now. The rules here say that you don't have to quarantine if you're fully vaccinated. Even if you encounter someone with COVID, you don't have to quarantine unless you show symptoms. We're both fully vaccinated, had a booster, and had COVID in the past. According to New York law, we shouldn't be in quarantine. But we're still in our room, and you won't let us leave. We're residents of New York State.
NCL guy on the left: Sorry, we're just following orders.
KC: Ok… following orders that don't exist anywhere… I give up.
Finally leaving the Gem
After noting that all the other passengers had already departed the Gem, the Cottos finally had enough. They told the two "guards" they were leaving and moved past them. Kelly says these two continued to shadow them, and in fact, one of the NCL crew members tried to physically stop her from going anywhere by blocking her with his arms.
One of the guys in the hallway proceeded to put his arm in front of me in an attempt to block me from exiting the cabin. He then did this to me again when I got to the staircase.

By 9:42 a.m., we were still on deck four, waiting to exit. They would not let us leave.

Finally, we were placed into a van to take us to our car at 9:53 a.m. The trip from hell was finally over!

Kelly Cotto
One final message to Norwegian Cruise Line about this fiasco
I sent a final message to NCL about the ending of this saga and the lack of written protocol. I pointed out that the crew members don't even seem sure of the policy.
So this couple is home now and is hoping that someone from NCL will confirm their refund for this cruise. They're really shell-shocked and told me that the first 24-hours of the cruise was really enjoyable … but being forced into their cabin for the next 4 days without any documentation as to why or how, is very disturbing to them. It was a terrible way to celebrate their 25th wedding anniversary (and their first cruise — ever). 😵

They also sent me a video of when they tried to leave the ship after it returned to New York. Two NCL crew members are blocking their exit. And when the couple says "we're in New York now. We just want to leave. We're fully vaccinated. Do you have something in writing that explains why you're allowed to keep us inside our cabin now?" And the crew member says "No, I don't." But he keeps standing there and then he gets on the phone to ask someone what he should do. He tells whoever he's speaking to that "they're taping me." It's kind of spooky… these two anonymous guys in masks and face shields telling the couple they can't leave. It seems that there should be an official protocol in writing for this type of situation. Is there?

Could someone from your team reach out to this couple today to confirm their refund and provide some kind of clarity as to what happened? Thank you! 🛳

Michelle Couch-Friedman to the NCL executive team
Update: Did Bermuda require Norwegian Cruise Line to quarantine this couple?
After we published this article, several anonymous commenters repeatedly posted under this story that NCL had nothing to do with this couple being forced into their cabin for four days. The claim, as was similar to the statement from Norwegian Cruise Line, was that some kind of agreement the cruise line has with Bermuda compelled NCL to place this couple in isolation for nearly their entire cruise.
So I combed through the Bermuda Board of Tourism's website as well as the government's website concerning COVID, and I could find nothing that would indicate this to be true. So I contacted the Bermuda Board of Tourism and the government of Bermuda to get to the bottom of this.
Two weeks ago we were contacted by a couple, Luis and Kelly Cotto, who received a visitor's authorization to enter Bermuda via Norwegian Cruise Line's Gem. They are a fully vaccinated, and boostered (third-shot received), COVID-negative couple. They tested negative for COVID with a rapid test and a PCR test taken at the pier before embarkation on Dec. 14. They boarded the cruise ship and within 24 hours of boarding, NCL sent a notice to their cabin that they had encountered someone "unwell" and so they would need to stay in their cabin for the entire cruise.

NCL said that Bermuda required the quarantine and would not allow the couple to disembark in Bermuda even though they remained symptom-free. The couple asked for additional COVID tests so that they might be able to enjoy Bermuda, but NCL declined to allow this. I've scoured your website about entry requirements to Bermuda and I can't see any evidence that Bermuda would require such drastic action for a triple boostered couple. New York regulations (where the ship was sailing from) do not require such a measure.

What our audience would like to know is this: Is Bermuda requiring cruise ship passengers to stay in quarantine on a cruise ship for the entire journey if they may have encountered someone who is "unwell"? Thank you for any clarity that you can bring to this situation.

Michelle to the Bermuda Board of Tourism
Confirmation: Bermuda did not refuse this couple entry nor require NCL to quarantine them
And I soon received confirmation that Bermuda did not require the couple to be quarantined on their cruise, nor did any regulations by Bermuda disallow the Cottos from visiting the island.
Hi Michelle –

We're so sorry to hear about that couple's first cruising experience; it sounds like everyone trying to navigate this weird time didn't align very well on expectations or experience.

It looks like the couple not being allowed on island was due to NCL's own policies not Bermuda denying entry. We obviously can't address how they treated the passengers, and/or whether their policies are in line with the cruise industry in general (I mean that literally; we can't address it because we don't know). Bermuda has no input on how passengers are treated onboard.

Please let us know if you have any further questions.

Spokesperson for the Bermuda Board of Tourism to Michelle
Unfortunately, the Norwegian Cruise Line executive team that is always helpful to our consumers has chosen to make no further comment about what this couple experienced.
The Cottos are currently waiting for their refund, which NCL says could take 30 days or more to process. It's now nearly two weeks since the end of this nightmare cruise, and they remain COVID-free. They want their story told because they want travelers to know what is potentially in store for them should they decide to cruise during this pandemic.*
What you need to know if you decide to cruise in 2022 (August update)
Passengers must test negative before the cruise.
Although many cruise lines have lifted vaccinations requirements in the second half of 2022, you will likely still need a negative COVID test to board your ship. Make certain you understand your cruise lines current policies before you show up at the pier or you could end up getting denied boarding.
Your cruise line may still require face masks.
Depending on which cruise line and where your voyage is going, you may still need to wear a face mask. It's best to bring your favorite mask just in case things change during your voyage.
Read your cruise contract: Maritime law prevails.
Remember, when you're on a cruise, maritime law prevails. That means that the captain controls all decisions made on the ship. If the captain decides it's necessary to alter the itinerary or skip ports of call, they will do so, and the cruise line has no liability to you for your missed destinations or if you miss the boat because you fail to return on time. And if the captain approves your quarantine for nearly the entire cruise, you'll also have no recourse. Read your contract of carriage, and you'll understand just how different maritime law is from the law of the land in the United States.
Quarantine is always a possibility.
Likely, most cruisers haven't thought about what might happen if someone turns up COVID positive aboard the ship. But the reality is that there is a significant risk of ending up in quarantine if you choose to cruise during a pandemic. This is especially true during a surge in transmissions and when new variants appear. Every day excited cruise ship passengers board those giant vessels in anticipation of great fun with music, fine dining, tropical drinks, swimming, dancing, and more. No passenger expects that through no fault of their own, they'll end up in an involuntary week-long cruise cabin confinement – with mediocre food and no entertainment. But during the pandemic, it absolutely is a possibility and one that every cruise passenger should understand.
Oct. 2022 Update
I caught up with Kelly this week. She says that Norwegian Cruise Line never did follow up with the couple.
Luckily, the travel insurance policy the Cottos purchased saved the day. The two received reimbursement for all the days that they were in quarantine through the trip interruption clause in their travel insurance policy.
Editor's note: Original date of publication: Dec. 30, 2021/ last updated Oct. 3, 2022. (Michelle Couch-Friedman, Consumer Rescue)
Last Updated on October 3, 2022 by Michelle Couch-Friedman