Anakarina Alvarez has a highly unusual story to tell — one that includes lots of confusing twists and turns. She says her family had been eagerly looking forward to a tropical vacation aboard Norwegian Cruise Lines' Gem. Unfortunately, those plans ended abruptly at embarkation when the cruise line denied boarding to her 11-year-old child. To add insult to injury, NCL refused the family's $4,000 refund request, too.
Anakarina says NCL made a big mistake when it denied boarding their family's dream cruise to her daughter. Now she wants our team to force the cruise line to admit its error and issue a refund and compensation.
But wait a minute!
The cruise line maintains it made no mistake — Anakarina's daughter was not denied boarding in error. At the time of the cruise, NCL required all passengers to be fully vaccinated, and children under 12 weren't approved for any COVID vaccine. So this 11-year-old couldn't have qualified for the cruise. Case closed.
Or is it? (Original date of publication Oct 19, 2021/updated Sept. 2022)
Finally! Planning a tropical cruise after a lengthy quarantine
Anakarina, her husband, and two children (ages 15 and 11) live in a remote region of Alberta, Canada. They have been diligently following all of the COVID quarantine rules since the beginning of the pandemic.
"Finally, after 18 months, it seemed like things were improving, and we thought we might go on an adventure," Anakarina explained. "A tropical cruise sounded so inviting!"
So Anakarina and her husband contacted a travel agent. They wanted to ensure that a professional handled all the confusing parts of taking a cruise during a pandemic.
The seven-day cruise the family chose would take them from Miami throughout the western Caribbean.
"The kids were so excited!" Anakarina says. "We hadn't been on vacation for so long because of the pandemic."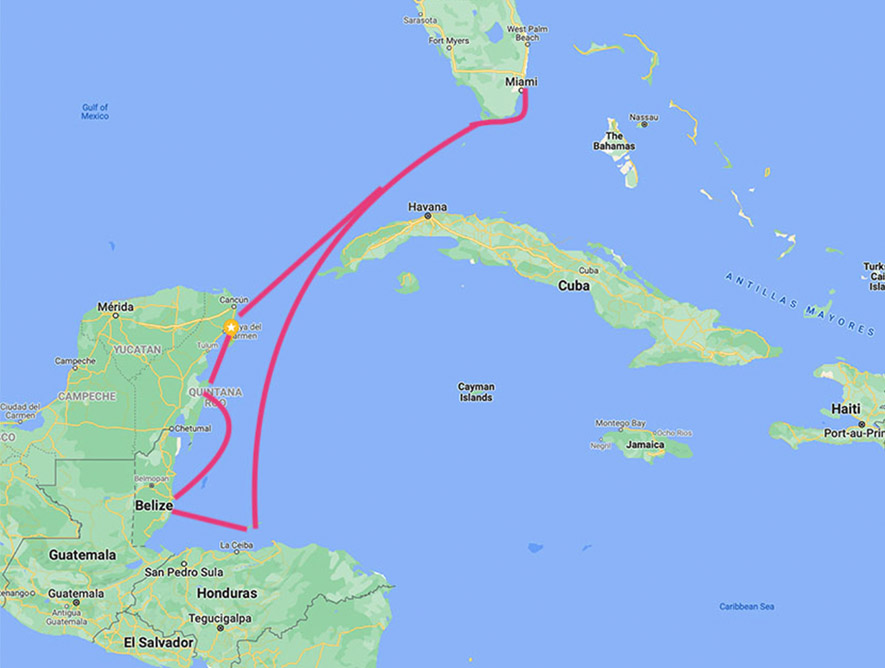 NCL: All passengers must be fully vaccinated to board our cruise ships (Aug. 2021)
Several weeks before the August 2021 cruise, Anakarina noticed that there were new vaccine requirements to board the ship.
(Note: As of Sept. 3, 2022, NCL passengers do not need to be vaccinated)
NCL had updated their website and was requiring that all passengers be fully vaccinated. That mandate was new, but everyone in my family has been fully vaccinated since July. So I knew that new rule would have no impact on my family.
Unfortunately, that new rule would impact the family immensely.
In fact, that change in NCL's vaccine policy sealed the fate of their tropical plans.
But Anakarina wouldn't find this out until she showed up at the dock ready to board the Gem with her husband and two super-excited children in tow. And then it all became clear in a jolting way.
NCL: "Your 11-year-old is denied boarding this cruise."
Anakarina and her family are no strangers to cruising. Having read cautionary tales that illustrate just how easily a tiny flight delay can lead to a missed cruise, the family scheduled themselves to fly to Florida two days before embarkation.
"We wanted to relax and not worry about any havoc a flight delay could cause," Anakarina recalled. "So we spent the two days before we were to board the cruise in Miami."
Anakarina says that she completed all of the pre-boarding documentation that NCL requested. She provided a copy of their passports, negative COVID test results, and all four vaccine cards.
Then we got notice that the cabin upgrade I bid on had gone through. That was great!

I was sure this cruise was going to turn out to be just what our family needed after such a long quarantine! The upgrade was the icing on the cake!
By now, we all know that this cruise would not turn out to be just what this family needed at all.
Not at all.
As the family arrived at the dock, they were still happily anticipating settling into an upgraded suite and exploring all the Gem had to offer.
However, things took a sudden, awful turn when they attempted to drop their luggage off and get on the ship. The porters told Alvarez that her family wasn't on the manifest.
"I thought that might be a simple error because of our recent upgrade," Anakarina explained. "We waited for 40 minutes until a supervisor appeared to give us more information."
That's when an NCL representative informed the shocked family that the littlest member of their group was being denied boarding the cruise.
NCL: "Children younger than 12 can't cruise with us at this time."
A stunned Anakarina listened as the NCL's agent told her that children under 12 can't cruise right now.
She said, "no vaccine has been approved for 11-year-olds, so your daughter can't cruise with us today."

I showed her my daughter's original vaccine card that showed that she'd been fully vaccinated since July. She just kept repeating that no vaccine is approved for children under 12. I tried to explain that where I'm from, children are being vaccinated at 11. No one believed me. Finally, it was clear that we wouldn't be allowed to take our cruise. I felt so helpless.
Realizing the conversation was over, Anakarina asked what they should do next. She requested that NCL refund their cruise fare and upgrade fee immediately.
That refund request was immediately rejected, and the NCL agent handed the family a notice that explained why they were being denied boarding.

Unfortunately, as a result of your failure to strictly comply with NCL's COVID-19 safety protocols or provide required documents to enter all port on this itinerary, which are outlined in your guest ticket contract and on NCL's website, you will not be embarking the vessel today. NCL will provide no refund or compensation. (NCL to Alvarez documenting why they were being denied boarding)
As the family stood on the dock gathering their thoughts, the Gem weighed anchor and sailed away in front of them.
"My daughter was sobbing, saying that it was all her fault," Anakarina recalled. "It was very upsetting to see the ship sail away without us."
But then Anakarina had a plan to save their vacation.
She and her husband packed the two children into a rental car and headed to Universal Studios instead.
Asking our advocacy team for help with this refund request
When Anakarina sent her plea for help to our team, it had been a month since NCL had denied boarding to the family. The cruise line had already sent multiple rejections of her refund request.
The emotions of the situation were still raw. In an email entitled "NCL stole my money," Anakarina explained:
Michelle,

Good morning. I saw on the internet the article you wrote about the case of Elizabeth Ramirez and her battle with NCL and the help you provided. So I decided to reach out to you.

I am in a similar abusive situation by NCL. I also wanted to mention that I saved copies of all the mails, boarding passes, screenshots of the charges to the credit card, guest-ticket contract, expenses, etc. So I have a complete paper trail.

I hope you can take my case. What bothers me most is how such a large company as NCL can just keep your money and act arbitrarily in the way they did in my situation.
When I read through Anakarina's paper trail and narrative, I was confused. After all, the World Health Organization and the Centers for Disease Control had not approved any COVID vaccine for children under 12 (Aug. 2021).
So how had Anakarina's daughter ended up vaccinated at 11 years old?
Investigating: Is Canada really vaccinating 11-year-old children?
It certainly will come as no surprise to our regular readers that some people who contact our team for help are not always entirely truthful. In fact, some might even be telling outright fibs to try to gain our assistance.
You'll never read about most of those suspected fibbers because we investigate and quickly dismiss these requests. Our reputation depends on not being snookered into believing every outrageous tale that hits our inbox.
I must admit that in this case, my shenanigans meter went off a bit. Especially when I went to the website of the Canadian health department and read this:
At this time, no COVID-19 vaccine has been approved for use in children under the age of 12 in Canada. Clinical trials are underway to determine if:
COVID-19 vaccines are safe and effective in infants and children under 12
younger children need smaller doses
I asked Anakarina if perhaps her daughter was part of a clinical trial for the vaccine.
"No, my daughter isn't part of any trial," Anakarina told me. "In Alberta, the health department started vaccinating children who are 11 last summer."
Ok, so I went to the Alberta Health Department, and things still weren't leaning in favor of Anakarina's contention that the Canadian government had approved her 11-year-old for a COVID vaccination.
COVID-19 Immunization

Available to those 12+

Book an appointment through one of the options below or see available walk-ins at clinics or participating pharmacies.

Alberta Health Department
At this point, there appeared to be only two possible explanations — either Anakarina's daughter was vaccinated by mistake, or she hadn't been vaccinated at all.
Asking the Alberta Health Department: Are you vaccinating 11-year-olds?
I decided to reach out directly to the Alberta Health Department to find out if they had adopted an unorthodox vaccine protocol for 11-year-olds. I was a bit doubtful that a government agency would publicly admit to going off-script with their vaccine administration, but I thought it was worth a try.
We were contacted by Anakarina Alvarez, who is a resident of Alberta. She and her family were recently denied boarding their Caribbean cruise because NCL has a policy that all passengers must be fully vaccinated. Ms. Alvarez says that her family is fully vaccinated. But NCL says that is impossible since her youngest daughter is 11.

Ms. Alvarez says her daughter and her classmates were offered the vaccine last summer. She sent us a vaccine card showing that she was vaccinated in July at age 11 (her birthday is in November).

Ms. Alvarez maintains that in Alberta, children born in 2009, regardless of their specific age, are being regularly vaccinated. As this goes against all current recommendations from the World Health Organization, the CDC, and the Canadian public health services, I wondered if you could provide some clarity. Was this child vaccinated in error, or is there an unusual vaccination program going on in Alberta?

We'll be publishing an article about this case, so we want to make sure that we have clarity. Thank you! Ps. I'm including the vaccination record for the 11-year-old below my signature for your review.

Michelle to the Alberta Health Department
The Alberta Health Department confirms: 11-year-old children are being vaccinated in Canada.
And within hours, I had the answer from the Alberta Health Department.
Hi Michelle,

Your email was passed along. If the individual was born in 2009, they are eligible to book a vaccine appointment in Alberta.

Alberta Health and Alberta Health Services decided to make vaccines available to all youth born in 2009 to avoid confusion around eligibility in this birth year and to make booking appointments easier for Albertans.

This is not a new approach and is consistent with other Canadian jurisdictions such as British Columbia, Ontario, NWT, and Yukon.

Thanks,

Communications and Public Engagement

Government of Alberta
That message provided the information Anakarina needed to prove to NCL that all members of her family, including the littlest one, had been vaccinated. And Anakarina was vindicated: NCL should not have denied this fully vaccinated family boarding of their cruise — and shouldn't have rejected their refund request either.
The good news: the cruise line will process your refund request
I forwarded the information to Anakarina and NCL. Soon she received the good news that NCL would provide a refund for the cruise the family was denied boarding.
We appreciate the support we receive from valued guests such as yourself. I am saddened to learn of the circumstances that resulted in you and your family being unable to join us onboard.

I have further reviewed your case and all documentation you have submitted. As you have provided the proof of vaccination for your daughter Sofia, you are eligible to receive 100% of the fare paid in the form of future cruise credits, or at your discretion, a monetary refund to the original form of payment.

Norwegian Cruise Line to Anakarina
Anakarina couldn't be happier — she's pleased to be vindicated and thrilled to get a refund for the cruise her family never got to take.
Michelle, this is perfect for me. I consider this [resolution] totally fair.

Thank you again for all your effort towards my case. I would also like to donate to your organization so you can continue with your excellent work in helping others.

You and your team are awesome.

Anakarina
And I'm super-pleased to have been able to unravel this mystery (and also happy that my shenanigans detector turned out to be slightly off here 😜).
How to avoid getting denied boarding your cruise
The good news is that the travel industry is slowly returning to normalcy. The bad news is that the pleas for assistance to our helpline are showing that more travelers than ever are getting denied boarding of their cruise ships and international flights. It's important to remember that nearly 100 percent of these rejections can be prevented with careful planning.
Here are some critical tips to help you to avoid being denied boarding on your next cruise or international flight:
Read your cruise documentation.
Your travel advisor or cruise line will send you lots of pre-cruise information when you book a trip. Many passengers fail to review that cruise documentation (See: This family got left on the dock! Is the cruise line responsible?). Most of the problems our helpline receives are rooted in that oversight. That packet contains crucial information that you need to know before you head to the port for embarkation (See: How did a cruise agent make this type of mistake?!). Ignoring the information until it is too late will not end favorably for you.
Click on all the links in your cruise documentation.
As you'll receive your cruise documentation several weeks before the trip, there will be plenty of time for rules to change. NCL (as well as all the other cruise lines) provides live hyperlinks in your pre-cruise documentation. The information contained on those pages is subject to change, and things can change from the first time you review that page until embarkation. It is your responsibility to check that information frequently until departure.
Visit the Department of State's website.
The Department of State provides informational pages for every country worldwide. You must check the health and identification requirements for entry to every destination on your cruise or flight itinerary — and don't forget any transit countries. The Department of State also maintains a cruise ship passenger page. If you've got an upcoming cruise, reading and bookmarking that page is essential.
Bookmark IATA's Timatic tool.
If you're a traveler, you should have the free version of IATA's personalized passport, visa, and health checker (Timatic) bookmarked. This program is constantly updated to reflect the frequently changing rules for international travel. The airlines use the professional version to determine if you've got what you need to enter or transit the countries on your itinerary.
If you have an unusual circumstance, contact your cruise line.
This case was quite unusual because of the unapproved vaccination protocol that was being offered in some provinces of Canada. If your circumstance deviates in any way from commonly reported protocols, you must reach out to the cruise line and get clarification in writing. Anakarina thought her daughter's vaccine card was all she needed to prove that her 11-year-old had really been vaccinated. She was wrong. As we've seen in other cases including this one in which a passenger was denied boarding Carnival's Mardi Gras by mistake, the cruise lines aren't going to conduct an investigation as I did here. So remember, it's up to you, the traveler, to make sure that you have everything clarified and approved before you step up to that check-in counter. If you don't, you can be sure that the cruise line will err on the side of caution, and you'll be left behind. (Michelle Couch-Friedman, Consumer Rescue)
Last Updated on July 9, 2023 by Michelle Couch-Friedman