Flying internationally with your cat can be complicated — especially when an airline changes its pet policy mid-trip. Yekis Fortunato found out just how complicated after flying JetBlue to the Dominican Republic with her 19-year-old cat, Foxxy.
Shockingly, soon after arrival, the airline summarily canceled the feline's return flight. The reason? JetBlue updated its policy prohibiting any pets from flying to or from the island on its aircraft.
Yekis is begging our advocacy team to ask JetBlue to let her beloved cat fly home as scheduled.
Can we get JetBlue to change its mind? Or will Foxxy be forced to become a permanent resident of the Dominican Republic?
Yekis's unpleasant experience serves as a warning to pet lovers everywhere — regulations regarding animal transportation can change suddenly. So it's critical to consider that before flying off on an international journey with your cat or dog. Otherwise, you too might find yourself with the same awful dilemma facing Yekis.
Flying with a special cat
Last July, Yekis took her old buddy Foxxy to the Dominican Republic on an extended vacation. She (Yekis, not Foxxy) intended to volunteer on the island and visit with family.
The duo landed safely and they set off on their adventure.
But Yekis soon received disturbing news.
Upon arrival, the Dominican animal control and health department informed me that If I travel back to the U.S. after July 14, I could not bring our cat back to the U.S. with us. He said Foxxy wouldn't be able to fly home with me! I couldn't believe it.
Yekis did a little research and discovered the root of the problem.
The CDC had detected a sudden increase in the number of fake and inadequate rabies vaccination certificates for dogs arriving from the Dominican Republic. As a result, the CDC put a restriction on the importation of canines from the island nation.
As of July 14, 2021, dogs were on the no-fly list from the Dominican Republic to the United States.
But these orders make no mention of cats.
Yekis read through the information again and again. Nothing in the CDC's warning should have prevented her from flying home with her cat.
So why was JetBlue putting Foxxy on the no-fly list?
JetBlue: We're temporarily prohibiting all pets from flying to or from the Dominican Republic
For the next several weeks, Yekis tried to get clarification of this new rule and permission to fly back home with her cat. First, she reached out to the CDC.
The CDC reiterated that its ban on dogs did not extend to cats. But the representative also pointed out that individual airlines can create their own pet policies. The CDC can't control those policies.
Please review airline guidelines as different airlines have different guidelines that CDC does not regulate.

Currently, CDC does not have a ban on cat importation.

Regards,

Zoonoses Team
Quarantine and Border Health Services Branch
Division of Global Migration and Quarantine
National Center for Emerging and Zoonotic Infectious Diseases
U.S. Centers for Disease Control and Prevention
Asking JetBlue: What is preventing me from flying home with my cat?
Yekis also contacted JetBlue in hopes that she could find someone who would help.
That effort only resulted in being referred back to the July 14, 2021, update of the JetBlue policy for traveling with pets from the Dominican Republic. That policy prohibited any animals from traveling to or from the island.
Update: Since we originally published this story, the policy has been changed slightly. Although the Dominican Republic is still considered a high-risk rabies area for dogs, vaccinated pets can travel to and from the island — with pre-approval — but they must enter the U.S. through JFK. This is currently the only entry point for animals arriving from the Dominican Republic. (Sept. 2022)
In desperation, Yekis drove to the airport in Santo Domingo to plead with the JetBlue employees there.
I told them that Foxxy is a very old cat and has been by my side through thick and thin. I explained that I couldn't leave her here — she would die. And I can't stay, I have to go home. Foxxy has to go home, too. I asked them if they would allow Foxxy on the flight, and the answer was no.

Yekis
Dejectedly driving back to her temporary home, Yekis had no idea where to turn for help.
And then suddenly, scrolling through the internet, she found an article about another JetBlue passenger who our team had helped.
"I hope maybe you could help Foxxy and me too," she told me.
"I'm supposed to be flying home with my cat in three days. Help!"
Three days before Yekis was supposed to be flying home with her cat, she was in full panic mode. JetBlue had changed its pet policy and now Foxxy, the docile, elderly, fully vaccinated house cat, was no longer welcome aboard.
With time running out, Yekis was desperate. On her intake form, she valued her claim at "$1,000,000,000."
That figure caught my eye, and I quickly read through her plea.
Foxxy was my family when I didn't have any. I was on my own when I found her left behind in a corner in NYC. She served as a companion to me for many sleepless nights. She made sure I didn't fall asleep with my stove on when I arrived home from thirteen work hours. Please help! I cannot abandon her. My conscience won't let me stay in peace if I allow this to happen.

So I need your assistance.

I sent emails to the CDC, and they were always swift to get back to me. They confirmed that the CDC has no current guidelines that would stop my cat from flying home with me. But JetBlue continues to repeat that no animals are permitted on flights from the Dominican Republic at this time. The CDC said it couldn't grant me an exemption for Foxxy because there is no ban on cats. I don't know what to do! Foxxy will die if I go home without her. Please help me!
Animal lovers have reached the right place!
Ok, anyone who knows me knows I'm an animal lover. In my home, I currently house two dogs (update, now three dogs after I adopted my grandmother's pup recently), two cats, two guinea pigs, two parakeets, and a giant Amazon parrot I inherited when my dad died suddenly during the pandemic. My morning routine resembles that of a farmer — granted, on a much smaller scale. But I'm up at 6 a.m., and then it's time to feed, water, and clean up all the animals.
After that, it's on to consumer advocacy!
So, if you've got a problem that involves the welfare of an animal and you reach me — you're definitely in luck!
After I went through the paper trail, I checked other airlines to see if there might be a way to get Foxxy home on another carrier. Unfortunately, that turned into a dead-end right away since it appears that most airlines flying from the Dominican Republic followed suit and banned all animals from the island.
So now what?
Asking JetBlue to make an exception and let this cat fly home
Next, I hoped to appeal to our friendly and helpful contact at JetBlue who might be able to quickly grant an exception for Foxxy to come home.
Hello ***! 😊

We have a JetBlue customer over here with a terrible dilemma that I believe can easily be fixed. Yekis Fortunato flew to the Dominican Republic on July 2 with "Foxxy," her nearly 20-year-old cat. Her return flight back to New York is on Aug 22. On July 14, the CDC began to restrict DOGS from returning from the DR because of high rabies rates in dogs at this time. However, the CDC did not put the same restrictions on cats. JetBlue seems to have extended the restrictions to both dogs and cats and now Yekis is afraid she will not be able to bring Foxxy back home.

Foxxy's home is in the United States and she is an indoor, fully vaccinated, very old house cat who travels in a carrier.

Could your team please have a look at the details of this request? There are no restrictions from the CDC that would prevent a healthy, rabies-vaccinated cat from entering the US. I'm including a copy of Foxxy's rabies vaccine, information from the CDC about cats coming from the DR and a copy of the round-trip ticket that Foxxy and Yekis are traveling on.

Will Foxxy be allowed to come back home with her owner on Aug 22 on Flight ***? (PS, Foxxy even follows all mask requirements for flying 😆 — see photo below my signature).

Michelle to JetBlue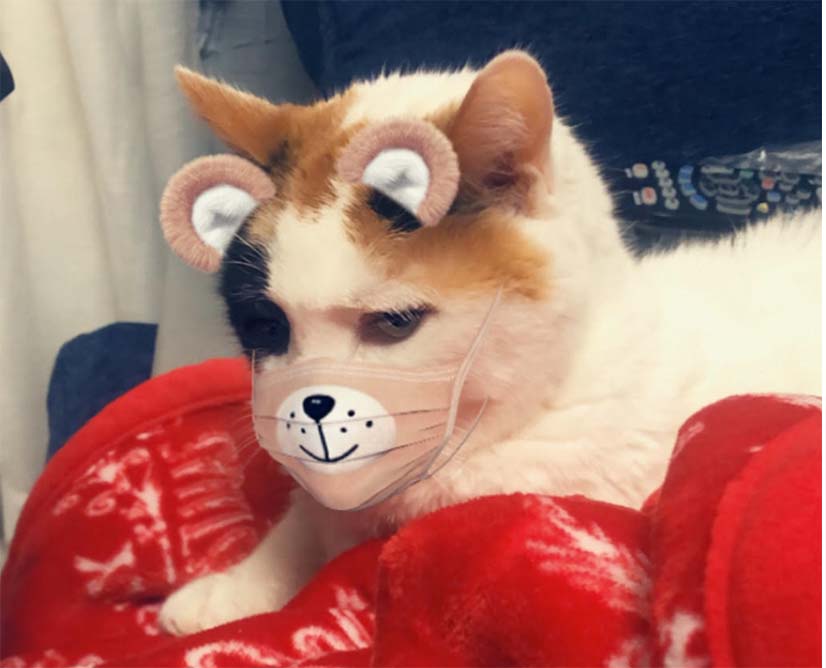 The good news: JetBlue will allow Foxxy to fly home
Within hours, all the anxiety that Yekis was having over the fate of Foxxy was alleviated.
JetBlue approved Foxxy for boarding her flight home!
Our executive contact at JetBlue explained that their computer system cannot distinguish between a cat and a dog. The carrier addressed the problem by banning all animals. But a special exemption was approved for Foxxy.
To say that Yekis was overjoyed is an understatement.
OMG!!!!!! I'm so happy!!!!! I'm telling you I cannot express this feeling in words! I spent weeks trying to communicate with anybody at JetBlue to solve this terrible issue. I'm beyond grateful!!
And now Foxxy has flown back home and is safely where she belongs. The nearly 20-year-old cat can live out her days in the comfort of her family's care. That's a total consumer advocacy and animal lovers' success.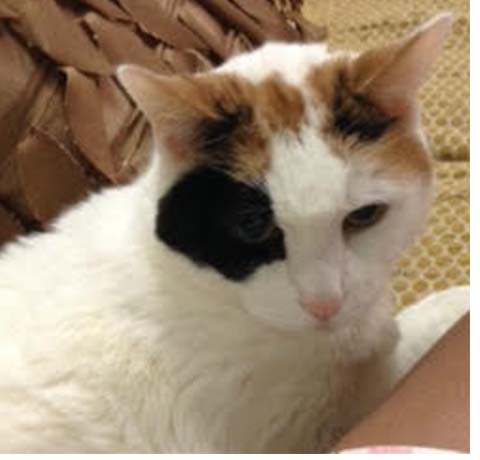 If you're flying with a pet, here's what you need to know
We receive pleas for help fairly frequently from travelers who've run into problems while flying with a pet (See: Will United Airlines ever let these little dogs fly home?). If you're a pet lover and would like to travel with your cat or dog, here are some tips to keep in mind.
Visit the CDC website
Your first step when you intend to go on vacation with your pet is to check the CDC's website. You'll want to make sure that there are no known health risks for animals at your intended destination. And, of course, you'll want to make sure that you won't have problems flying back to the United States with your pet. Bookmark the CDC's Bring an Animal into the U.S. page and check it frequently — before and during your trip.
Check your destination's animal importation rules
You'll need to check animal importation regulations for your destination well in advance of your trip. Visiting the website of your destination's customs authorities should provide you with the information you need (such as vaccination requirements, quarantine rules, etc.). Another excellent resource for travelers with pets is the website and app BringFido. There, you can check entry requirements for your furry friend (dog or cat) to nearly any country in the world.
Check the airline's website
Every airline has a pet policy, but those policies vary greatly among carriers. Before you book your human tickets, it's critical to make sure that the airline can accommodate your pet. A common complaint we receive is from passengers who try to add their cat or dog to their itinerary later, only to find out that it's not possible. If you intend to travel with your pet, do your airline research before paying for your tickets.
Ask your vet
Flying is stressful for animals, even under the best circumstances. Before you decide to bring your cat or dog on any flight with you, ask your vet's opinion. Make sure your pet is cleared for travel, and get copies of all relevant health records. Be aware that required vaccines and other documents for entry for your pet will vary by destination.
Expect the unexpected
When you're flying with a pet, you'll want to expect the unexpected. Delays and cancellations are not uncommon — especially during the global pandemic. You should consider these travel bumps when planning a trip with your cat or dog. Remember, things can change at a moment's notice, and you don't want to be caught off guard. Be sure to pack extra food and medications, and book a nonstop flight if at all possible.
Consider pet transport
Another option to consider is a pet transport service. These companies are skilled at safely flying your pet to destinations around the globe. Their staff can also help you determine the documentation that your pet will need for travel. You can find a reputable pet transport service through The International Pet and Animal Transportation Association(IPATA). IPATA is a network of nearly 500 professional pet shippers from around the world who follow all the rules and regulations of the International Air Transport Association (IATA). Although this type of service is not cheap, it can often be the best way to ensure that your best friend is humanely treated and well cared for throughout their trip. 🐶🐱🐾 (Michelle Couch-Friedman, Consumer Rescue)
Before you go: Here's another JetBlue passenger with a much different problem: If you take $158,000 in jewelry on a flight and it goes missing, who pays?
Last Updated on July 9, 2023 by Michelle Couch-Friedman