The pandemic hit the cruise industry hard. That's for sure. But did that global event change the refund rules so that a cruise line can cancel a passenger's trip — and also refuse to provide a refund?
Of course, the answer to that question is "no." But Elizabeth Ramirez says that's exactly what NCL did to her — canceled her cruise and kept all her money.
Now Ramirez is asking our advocacy team to investigate and retrieve $7,300 from Norwegian Cruise Line.
This case is a strong reminder of the importance of keeping detailed records of all your refund requests. Unfortunately, Ramirez's tale also shows that sometimes even when a consumer does everything right, things can go all wrong. 
Cruising from Tahiti to Hawaii — until the coronavirus made it impossible
Just before the pandemic hit, Ramirez and her husband were looking forward to a Polynesian cruise. Their 14-night journey would take them through French Polynesia and end in the Hawaiian islands.
Unfortunately, the coronavirus had other plans for the couple.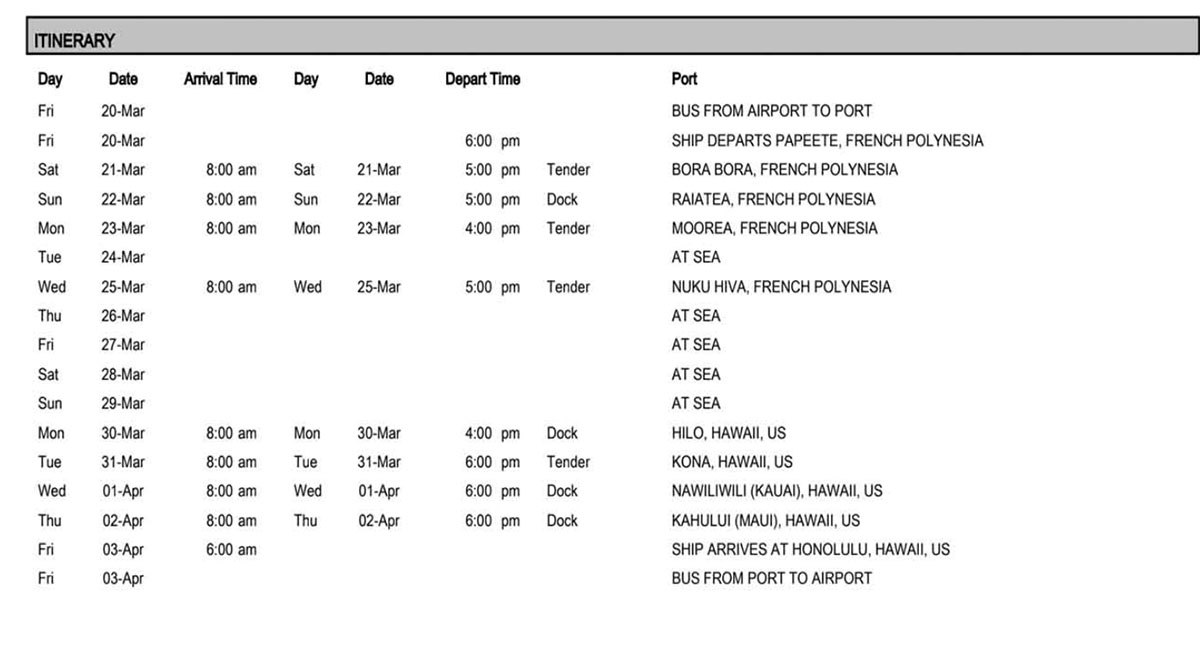 The duo was scheduled to leave for their dream cruise on March 18, 2020. But by early March, it was becoming clear that the cruise industry was in trouble. These giant floating mini-cities with thousands of occupants were emerging as prime locations for the spread of the coronavirus.
Ramirez says she assumed that NCL would cancel the cruise. But she had read our warnings about the dangers of canceling vacations too soon and didn't want a cruise credit.
So even with the evidence mounting that cruising was likely not safe, Ramirez continued to play the waiting game. She wanted a refund and was determined not to cancel her cruise before NCL.
NCL: "Due to the coronavirus, we're canceling your cruise."
Just days before the couple was scheduled to fly to Papeete to begin their cruise, the cancellation announcement arrived. Here's the email from Norwegian Cruise Line dated March 13, and timestamped 7:17 am that Ramirez received: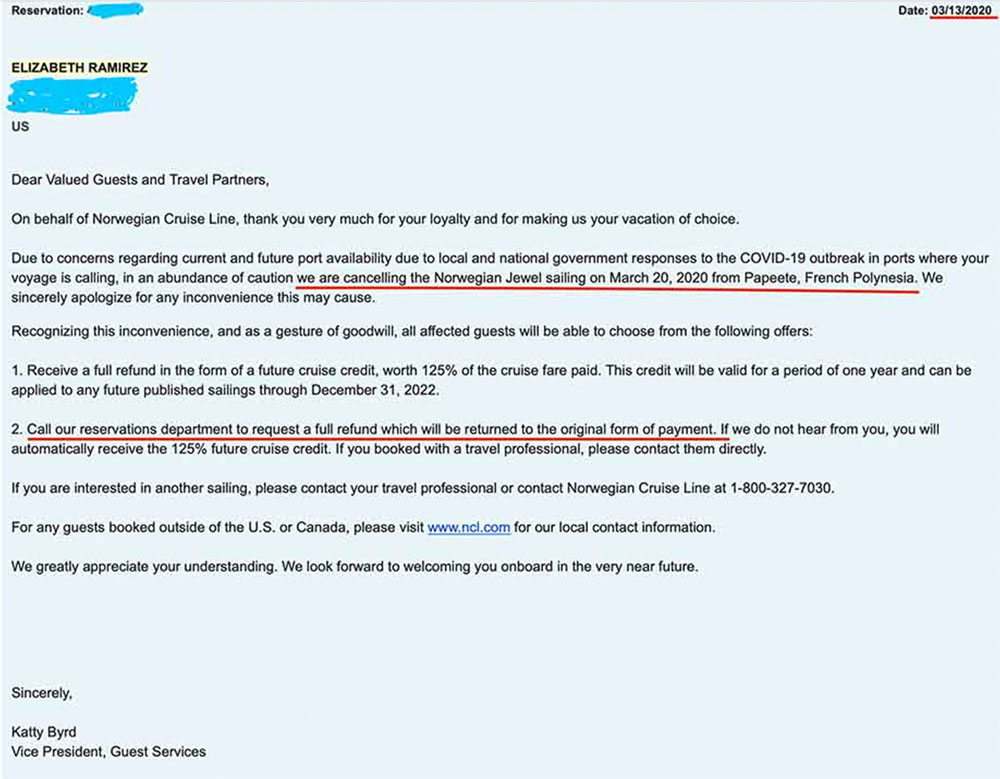 Within minutes of receiving the cruise cancellation notice, Ramirez had dialed that number. She did exactly as the email instructed and requested a refund for the cruise that NCL had just canceled.
At that time, the NCL Representative stated it would take 24 hours for my entire refund to be processed. When I didn't see the refund after a week, I called again. This time the representative asked me to fill out an online refund submission. On March 23, I received an email that NCL had successfully received my refund request. (Ramirez describing her refund pursuit)
Ramirez waited patiently for NCL to process her refund for the canceled cruise. But a few weeks later, she received a strange and unsettling email.
NCL had rejected her refund request for the cruise it had canceled.
What was going on?
NCL: "You don't qualify for a refund because you canceled the cruise."
Now, NCL was inexplicably claiming that it had won the waiting game; that Ramirez had canceled first. And as a result, the cruise line rejected her request for a refund.
Per your request, we canceled your reservation ***** and issued a future cruise credit. If you purchased our Essentials, Book Safe Standard or Platinum travel protection plan, you will receive an additional future cruise credit, worth the value of your travel protection plan. (NCL to Ramirez)
Ramirez was astounded. NCL had canceled her trip, but now the cruise line seemed to be rewriting history to refuse her refund.
I immediately called NCL and spoke with John. I informed him that I did not want a cruise credit. John stated there is no way for him to [process the refund], he guided me to the website and to the form page. He advised me to fill out the form again, and there would be no issues as long as I didn't use the credit. I tried to submit the form, but I received an error 'This reservation does not qualify for submission.' They seemed to be sending me on an impossible mission.
NCL: We are not making any exceptions to our policies [when a guest cancels]
Ramirez continued to struggle with this mission impossible for months. And more rejections of her request came from NCL.
We are not making any exceptions to our policies in place related to when any guest canceled their booking. Our Norwegian Peace of Mind policy is the most generous policy we have ever put in place, allowing guests to cancel up to 48 hours before sailing with no penalty, which gave all of our guests the flexibility of time before deciding to cancel. On top of that, we're allowing guests to leverage that 100% future cruise credit for sailings through December 31, 2022. Hopefully, you understand our stance on why we are applying these policies consistently to all guests, depending on if they voluntarily canceled versus being forced to cancel.
That sounds great, except Ramirez didn't cancel her cruise. NCL canceled this cruise — and it owed her a refund.
Exasperated, she finally decided to ask her credit card company for help.
A failed credit card chargeback
The Fair Credit Billing Act gives consumers protection when a merchant doesn't provide the services as agreed.
However, our team knows that credit card chargebacks often backfire on consumers.
Consumers must acquaint themselves with the FCBA and what it covers and its limitations before attempting to file a dispute. Winning a credit card dispute is often not the end of the problem for a consumer.
Fact: Winning a chargeback only ends your credit card company's involvement in the dispute.
Consumers are frequently shocked to discover that the merchant is free to pursue other ways to get their money back. These "ways" include sending your bill to collections, hitting your credit rating or banning you from using their company again.
Finally, it's important to note that most credit card companies will not deeply investigate your complaint. You should certainly not expect the level of investigation from your credit card company as you'll experience here with our advocacy team. If a company provides "evidence" that you owe the debt, you will lose a credit card dispute. And that evidence can be as simple as an email from the merchant saying you owe the debt.
For these reasons, we always recommend using a credit card dispute as a last resort, because the FCBA provides only minimal defense against a giant corporation determined to keep your money.
Ramirez found this out when she quickly lost her credit card dispute against the cruise line. And she received yet another rejection from NCL.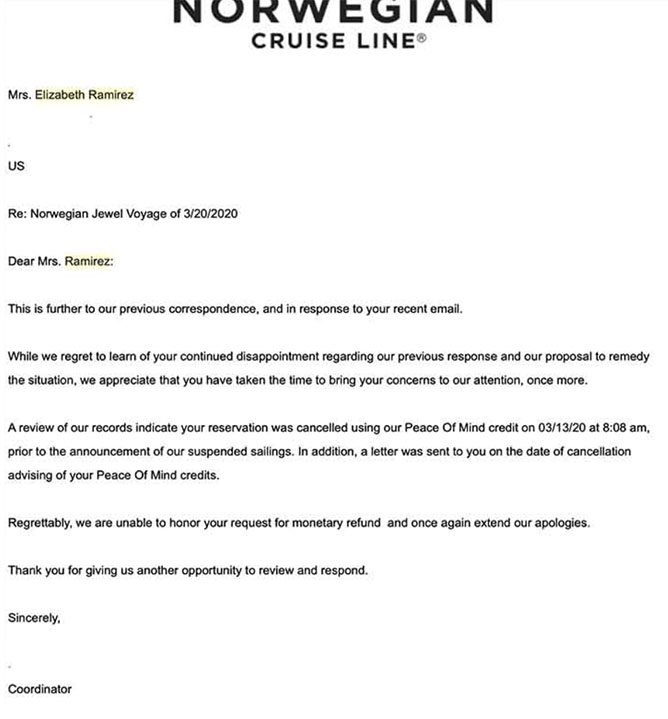 But she wasn't giving up. Her next move was to contact our advocacy team and ask for help.
Asking NCL to have another look
When I received Ramirez's impassioned plea for backup for her mission impossible, I could see that she was correct. NCL had canceled her Polynesian cruise, and she immediately requested a full refund — as per the instructions in the email. Ramirez even provided a screenshot of her phone call to NCL at 8:08 a.m on March 13. Her cancellation notice from Norwegian Cruise line arrived at 7:17 a.m.
It was time to contact NCL's executive resolution team and find out what went wrong.
Hello again, NCL friends! I hope you're all doing well.

We have another unusual case here that I think should be easy to resolve. Elizabeth Ramirez has an email from NCL that is timestamped March 13 at 7:17 a.m., announcing that NCL canceled her cruise for March 20. It advises that she can take a 125% cruise credit OR a full refund. Within the hour, Ms. Ramirez called NCL and requested a refund. She has sent a screenshot that shows she made that call on March 13, 8:08 a.m. The evidence she's sent here shows the timeline as 1.NCL's email arrives and announces the cruise through the Hawaiian Islands is canceled 2. Then Ms. Ramirez calls and cancels the cruise.

The letter I'm including below from **** at NCL has incorrect information based on the paper trail. Ms. Ramirez only contacted NCL on March 13 at 8:08 a.m. due to the email from NCL canceling the cruise.

Ms. Ramirez really needs a refund and she appears to have followed all the steps that should lead to a refund of the cruise that NCL canceled. Could your team have a second look at this case and see if an error was made? Thank you! 😊🚢 (Michelle to NCL executive resolution team)

Michelle to the NCL executive team
Good news: NCL is sending a refund for your canceled cruise
And soon came vindication for Ramirez.
Hi Michelle,

We always strive to do right by our guests while maintaining the business policies and practices we have to help us manage through various situations. Given the fluid and evolving nature of these current circumstances, we are making decisions as quickly and thoughtfully as possible and, as always, we are keeping our guests' best interests at heart. Regarding Mrs. Elizabeth Ramirez's original request for a 100% refund of the fare paid to be reimbursed to the original form of payment, there was an oversight on our part when reviewing her reservation. Our guest services team will be communicating with her directly to process the full fare refund. We apologize for the confusion.

As these unprecedented times have tested established systems, including replacing automatic processes with more manual methods, our teams have been working diligently to make adjustments as needed. Like many businesses, and frankly, many individuals, we are truly doing the very best we can. We are exploring new ways of working, building new processes, striving to do all we can to put our guests first while being fair and equitable to all.

NCL executive team to Michelle
And with that, all has been made right for Ramirez. 🙂
How to make sure you get a refund for a canceled cruise
Read the terms of your cruise contract
It's surprising how many cruise passengers haven't looked over their contracts. It's critical that you first make sure that the terms of your contract are on your side. Review the cancellation terms before you cancel your cruise — no matter what the reason is for your cancellation. Cruise lines are not known for their flexibility. Unless your contract says you're owed a refund, you're not likely to receive one.
Keep all records of your emails with the cruise line
Keep in mind that all of the cruise lines are reviewing and processing thousands and thousands of refund requests all at the same time. As a consumer, it's up to you to make sure that you keep detailed records of all of your interactions with your cruise line. It's a good idea to make a special folder to keep everything saved and organized in one place. Note: Some settings may delete your correspondence after a specific time, so it's essential to save and/or print your interactions.
Take screenshots of form submissions
If you're making a refund request using a form submission, it's essential to take a screenshot of your efforts. Many of the cruise lines' refund request forms haven't been sending passengers confirmations, either by error or design. This problem has left many frustrated travelers with no proof that they ever submitted a refund request for their canceled cruise. Because the customer has no evidence of their claim, the cruise lines can reject these refund requests. You can avoid finding yourself in that situation by taking screenshots of your requests. Then you can put them in the file with the rest of your correspondence. And if you're not computer savvy, no worries — this article explains how to easily take a screenshot on your Mac or Windows PC.
Keep phone records
Regular readers of this site know that we recommend staying off the phone when you're trying to resolve a problem with a company. But in this case, NCL sent an email to thousands of passengers instructing them to call to make their refund request. Like the form submission, this type of methodology for creating a refund request puts the passenger at a disadvantage. There is no way to prove definitively what was discussed during a phone call. If a cruise line asks you to make your request over the phone, make sure to take notes of the confirmation and ask for the employee's name. Keep a copy of your phone records that shows when you made the call and put it in your correspondence folder.
File a complaint with your state's attorney general
If you've followed all the problem-solving tips I offer in my self-help guidance but the cruise line continues to refuse your refund, you can file a complaint with your state's attorney general. That person is the top legal authority in your state. Filing a complaint with your AG can often push a company in the right direction toward sending your refund. Here's how to find your state's attorney general.
Ask the Consumer Rescue team for help
Finally, If you have evidence that your cruise line canceled your cruise before you did and rejected your refund, send our team a request for help. We'll investigate and fight for you. The Consumer Rescue team is always here to help 24/7. (Michelle Couch-Friedman, Consumer Rescue)