United Airlines just canceled Pamela Money's return flight from a remote area of Canada, so where's her refund?
She says an Expedia agent cheerfully informed her that United Airlines would give her a voucher instead of cash. But that doesn't sit right with this passenger, and she's hoping we can get her money back.
What's really going on here?
Pamela's tale is a cautionary one for travelers everywhere. Airlines (and booking agents) are happy to keep your money if you're okay with that arrangement. That's true, even what they clearly owe you is a cash refund. So it's up to you to ensure you know your rights when an airline cancels any part of your flight.
A Yukon-loving couple
Nearly two years ago, as we were all quarantined in our homes during the pandemic, Pamela and her husband, Nelson, had an idea. They decided to start planning a trip to the Yukon – something they could look forward to doing when travel restrictions eased.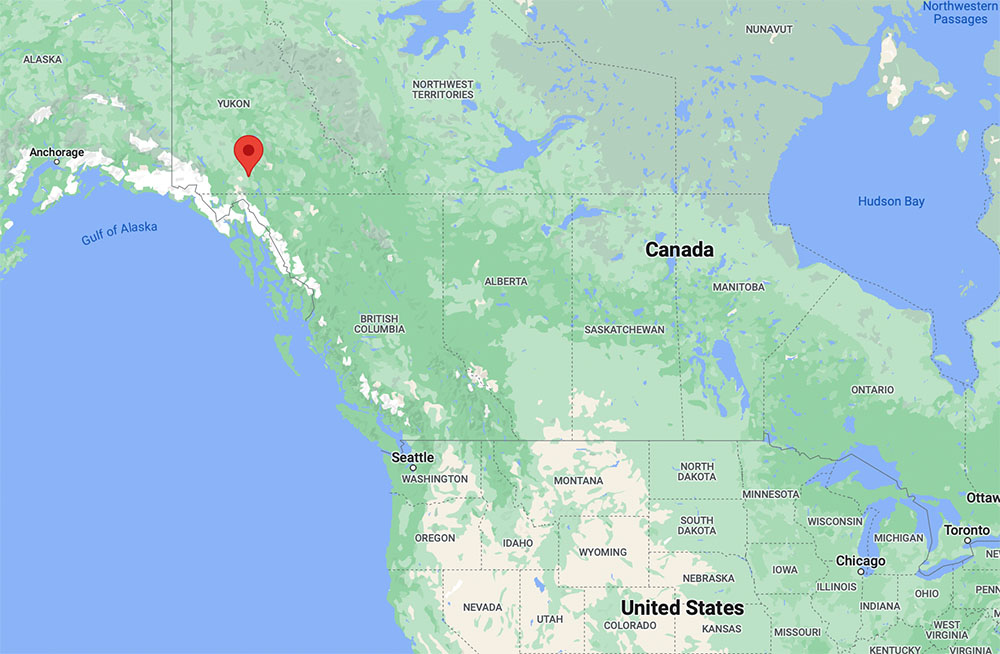 My husband and I loved vacationing there and had visited at least seven times. We always looked forward to returning again and again. So we booked the lodge and paid for our next journey to the Yukon.
But this trip was not meant to be.
Sadly, Nelson passed away before that eighth adventure to the remote area of Northwest Canada the couple loved so much.
Planning a new adventure with Expedia and United Airlines
In early 2022, as travel restrictions had been eliminated one at a time, Pamela's thoughts returned to the Yukon. She had a credit for the lodge that she and her husband had booked for their last intended vacation.
As one could imagine, the pandemic had been particularly hard on Pamela. She was ready to travel and revisit the beautiful, rugged territory that held such fond memories.
But she didn't want to go alone.
"I was thrilled that my best friend decided to come with me," Pamela recalled. "I was really looking forward to this dream trip."
So in March, Pamela reconfirmed the lodge, and she used Expedia to book her airfare for the late summer vacation. Finding acceptable flights from Traverse City, Michigan, to Whitehorse, Yukon was not a simple task.
Eventually, Expedia was able to string together an acceptable, albeit protracted, itinerary. Pamela would travel to Vancouver on United Airlines and then on Air Canada to Whitehorse.
In total, the journey would take over 14 hours. But that didn't deter Pamela.
Now that the friends had confirmed both the airfare and accommodations, she breathed a sigh of relief.
"It was truly intended to be a once-in-a-lifetime adventure," Pamela told me.
The besties spent several months happily looking forward to their wilderness adventure.
Unfortunately, this trip, too, just like that last one, was not meant to be, and that would soon become apparent.
Expedia: Your United Airlines flight is canceled
In June, Pamela received the first indication that this journey wouldn't go off without a hitch.
First, Air Canada sent me an email telling me that my flight to and from Whitehorse was adjusted. But that turned out not to be a big deal – it was only altered by a few minutes. However, a few days later, Expedia sent me an email saying that United Airlines had canceled my flight on the way back from Vancouver.
This was undoubtedly a big deal. But the Expedia agent Pamela spoke to seemed unalarmed.
She (the Expedia agent) said it wasn't a problem because United Airlines had confirmed me on another flight on the same route and on the same day as the canceled flight. No one at United or Expedia seemed to be looking at the replacement flight. If they had, they would have seen that there was no possible way I could have made that connection.
The substitution that United Airlines had confirmed left Pamela with just a 23-minute layover in Vancouver. According to Air Canada, the minimum connection time at the Vancouver airport is 60 minutes.
Pro tip: Published minimum connection times are just that – the absolute minimum connection time you should work into your itinerary. Don't push your luck. Always give yourself plenty of wiggle room during your flight connections. Remember, if you miss your connection because your incoming flight is delayed or you get held up in customs, the Department of Transportation says the airline's only obligation is to put you on the next available flight (on their fleet). That flight can be hours or even days later — especially if you're traveling to an area with limited flights. 😳
Pamela was sure that she would never make a 23-minute connection for an international flight in Vancouver. So she set about correcting the problem.
"This is absurd! United Airlines canceled my flight – I want a refund."
Now she took her efforts off the phone and into the Expedia chat window. There she could keep a careful written record of her attempts to fix this misconnection that United Airlines had set up.
The chat transcript between Pamela and the thing on the other side is interesting.
I say "thing" because I'm unsure if it's a chatbot or a real person, but the responses lead me to believe it wasn't a human. As we've seen in many previous cases, major corporations have begun to entrust customer service to what can only be AI bots. No human could have such insensitive and nonsensical responses to a customer's plea for help. (See: How did a hacker get into my PayPal account?)
In Pamela's case, the chat transcript shows that she asked for help over and over, and the "agent" told her it wasn't possible. In fact, the representative identified as "Maysoon" gave her inaccurate information and encouraged her to cancel the entire reservation and rebook.
"But if I did that, it would have cost me over $1,000 to rebook the same trip," Pamela says. "She wasn't even really trying to help. She told me that was the only way."
Expedia: "Sorry. We are just the middle man."
More concerning, at another point, Maysoon seemed to imply that Pamela might not be eligible for any refund at all.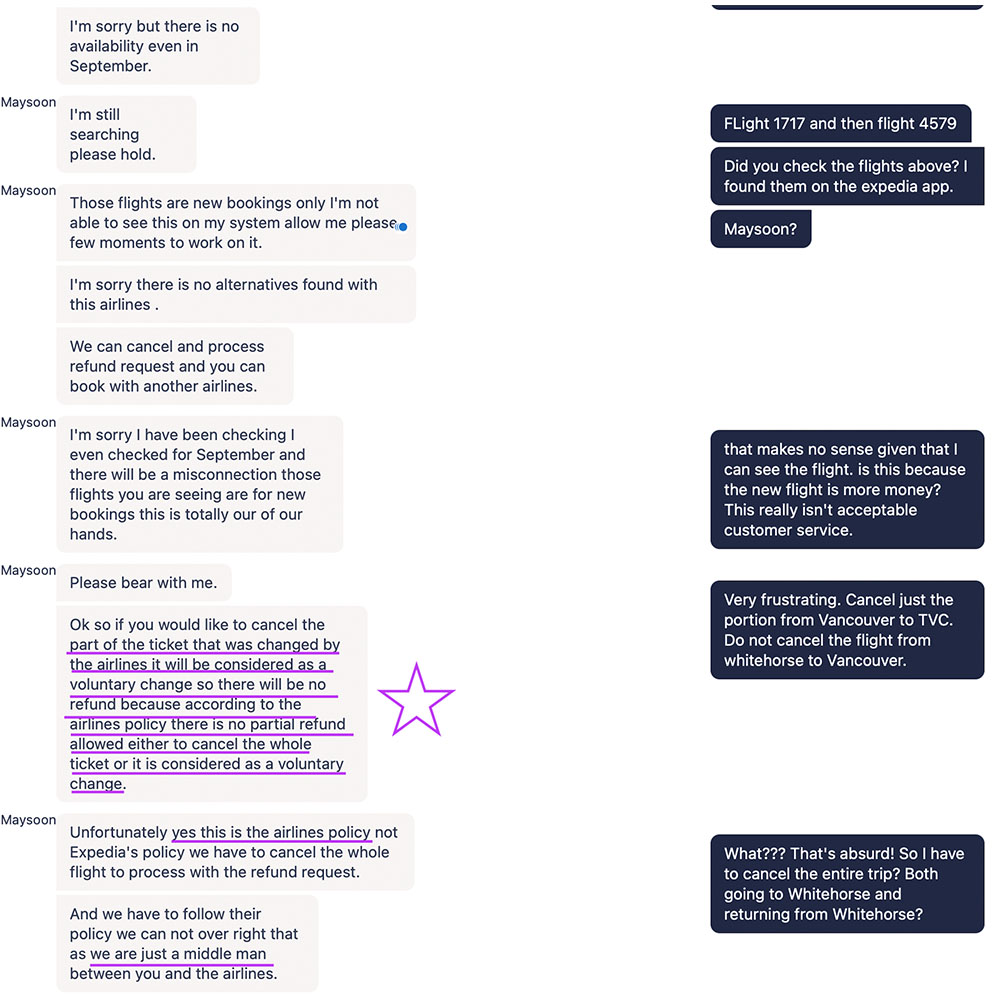 It's unclear why Maysoon determined that Pamela couldn't get a refund after United Airlines canceled the most important leg of her journey – the one that got her from Canada back to the United States. But what she was relaying to Pamela was not true.
If an airline cancels your flight, the DOT requires the airline to do one of two things:
Allow you to receive a refund for the part of the journey you can't take so that you can find alternative transportation.
Put you on the next available flight on their fleet.
Pamela wanted to choose door number #1, but the Expedia agent refused to allow it. According to her, it was all or nothing.
That's when Pamela reached out to Consumer Rescue to ask for direct assistance.
Consumer Rescue investigates: What went wrong with this canceled flight?
When I reviewed Pamela's reservation, I wasn't sure exactly what had happened, but it was clear that the Expedia agent was wrong.
The chat, which went on for many, many pages, had many interesting parts to it. At one point, Maysoon encourages Pamela to find her own substitute flight.
"If you can't find me a substitute, how could I possibly find one?" Pamela asks.
But, the Expedia agent moves on to other topics without answering.
"Your words aren't making sense!" Pamela pleads with the chat representative. "Can you help me?"
Eventually, Pamela gave up, and incredibly, Maysoon asked if she would like to participate in a survey about the Expedia customer service she received.
Uh, I think you know the answer.
It was time to put an end to Pamela's senseless battle. I sent her case over to a real person on the executive team at Expedia who is always helpful to our team.
Asking Expedia to refund this canceled flight
Hi ****

How are you? I've got an Expedia customer here with a problem. Pamela Money purchased a round-trip ticket through Expedia.

She was meant to have a 4-hour layover in Vancouver on Aug 26, but it looks like that flight was canceled, and she was switched to a flight that only gave her 23 minutes in between flights in Vancouver.

That wouldn't give her enough time to make that international flight, even if the first flight was on time.

She called Expedia and used the chat feature to try to find a suitable replacement, and eventually, the Expedia agent told her there were no other options (and no refund).

Can your team have a look at this case? Thank you!

Michelle to Expedia
And very shortly, the good news came.
The good (and bad news)
Now Expedia had several options for Pamela.
Cancel the entire itinerary for a full refund.
Keep her outbound flight and journey back from Whitehorse to Vancouver and receive a refund for just the canceled United Airlines flight. -Or-
The Expedia team committed to helping Pamela find suitable replacement flights home.
But then …
This story took one more ominous turn when the lodge where the besties were booked for their stay burned down.
There is a new wrinkle in all of this. I received an email from the lodge we were going to, that they had a fire that burnt the main lodge to the ground. They will not be hosting guests for this year or next, at the very least.

Pamela
And so, in the end, this trip that was plagued with problems from its original inception is canceled once more. Pamela has received a full refund for her airfare and has learned some valuable lessons. She still hopes to take another trip to the Yukon — to the lodge where she and her husband had enjoyed so many great fishing adventures. But unfortunately, with this new turn of events, it won't be in the near future.
United Airlines can't cancel your flight and keep your money. But…
When faced with an extended delay or even a cancellation, your airline carrier might encourage you to accept a future flight credit. Unfortunately, many passengers don't know their rights and agree to allow the airline to saddle them with a voucher — that comes with an expiration date.
But that doesn't have to happen to you. Here's what you need to know about a refund if United Airlines or any other carrier cancels your flight.
Know the facts about your refund eligibility
Get the facts about your rights during an extended delay or cancellation. If an airline cancels any part of your flight, the DOT says the airline must provide you with a refund of the unused portion of your ticket. Unfortunately, if you used a third-party agent who sold you a specially priced ticket or built your itinerary with a series of one-way flights, the DOT rules don't necessarily apply. You'll need to work directly with your booking agent to determine your refund eligibility. That agency may only owe you a future travel credit. It may also charge you a fee for its services. This is another reason it's always best to book directly with the airline.
Be persistent and take your refund request up the executive chain.
Persistence on the part of the traveler is often the difference between the passenger who gets a refund and the one who doesn't. If you know that the regulations are on your side, be assertive and make your refund request in writing. Send the request to increasingly higher levels of the executive chain of the company. Make sure to cite the DOT rules. Be polite and brief, and follow the problem-solving tactics found in my article on the topic.
File a complaint with the Department of Transportation
If all else fails, you can file a complaint with the Department of Transportation. Often a nudge from the DOT will push the airline to process your refund if it owes you one. Keep in mind the airline has up to 60 days to respond to your complaint. So you'll need lots of patience if you choose this route. Here's how to file a missing refund complaint with the Department of Transportation.
How to protect yourself against the financial repercussions of flight disruptions
Consider trip insurance – even for domestic travel
Many experienced travelers would never dream of setting off on an international journey without trip insurance. But those same savvy adventurers reject the idea for domestic travel. This is an oversight that often leads to avoidable and costly problems. Remember, in the United States, the DOT requires airlines to refund any flight the carrier cancels, but that's the extent of the compensation you'll receive. Airlines are not compelled to reimburse travelers for hotels, nonrefundable events, car rentals, and excursions missed because of a canceled or delayed flight.
All travelers should carefully consider their need for trip insurance before any adventure — domestic or international. Using an insurance comparison site like Insuremytrip can help you understand the various policies available based on your personal circumstances. You'll want to pick a policy that protects you from any losses you could incur if you should get hit by an extended delay or cancellation.
Review your credit card benefits
But what if you didn't purchase travel insurance and find yourself staring at a jumbo bill incurred because of an airline cancellation? The good news is that all may not be lost. Many credit cards provide a basic travel insurance policy as a standard membership benefit.
Review the travel benefits of the credit card you used to pay for the flight to determine if you're covered by a trip delay or cancellation clause. You may just have a secret weapon in your back pocket to combat the financial impact of a canceled flight that you didn't even know was there!
Use a professional travel advisor
Remember, every additional leg you add to your itinerary increases the odds that a delay or cancellation could impact you. Don't expect the algorithms of third-party booking sites to find you the most convenient route to your destination. But a professional travel advisor knows how to create the best possible itinerary for you and will not add needless layovers or connections. And one more benefit? If you do get hit with a delay or cancellation, a skilled travel agent can help rebook you and give you the best plan of action. You can locate an ASTA verified travel advisor here.
The bottom line
Now more than ever before, delays and cancellations are an unfortunate reality of travel. But If you know your passenger rights and do a little pre-trip preparation, you can limit the financial (and emotional) impact of these unpleasant events.
And don't forget, if you are in a battle with a company, you can send your help request to our team. We'll be happy to investigate! (Michelle Couch-Friedman, Consumer Rescue)
Before you go: Will United Airlines let these two puppies fly back home?
Last Updated on July 9, 2023 by Michelle Couch-Friedman