If you show up with the wrong ID to board a cruise, you'll get left behind on the dock as the ship sails away without you.
Unfortunately, Charishma Motwani and her family experienced this awful scenario firsthand. As a result of documentation confusion, they missed their much-anticipated Alaskan cruise on NCL's Bliss.
Charishma says Norwegian Cruise Line is responsible for the mistake that caused her family to miss their voyage. She believes the cruise line owes her a do-over or a refund for their lost vacation.
And once you hear the facts of her tale, you just might agree.
This case provides an important warning for all cruise ship passengers. Charishma's NCL contract contained critical information about the documents she needed to board her cruise. But instead of reading that contract, she relied on information from what she thought was a dependable source. As it turns out, it wasn't.
Planning an Alaskan cruise on NCL's Bliss
Charishma and her parents decided to plan an adventure to a place they had never been before — Alaska. They determined that the best way to see "The Last Frontier" would be by taking a cruise.
The trio chose a closed-loop (round-trip) cruise that began and ended in Seattle, Washington.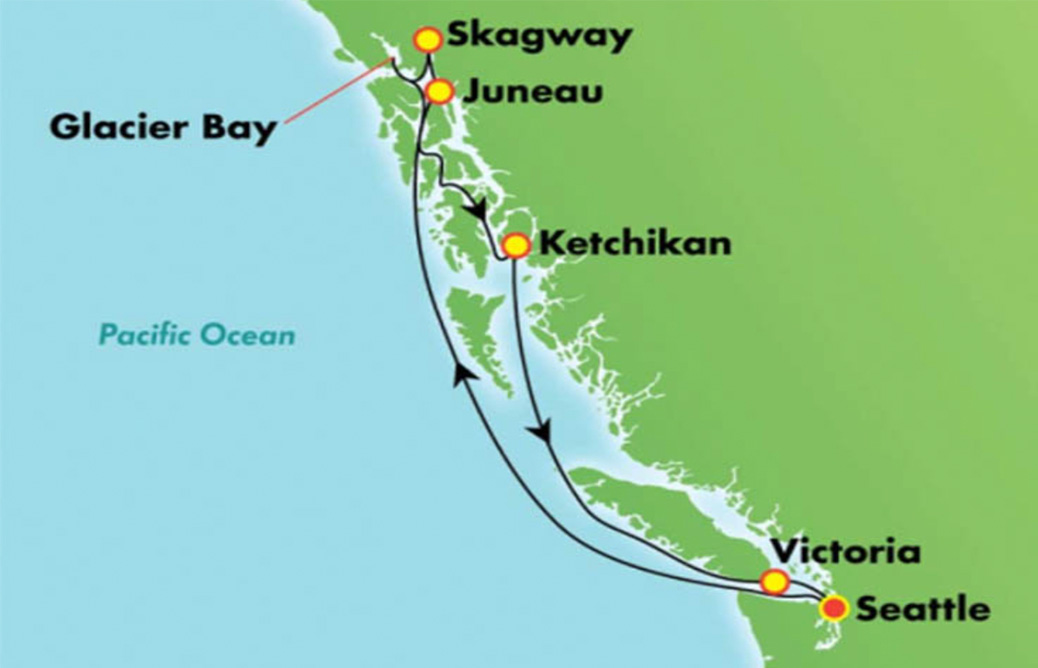 "I contacted NCL to plan the cruise," Charishma explained. "I booked the entire journey using a Norwegian cruise consultant, Karlie."
By mid-July, Karlie had confirmed the family on their fall getaway. They spent the next two months eagerly looking forward to their Alaskan cruise.
Unfortunately, it was a cruise that the family would never take — but they were still blissfully unaware of that fact.
Flying on the same day as the cruise
On the day the family was scheduled to embark on their cruise, they boarded the short flight from San Francisco to Seattle.
FYI: It's always a risky move to schedule flights to arrive just hours before your cruise is set to begin. This type of precarious scheduling has directly caused many of the "I missed my cruise stories" you've read about here.
Flying to your embarkation point at least one day before your cruise's departure is always a good idea.
But this NCL cruise consultant didn't suggest such a buffer. She booked the family on a same-day flight, and Charishma didn't think to question it. Ultimately, in this case, the flight scheduling did not cause the missed cruise. However, it might give us a little clue as to the consultant's level of expertise.
NCL: "You have the wrong ID to to take this cruise."
At the airport, the family collected their bags and located the pickup point for the NCL transportation to the dock. Soon they found themselves standing at the pier. There was the Bliss waiting patiently for her passengers to climb aboard.
Charishma and her parents were filled with excitement to be finally beginning their Alaskan adventure aboard the giant ship. As they stood in line waiting to check-in, they discussed the evening's dinner plans and other entertainment ideas.
But all the family's happy chatter soon came to a screeching halt when they stepped up to the counter. They would not be dining aboard the Bliss that night — or any night.
We handed over our (Indian) passports to the NCL agent. She then asked to see our visas. Previously, our cruise consultant had told us we didn't need visas. But this representative told us we did. She proceeded to tell us we were being denied boarding since we didn't have the correct ID to cruise to Canada.

Charishma
The family hoped that there was something they could do to fix this problem — a way that didn't include missing the cruise. Charishma made several frantic calls to Karlie, the cruise consultant who she insisted told her they didn't need visas.
"Apparently, Karlie was on leave for a few days," Charishma explained. "So I couldn't even reach her so she could confirm she gave us this incorrect documentation information."
Bring the wrong ID for your cruise, and you'll get denied boarding
As the check-in crowds thinned and the time crept closer to the cut-off for boarding, the inevitable became clear to Charishma. The Bliss was going to sail away, and they were going to be left on the dock, watching their cruise head off for adventure without them.
"I couldn't believe it," Charishma lamented. "Then, a supervisor came out and asked me to sign a paper releasing the cruise line from responsibility. I refused to sign it. I believe the cruise consultant caused us to miss our cruise."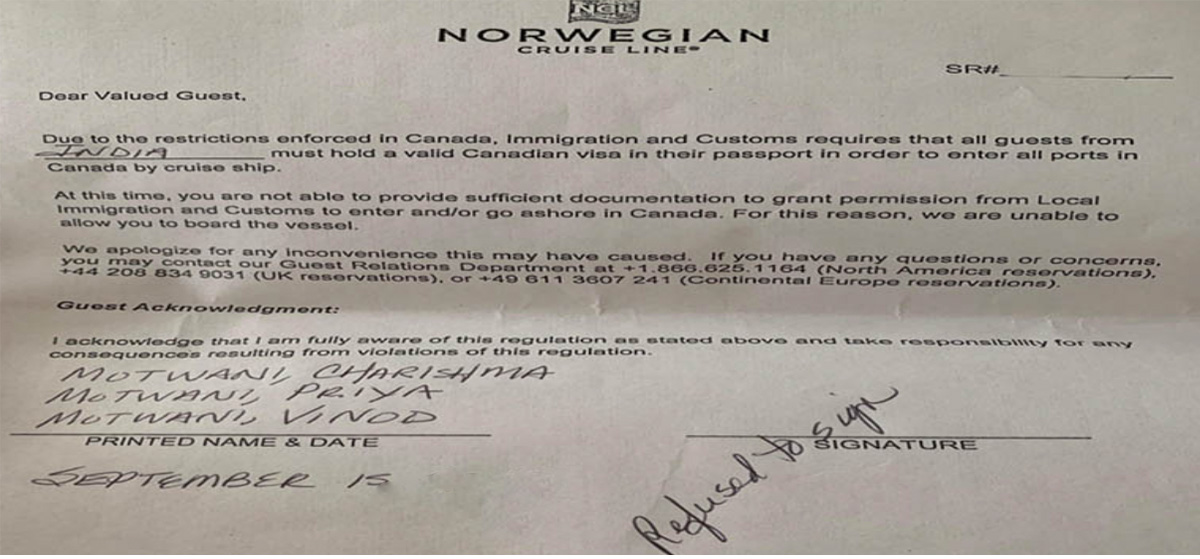 As the Motwanis finally gave up on their Alaskan cruise, the Bliss weighed anchor and headed toward the horizon. And the family dejectedly gathered their belongings and headed back to the airport and flew home.
Having correct ID is always the passengers' responsibility
As soon as Charishma arrived home, she composed a letter to NCL requesting a refund or a full cruise credit. She was sure that the NCL consultant had given her the wrong information about the documentation her family needed to take the cruise. That mistake caused the family to miss the cruise.
When NCL didn't seem to be seeing things her way, she sent her request for help to our advocacy team. Her plea landed on my desk.
Unfortunately for Charishma and other passengers like her who show up without the wrong ID to take their cruise, we can't do much. It's always the passengers' responsibility to know and have in their possession all the required documentation needed for travel. This fact is true whether the consumer is traveling by land, sea, or air.
What does the cruise line say happens if you bring the wrong ID?
Cruise lines can be fined for bringing travelers to foreign lands without the required documentation for entry. So if you don't have the correct ID to cruise to all of your scheduled ports, you'll be prevented from boarding. Oh, and the cruise line won't be sending you a refund or credit.
A quick check of NCL's ticket contract confirms that it will not provide any refund or credit if a guest shows up without the necessary documentation to travel:
11. Travel Documentation: Upon embarkation, the Guest shall have in his or her possession, and assumes all responsibility for obtaining, all visas, passports, certified birth certificates, travel and health documents required by any governmental authority, and if he or she fails to do so the Carrier shall have no further obligation to transport or to furnish transportation to the Guest. The Guest is advised to consult his or her travel agent or the appropriate governmental authority concerning required documentation for travel.

The Guest shall indemnify the Carrier for all penalties, fines, charges, losses and expenses imposed upon or incurred by the Carrier due to the Guest's failure to have proper documentation or otherwise comply with applicable laws or regulations of any kind. Any stamps on tickets, customs, excise or other taxes or fines on the Guest or the Carrier resulting from the Guest's conduct, embarkation expenses, and all expenses of such a nature are to be paid by the Guest. If the Guest is denied boarding for failing to comply with the requirements of this paragraph, the Carrier shall not be liable to refund the Guest's fare or for any other damages or expenses whatsoever.

NCL ticket contract
So with all of this in mind, I broke the news to Charishma that we wouldn't be able to mediate her case successfully. But then she told me something that made me think a little differently about her particular situation.
Did a Norwegian Cruise Line consultant give incorrect guidance?
"Michelle, I thought we had the correct ID to take the cruise, but NCL gave us the wrong information. We asked, and the consultant said we didn't need a visa if we did not plan to get off at the Canadian port," Charishma told me. "I have the email thread from my conversation with her as well. Does that not put any liability on the cruise line as their employee has misrepresented information to get me to book the trip?"
Now, this was a twist.
Even in NCL's ticket contract, the company recommends that you ask your travel agent about the documentation you need to cruise. So what if that 'travel agent' is an employee of the cruise line?
Charishma had just changed my mind about pursuing her request. If she had written documentation that the consultant had instructed her incorrectly about the necessary ID needed for her cruise, then I believed NCL did bear some responsibility here (emphasis on the word some).
Charishma then forwarded her proof. Karlie first asked for a copy of each of her family members' passports, which Charishma sent. The passports show that they are issued by "The Republic of India." Then Charishma asks Karlie if they will need Canadian visas since they are traveling on Indian passports. And here is Karlie's written response:

Asking the NCL to consider sharing the responsibility for this cruise fiasco
I had seen enough. We know the NCL resolution team to be fair and reasonable to passenger problems. And in past cases, when the cruise line's consultants or other personnel have made errors, the NCL executive team has made the situation right.
So it was time to reach out to our friends at NCL. I sent my request along with the proof that Karlie had the family's passport copies. I also sent her response to the passenger's question about the visa.
Charishma Motwani and her family booked a cruise directly with an NCL cruise consultant. Unfortunately, that cruise consultant gave the family incorrect information (in writing) about the family's necessary cruise documentation for the Alaskan cruise. Three members of the family were traveling on Indian passports, and so they needed visas for Canada to take this cruise. The NCL consultant had asked for and received a copy of the family's (Indian) Passports, but she told her clients that a visa wasn't necessary for their cruise. Under normal circumstances, of course, the passenger is always responsible for knowing and having the required documentation for travel, but in this case, it seems that this NCL employee (Karlie E****) gave wrong information and that led to the family being denied boarding of the Bliss.

Could you have a look at this and let us know if something can be done for the family? As always, thank you for your help! 😊

Michelle to NCL
Surprise! The cruise line is granting a do-over
Within two days, Charishma and her parents had the good news: NCL was granting their request for a do-over. They will receive a credit for the cruise portion of this vacation. The family will need to cover their own airfare for the future cruise.
Charishma is relieved with the outcome and hopes to soon take that Alaskan adventure. We discussed the importance of always reviewing the official documentation sent from the cruise line. On her cruise contract, NCL indicated that a visa may be necessary for many ports of call. There is even a link to a visa checker tool included. If Charishma had dived deeper into that information, she would have quickly discovered that all passengers traveling on Indian passports need a visa to cruise to Canada. She says she won't make this mistake again — the family will certainly have the correct ID to cruise to all their ports next time.
And hopefully, NCL is providing Karlie with some re-training, so she doesn't give misinformation to any other passengers.
How to ensure you don't show up with the wrong ID to take your cruise
Today, the internet makes it easier than ever to make sure you have the correct ID to cruise to any destination. Here are some tips so that you don't end up left on the dock with the wrong ID as your cruise ship sails away.
Visit the Department of State: This site is a fantastic resource for travelers. In fact, The U.S. State Department dedicates an entire section to guidance for cruisers. If you're a U.S. citizen, you can find everything you need to know about the correct ID required to enter all the destinations on your itinerary, cruise tips, and more.
Check with the consulate of any country you'll be cruising through: Whether online or in-person, you should visit the consulates of all of the countries on your cruise's itinerary. This is especially true if you have a unique citizen status. You can find most consulates on the internet and can email and ask for specifics about your situation. And if you do, make sure to keep a copy of that email!
Visit Global Visa Search (online): Global Visa Search is another great resource for all travelers — not just cruisers. You enter your passport information, your intended destination, and the purpose of your visit, and it tells you if you'll need a visa. In fact, NCL provides a link to the visa checker website in its cruise contract — if only Charishma had seen it. ☹️
Bookmark the International Airport Travel Association's (IATA) traveler's tool: IATA provides a fabulous tool for travelers to determine their required documentation for entry to foreign countries. The professional version of this tool is what many airlines use to decide if you have the correct ID to travel.
Read your cruise contract: Charishma's contract contained many clues that the family might need additional documentation to board the cruise. If she had read it, that information could have prevented this terrible situation. It's critical that all cruisers carefully go through the pre-travel documentation — the cruise line sends it to you for a reason.
Double-check and cross-reference your information: It's always a good idea not to rely on just one source for your information. So if you want to really make sure you never miss your cruise, flight or entire vacation, double- and even triple-check your data.
Use a professional travel agent: Remember, a cruise consultant is not a professional travel agent. Many of the cruise fiascos we see here could have been avoided if the consumer had engaged a professional travel advisor. You can use the Travelsense website to find a ASTA verified travel advisor who can assist you before, during and after your voyage. That professional will make certain you know what you need for a successful cruise and you can be sure your cruise ship won't leave you behind. (Michelle Couch-Friedman, Consumer Rescue)