Something went terribly wrong with Catherine Duffin's last Expedia booking. She used the online travel agency to plan her family's New Year's getaway to the all-inclusive Xcaret Resort in Mexico. Assuming the cost displayed on her Expedia confirmation would indeed include everything, she received a shock at check-in. That's when hotel management asked for not only the over $16,000 she expected to pay — but also an additional $8,000.
After a bit of negotiating, Catherine says the hotel agreed to accept just $6,987 extra. Faced with no other choice at the remote resort during a holiday week, she paid the bill. But none of these fees were mentioned on the Expedia site, and now she's asking our team for assistance. Catherine wants us to help Expedia get the money back that she believes the hotel charged her by mistake.
But what's really going on here?
Using Expedia to book a tropical vacation to Playa del Carmen
Last summer, Catherine and her extended family decided to travel to Playa del Carmen, Mexico to celebrate New Year's. This resort area just south of Cancun is known for its beautiful blue waters and white sandy beaches.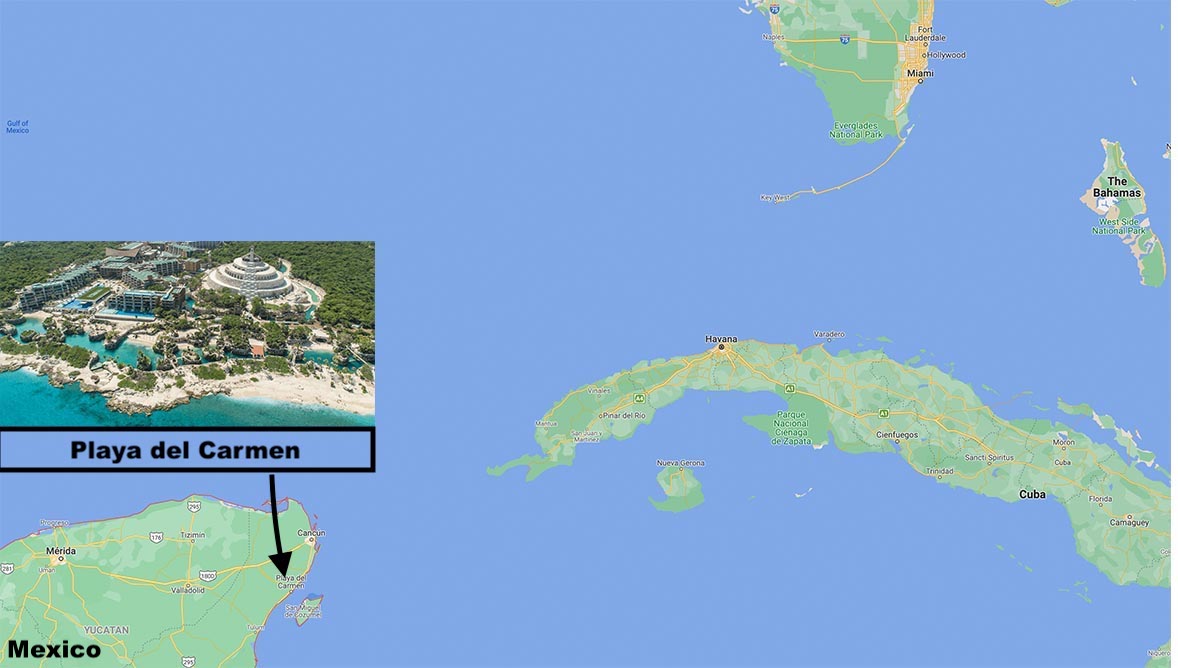 "We wanted to relax at a tropical resort and have everything included upfront," Catherine explained. "Scrolling through Expedia, I saw the Hotel Xcaret Resort."
Catherine found Expedia's description of the property highly persuasive:
Nestled in the Mayan jungle just off the shores of the Caribbean, this all-inclusive resort oasis near Cancun is calling all travelers who need a holiday filled with delectable food, eco-adventures, and poolside lounging.

This all fun-inclusive vacation spot also includes free admission and transportation to all nearby Xcaret eco-parks. Unleash your inner adventurer by ziplining through the Riviera Maya, rafting along the river in Xcaret Park, swimming in the turquoise waters of the Rio Secreto cave, and taking part in cultural dances and music shows.

The description Catherine read on the Expedia website before booking.
She was sold, especially after she read that the property was child-friendly. Part of their group included her adult children and her two grandchildren – a total of 6 guests.
Reviewing all that the resort had to offer, Catherine confirmed two rooms. Although it would be an expensive vacation, to be sure, she knew this was the perfect place for their holiday celebration. The total cost for the two rooms was well over $16,000 – each suite ringing in at around $8,000.
"It was expensive," Catherine recalled. "But the resort looked beautiful, and everything was included, so at least I knew the total cost going into it."
Or so she thought.
In reality, the monstrous $16,000 she agreed to pay through Expedia for their holiday vacation was just a portion of the total cost the hotel would expect.
But she wouldn't find that out until it was too late.
A long day of traveling to the resort and an expensive surprise
On the day after Christmas, Catherine and her family boarded a plane from Illinois to Cancun. From there, the family climbed onto a shuttle for the approximately one-hour drive to Playa del Carmen.
"We were tired when we arrived but so happy to be there," Catherine recalled. "It's a beautiful resort."
Unfortunately, the pleasant feeling of relief to have finally arrived was quickly replaced by another emotion: shock.
When Catherine and her group got to the check-in, she was met with some questioning eyes. Her grandchildren, ages 8 and 10, appeared to be the focus of attention of multiple reception staff.
I asked what was wrong, and the supervisor came out and told me that I didn't pay for the children. He said for the six nights, I would owe an additional $8,000!

I couldn't believe it.

We were in the middle of nowhere, and after traveling all day, I had no recourse with the hotel. I showed them my Expedia booking, but they said the cost didn't include the kids. They finally gave me a "deal"! I could pay $6,987 extra instead of the $8000. I paid it and figured Expedia would fix this for us.

Catherine describing her experience in Mexico
Now the total cost for the four adults and two children in the two rooms had ballooned to over $23,000.
Checking into their rooms at the resort, Catherine immediately started contacting Expedia for help. She wanted to settle in and enjoy the beautiful resort around her, but she knew it would be impossible until either Expedia or the hotel corrected this misunderstanding.
Can Expedia figure out what went wrong with this booking?
Using the online chat feature that Expedia offers on its site, Catherine explained the significant issue with her booking.
"When we checked in, the hotel presented me with an $8,000 bill," Catherine told the Expedia agent. "This resort isn't abiding by my contract with Expedia. I expect you to intervene."
But the agent told Catherine that she would need to escalate her request to the resolution department. This "resolution" didn't sit well with Catherine.
"I wanted to get this settled so I could enjoy my vacation without this dark cloud over my head," she recalled. "But basically, the Expedia agent told me there was nothing she could do. I should try to work it out with the hotel."
Exasperated, Catherine resigned herself that what she was sure was a billing mistake wasn't going to be fixed easily. But she was determined to enjoy her vacation with her family and deal with Expedia and the hotel later.
And that's precisely what she did.
Back from vacation. Ready to battle Expedia over this problematic booking
By all accounts, the family's vacation was everything they expected.
Of course, the extra $6,987 charge that the hotel had slapped on Catherine's credit card was a large bone of contention. So once she was home, she was ready to fight this battle with Expedia over the giant extra charge on her booking.
But despite following all of the guidance I offer in my article about successful consumer problem resolution, by the end of January, Catherine was no closer to getting her situation fixed.
In fact, over and over, Expedia pointed the frustrated grandmother, who speaks no Spanish, back to the hotel.
You are telling me, a 72-year-old grandma in Illinois, who does not speak Spanish, that I should resolve your [Expedia's] contract issues in Mexico? You know full well that is not likely.

Catherine to Expedia
Soon, Expedia agents gave Catherine the bad news that they could not investigate her overcharge. The reason? The hotel would not respond to the Expedia agents. Yet the representatives expected Catherine to fix the issue on her own.
Finally, after a month of trying to get Expedia to help her, Catherine gave up. But not completely. She had one more idea that she hoped would work: Catherine asked our advocacy team for help.
What went wrong at this all-inclusive hotel?
When I read through Catherine's request for help, I wondered if this was another case of a horrible all-inclusive booking error. Regular readers of my column will recall the case of the traveler in the early stages of dementia who booked what she thought was an all-inclusive resort on the beach in Jamaica for herself and her 16-year-old son. It turned out the property was an adults-only business hotel in the mountains. In that case, the paper trail showed the error was on the traveler's side.
I combed through the lengthy paper trail Catherine provided to determine if we had a new contender for the worst all-inclusive booking mistake ever.
However, even after looking through everything, I still wasn't sure.
We know that when travelers book an all-inclusive hotel, it's critical that they list each person on the reservation. Most all-inclusive resorts charge per person, not per room, because, of course, each guest is another consumer of all the products and services offered. Some hotels will include children free of charge, but Xcaret does not.
In fact, the resort's website shows that it charges nearly $500 per day for each child, even when sharing a room with an adult. I showed my findings to Catherine. It looked like things were beginning to lean toward a mistake on her part.
"They knew I was bringing two children," Catherine told me. "My confirmation says I paid Expedia for two adults and two children in the swim-up pool room. They should have let me know if it was going to be $8,000 more!"
But the paperwork that Catherine provided didn't actually say that. Pieces were missing from this puzzle that I thought our always helpful Expedia contact might have. So I sent Catherine's case over to the executive resolution team for review.
Asking Expedia to review this $6,987 overcharge on the booking
Hi *****

Happy New Year!!🎉 Here's a tough one for the new year.

Catherine booked two rooms at the Hotel Xcaret Resort over the New Year holiday for six nights. This is a costly all-inclusive resort. When she arrived, the hotel told her that the rate she was quoted by Expedia for her booking didn't include her 10 and 8-year-old grandchildren who were with her.😬

They charged her $6,900 more at the check-in (about $500 more per child per day). The paper trail she has provided doesn't show what she entered as the occupants on this reservation. I made a dummy reservation on the Expedia site, and I see the rate changes significantly by adding anyone (including children) to the room. But Catherine says her reservation for the swim-up room always indicated four people (two adults and two children). Unfortunately, she doesn't have that visual documentation.

Could your team have a look and see if anything can be done for this family? I'm including the additional charges that the family incurred at check-in. This is nearly $7,000 above the over $16,000 they already agreed to pay at check-in for the two rooms! Thanks for having a look! 😊

Michelle to Expedia
And soon, we had some of the mystery solved.
Expedia: It appears our customer put the wrong ages into the reservation
Our agents looked into this and were able to pull up her confirmation email, which shows the travelers were entered as two adults; 2 infants (this is reflected right underneath the COVID-19 Travel Update alert box in the attached). This all-inclusive property charges a nightly rate (slightly reduced) for children ages 5-17, which is why the customer was asked to pay the additional cost upon check-in since they didn't qualify as infants due to their ages (8 & 10).

We know how much this family was looking forward to their vacation and are so sorry to hear this took away from them being able to enjoy their trip to the fullest. We value Ms. Catherine's business and would like to provide her with an Expedia voucher worth $2,000 ($500 per traveler associated with the reservation) as a way to say thank you.

Expedia to Michelle
I thought this was a fair resolution until I looked closely at the information sent from the Expedia team.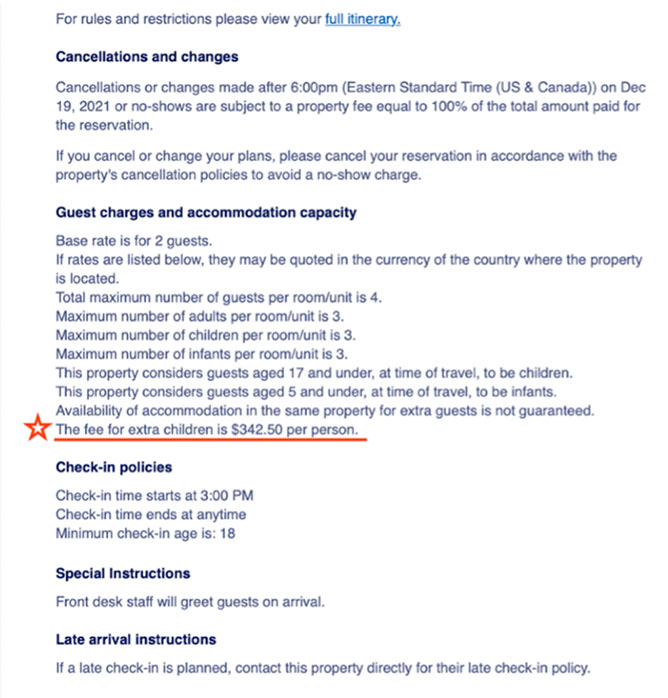 The hotel had billed Catherine much more than the daily rate for a child, even if we agree that she put the wrong ages into the reservation. The other part of the problem was that even though Expedia had documentation that the kids were listed as "infants," Catherine did have a notification from Expedia that she had purchased insurance for two children.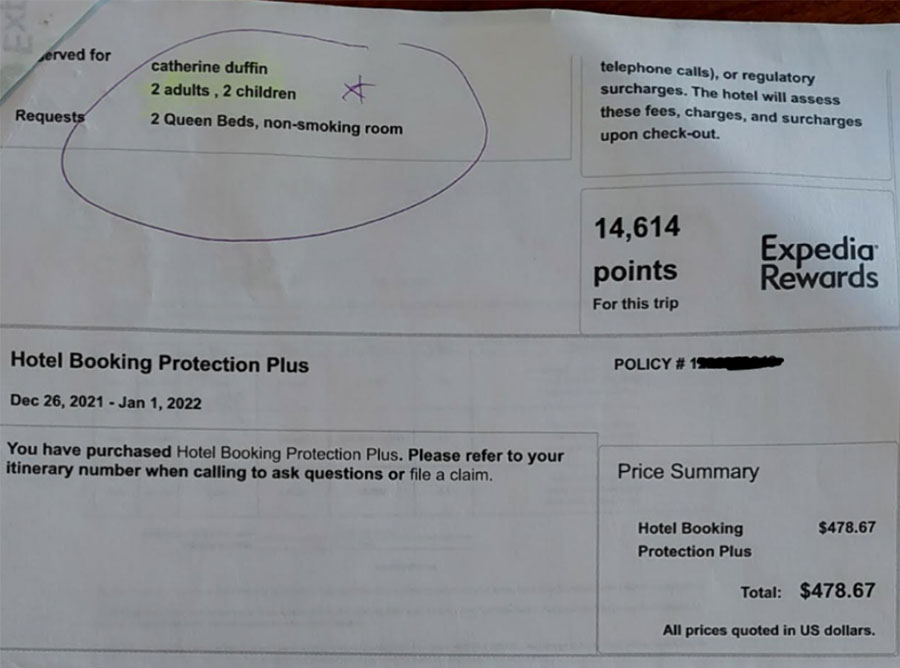 This case isn't quite over yet. Asking Expedia to have one more look
Unfortunately, I think we still have a problem here, though. Now that I see what Expedia is seeing on your side, I can see some inconsistencies with what Catherine has given me here. But the first thing that stands out to me is that the fine print on the reservation you just sent me says extra children will cost $342.50 per day. So even if Catherine didn't include the correct ages of the children, the upcharge for the stay for six nights should have been around $4,200 plus, I assume some tax. Catherine was charged over $6,900 extra by the hotel (I'm including the credit card charge below).

But here's the other problem. The reservation you just sent me says two adults and two infants, and then it has a link to the hotel insurance/waiver.

Catherine's receipt for that insurance from Expedia says, "two adults and two children." Is Expedia able to see the actual ages that Catherine added to the reservation? Maybe your team can have one more look at this one?

Michelle to Expedia
Our contact agreed there appeared to be a bit more to the story here. So the case went back to the executive resolution team at Expedia.
And then we waited.
Finally, a resolution to this complicated case that we can all agree is fair
Hi Michelle,

Thanks for your patience on this one. From our research, we can be nearly certain Catherine did not enter in the (correct) ages of the children traveling with her because if she had, the nightly rate would have changed, as it does with any dummy booking you do for this property.

On Expedia, when you select the number of guests and add children, the default age remains "younger than 1" unless you choose specific ages. This likely explains why Catherine was confident she had added children to her reservation and why, if she didn't enter the ages, it wouldn't have altered the price per night since infants don't seem to impact pricing for this property.

Our agents also confirmed that in our system, children listed as "younger than 1" on the reservation may appear as "infants" or "children" on the itinerary or confirmation emails, so that's not abnormal.

However, we can't be sure because our records don't show the children's ages (not something we can see with our tools). And, I agree with you that this property does not make its rate plans clear or consistent. Furthermore – I found it very difficult to find information on age policies and rates when I googled a handful of Mexico all-inclusive hotels out of curiosity, even when looking at their direct websites – so anecdotally, at least, this seems to be a relatively common murky area. It seems to be pretty standard that you will have to pay at least a partial rate or surcharge for children at an all-inclusive, but the policies vary by property. You should see an "additional guest fee" line item on your booking if you've entered the traveler ages correctly and there's a charge for them.

In any case, Ms. Catherine's experience matters to us, and we want to make sure she knows that. Here's what we'd like to do for Ms. Catherine:

We will refund Ms. Catherine the difference she paid onsite at the hotel ($6,987.60) versus what the info page says is the rate for extra children ($342.50 per child per night = $4,110 before tax). We'll waive the tax on the latter amount and refund the difference, $2,877.60. I will also have our market management team take a look and work with the hotel to clarify their policies on the site.

We've also provided $2,000 in Expedia vouchers to Ms. Catherine's account. Those will remain available to her to use on future travel.

Expedia to Michelle
"I appreciate Expedia's willingness to review … and refund."
Catherine is thrilled with the outcome. After battling the hotel and Expedia for six weeks, she is more than ready to put this case to rest. After reviewing all the details, she agrees this is a fair resolution.
Michelle, I can't thank you enough. I know I could not have gotten results without your help and I think it is a very fair outcome. I appreciate Expedia's willingness to review and start the refund process.

Thanks,

Catherine
With that, we can close the lid on this complicated and still somewhat mysterious fiasco. But as this outcome satisfies everyone, we'll call this an advocacy success.
Planning an all-inclusive vacation? Here's what you need to consider before booking
All-inclusive hotels can be quite convenient for travelers who want to know upfront what their vacation will cost. But this type of vacation is not for everyone. So you can avoid many of the all-inclusive fiascos that our team sees, here are some tips to keep in mind before you book one.
What is the resort's definition of all-inclusive?
This is a critical point to consider when deciding if a specific all-inclusive resort is right for your plans. The term "all-inclusive" is not defined the same worldwide. Some resorts call themselves all-inclusive, but the food, beverages, and activities are quite limited. You may find premium restaurants and drinks come at an additional cost. Then there are other resorts in which all-inclusive truly means every part of your stay is included once you enter the property – even room service and whatever is in the minibar. So make sure that you read all the fine print as to what will be included in your all-inclusive resort — before you confirm.
Are children included?
At many all-inclusive resorts, children under 12 will be included free of charge during your stay. This can be an excellent way for families to stay within their budget. But of course, if you book your children into an all-inclusive that charges an adult rate for kids, this is a great way to blow your budget into the stratosphere. Don't fudge your offsprings' ages on a reservation at an all-inclusive resort — it could backfire spectacularly. Be careful to read the terms on the hotel's website to determine if you'll need to pay for your children. You don't want to be blindsided at the check-in counter, where the hotel has access to your child's passport and will quickly determine their age.
Review the restaurant choices.
Whether or not a specific all-inclusive is right for you could hinge on the restaurant choices. After all, if you're a vegan or follow a gluten-free diet and the options are near zero at the resort, you'll probably want to take a pass. But beyond that, food quality at all-inclusive resorts can vary greatly. Look for reviews on Expedia and elsewhere from guests who've stayed at the property to find out what people are saying. You don't want end up stuck in a remote location with no enjoyable food options for your entire stay.
Will you use all of the "inclusive" features?
When you're deciding whether an all-inclusive is right for you, consider whether you will be able to take advantage of all of the included features. If you're traveling to an area of the world where restaurants and water sports are generally low-cost, it might not make sense to splurge on a pricey all-inclusive. It may be pretty easy to enjoy all the things you want to do, see, eat and drink without paying one giant fee. Here's where a professional travel agent can guide you. You can find an ASTA verified travel advisor who specializes in your travel plans here.
Remember, all-inclusive resorts don't often include tips.
If you're traveling to an all-inclusive resort, don't forget the workers who clean your room and serve your food and beverages. If your all-inclusive resort doesn't include tips and allows tips (some do not), don't stiff the staff – bring some cash to offer to the people helping to make your stay enjoyable. 😁(Michelle Couch-Friedman, Consumer Rescue)