United Airlines canceled Eric Noderer's flight to India and sent his refund to a closed credit card account. Since then, he's been in an endless battle between the airline and Chase to locate the missing $2,217.
Now he's hoping our advocacy team can provide the backup assistance he needs to find and retrieve his money.
Can we do it?
It's never a good idea to close a credit card when you've used it to pay for upcoming flight or cruise. There are many reasons this is so, but Noderer's struggle highlights the primary one. Here's his frustrating tale.
A canceled United Airlines flight to India
In early 2020, Noderer and his wife were looking forward to a journey to India. They eagerly anticipated the adventure, planning to visit the Taj Mahal and many other sites the country has to offer.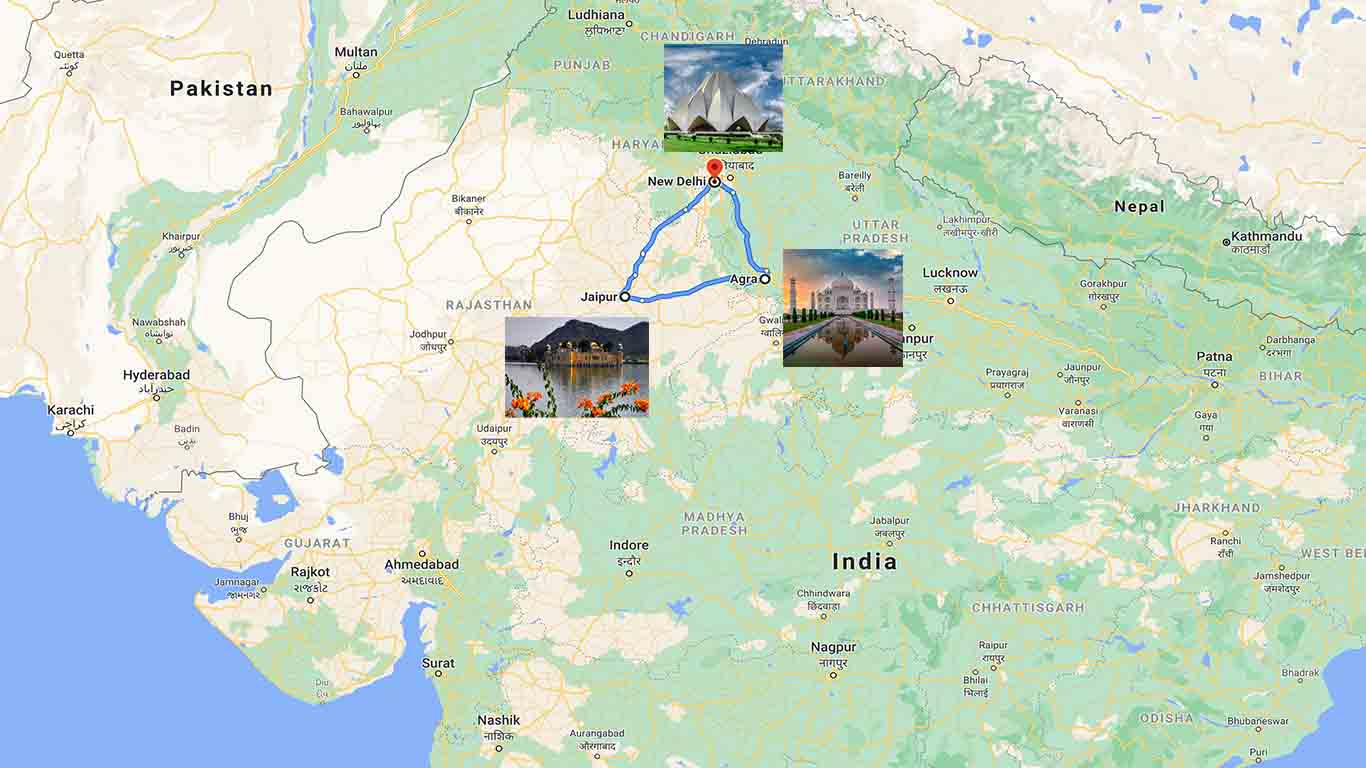 But then, of course, we know what happened next — the coronavirus pandemic hit the world, hard. And all the couple's plans for India came to a sudden end.
In early March, Noderer awoke one morning to find a cancellation notice from Gate 1.
Today, in an attempt to reduce the spread of the coronavirus, the Indian government announced it's suspending many previously-issued visas. This suspension includes tourist visas and starts at midnight GMT on March 13 until April 15, 2020. As a result, Gate 1 Travel regrettably must cancel your upcoming tour.

No action is needed from you at this time. The entire land portion of your purchase will be automatically refunded. We kindly ask for your patience as we work through an unprecedented number of reservations.

Gate 1
Noderer says he and his wife were disappointed but relieved that Gate 1 would be processing a full refund for the tour.
"After Gate 1 canceled our land tour, United Airlines canceled our flight as well," Noderer reported. "We didn't expect any problems."
Unfortunately, there was a big problem on the horizon — one Noderer and his wife didn't expect.
Airline antics during a global pandemic
Since the early days of the pandemic, our advocacy team has seen plenty of airline and cruise line antics designed to avoid paying required refunds. This is true even today in 2022. Complaints to our advocacy team's helpline have been at an all-time high. But throughout that time, we've been there too, working hard to correct as many of these problems as possible.
Most of the cases we've been tackling involve airlines outright refusing to refund passengers as required by the Department of Transportation.
But when I reviewed Noderer's paper trail, I could see that United Airlines had readily approved his refund. That should have been the end of the story.
So what went wrong from there?
Fact: Airlines will refund to the original form of payment
Worldwide, It's a standard policy for airlines to refund passengers via the original form of payment. United Airlines adheres to this policy as well.
The Noderers had purchased their tickets many months previously using a Chase credit card. By the time United Airlines canceled the flight and sent the refund, the couple had paid the balance and closed the account.
To United Airlines' credit, it quickly refunded the $2,217 to the original payment form. Unfortunately, Noderer no longer had access to that closed account, and he didn't realize that United Airlines intended to send the refund to it.
But that's precisely what happened. And when Chase received a credit to the closed account, the bank sent it right back to the airline.
From there, Noderer's refund disappeared into oblivion for months.
"Hey United Airlines, you sent my refund to a closed credit card account!"
In May, Noderer was still patiently waiting for his refund. He sent an inquiry to United Airlines and was startled to find out that the airline considered his case closed.
Dear Eric Noderer:

Thank you for contacting United Refunds regarding the above-referenced ticket.

In accordance with our policies, we will only refund back to the original form of payment. Please direct any further questions to the financial institution that issued the card and their policies on how they will handle any credits that may appear.

Sincerely,

United Refunds
Noderer told the agent that United Airlines had sent his refund to a closed account to which he had no access. But the representative was unmoved. He reiterated that the airline's policy requires reimbursements to go to the original payment source.
Frustrated by the employee's unwillingness to bend beyond standard policy and problem-solve with him, Noderer gave up with United Airlines. Next, he hoped to find someone at Chase who could help locate his refund.
Chase: "Your account is closed, so we sent your refund back to United Airlines."
Chase confirmed that it had received the promised refund from United Airlines. But since Noderer had closed his account, Chase sent the refund back to United Airlines. The credit card giant gave Noderer a detailed letter that he could provide to the airline.
Now Noderer had the document he needed to prove that Chase had returned his $2,217 to United Airlines. Relieved, he assumed the battle was won.
He was wrong.
United Airlines: "Our original decision remains."
Noderer sent an updated request to United Airlines and included the official notice from Chase. To his shock and disbelief, he soon received the following response.
Dear Eric Noderer:

We appreciate the opportunity to review your request, but we find our original decision was correct.

We completely understand your concerns, and we can assure you that your request was handled properly. If you'd like to provide feedback regarding our policy, you can do so via our website.

Thank you for choosing United Airlines.

Sincerely,

United Refunds
Feedback? Noderer definitely had some feedback for this agent's inability to apply common sense to his request. He wondered if a human was even reviewing his emails or the documents he sent.
At the end of his rope, Noderer next contacted our advocacy team.
Asking our advocacy team for help locating this refund
When I received Noderer's request for help, he had been fighting this battle for nearly six months. His frustration was apparent. He had followed every possible step we recommend to try to resolve this problem on his own. Despite following those guidelines, he had hit an impossible roadblock on the path to his refund.
The repetitive, standard script that the agents used in every interaction with Noderer was astounding. He had provided an official notice from Chase that explained that the account that United Airlines had sent the refund was closed. Chase attested to the fact that it sent the money back to the airline.
But those agents never wavered: "United Airlines can assure you that your request was handled properly."
Really?
Well, I was sure that the United Airlines representative did not handle this refund request properly. It was time to reach out to our executive contact at United Airlines and find what went wrong.
Where is this passenger's refund for his canceled flight?
Our executive contact at United Airlines is always helpful to the consumers who contact our advocacy team. And together, we've resolved many cases that have been improperly handled at a lower customer service level.
So I figured that we could quickly end Noderer's misery and get his money back into his own bank account.
We have a United Airlines customer over here, Eric Noderer, who is having a dilemma that he can't resolve. United Airlines canceled his flight to India in March and promptly refunded his credit card. But he had closed that credit card between the time he bought the ticket and the time that United canceled the flight.

Since Dr. Noderer's account was closed when Chase received the funds, their team sent it back to United Airlines. He contacted United Airlines to ask for an alternative way to process the refund and the representative told him that UA could only provide a refund back to the original form of payment. So now he's in an endless loop between Chase and United with no refund in sight. Under my signature, I'm including a screenshot of the notice of the return of the funds from Chase back to United.

Could your team have a look and see if we can find an alternative way to process this refund? Thank you! 😊✈

Michelle to United Airlines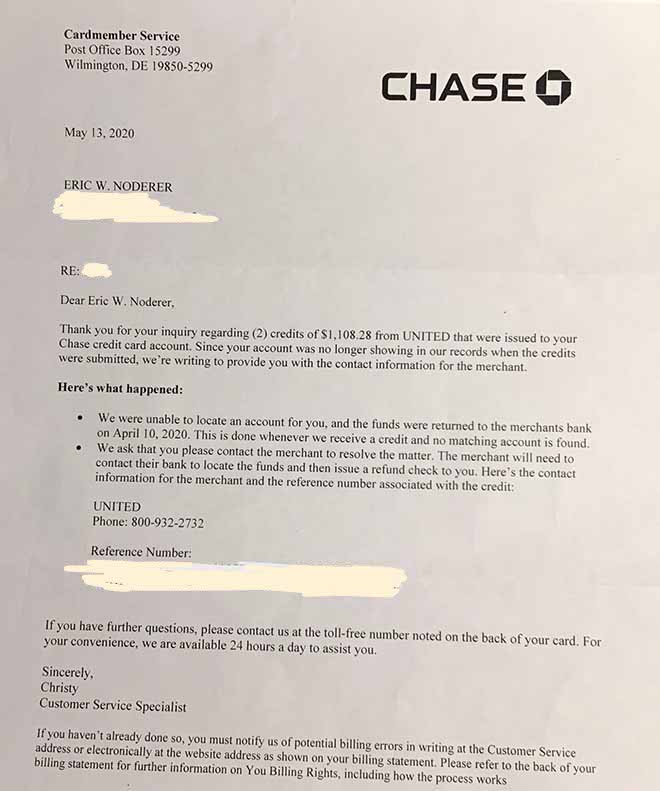 The good news: Here's your refund from United Airlines
The good news came swiftly for Noderer. The executive team (real people) looked at the facts of the case.
Hi Michelle, thank you for that additional information. Our team would like to contact Mr. Noderer directly to process the refund to a new account of his choice.

United Airlines to Michelle
And soon, I received an email from Noderer confirming that he had finally emerged victorious in this refund battle.
A United Airlines representative contacted me by phone and made arrangements to send my refund to another credit card account. The representative was very apologetic. But the remedy for returning my refund was so simple that it should not have taken six months. Without your help, I don't believe I could have received my refund — ever. Michelle, Thank you so much for your assistance in this matter. Thank you!!!

United Airlines
And with that, we can happily drop one more case into our advocacy team's success file.
You should not close a credit card account if you have an upcoming flight. This is why.
Before you close a credit card account, make sure to take inventory of what you've charged to it. If one of those things is an airline ticket it's a good idea to wait until after the travel is complete — or, as in this case, after you've received your refund. Here are a few reasons why.
Airlines automatically refund to the original form of payment.
If an airline cancels your flight, it's standard practice to refund the passenger to the original payment form. This refund policy is typical for almost every airline around the world. To save yourself the possibility of your own 6-month struggle for a refund, it's best to wait until after you've completed the journey to cancel your card.
The credit card company will cancel your benefits.
Many credit card companies offer basic travel insurance and other benefits when you charge your travel to the card. Coverage can include lost luggage protection and trip interruption/delay benefits. However, if you cancel that card before your flight, you won't be eligible for those perks.
You may need to provide the credit card at check-in.
This protocol is more true in foreign countries, but you may need to present the credit card you used for payment when you check in for your flight. If you no longer have the card, you could be in for some real trouble. (Yes, we've seen passengers denied boarding abroad when they're unable to present the original form of payment.)
You can't dispute any charges. Remember, the Fair Credit Billing Act allows consumers to dispute credit card charges when a merchant doesn't provide the services as agreed. But once you close your account, you won't have that option for any purchases made on that card. If one of your purchases is an airline ticket and things go wrong, you've eliminated one possible path to a refund. You can avoid this potential disaster by waiting to cancel your card until you've completed all flights. (Michelle Couch-Friedman, Consumer Rescue)
*Before you go: Here's what happens when United Airlines marks you as a no-show, but you were on the flight!
Last Updated on December 8, 2022 by Michelle Couch-Friedman