Elisa Boyd says her experience at a hotel in Scottsdale, Arizona, has been the most embarrassing of her life. This story begins with two friends on a relaxing desert getaway. But it ends with a mortifying accusation by W Hotel employees and a giant post-stay credit card charge.
Now Elisa wants her name cleared and her money returned.
Elisa's experience is one more to add to the file of hotel guests blindsided by unexpected and dubious post-stay fees. And it serves as a reminder to make sure to leave your room in the same condition you found it. Otherwise, you might find yourself with hefty and embarrassing charges on your hotel bill — and no way to defend yourself.
A spectacular desert getaway comes to an embarrassing conclusion
In July, Elisa and her friend, Molly, spent four days at the W Hotel in the desert. By all accounts, their stay was fabulous. But all the wonderful memories of their short vacation were quickly overshadowed when the hotel made an embarrassing accusation — several days after check-out.
"At check-out, we reviewed the bill, and Molly and I split the cost," Elisa recalled. "Everything looked fine. Two weeks later, though, Molly found a $750 additional charge from the hotel."
Elisa assumed it was a clerical error and called the W to have it removed. That's when a hotel manager informed her that there was no mistake. The charges were a "biohazard clean-up" fee.
Elisa says she didn't understand the manager's explanation of the charge. She asked him what biohazard needed cleaning in their hotel room.
That's when she discovered exactly what the hotel accused the friends of doing.
"I had spilled a bottle of water in the bed, but apparently, the cleaners thought it was urine," Elisa explained. "This is the most embarrassing hotel experience I've ever had. It's insulting. We are two grown women in our 40's and well past the bed-wetting stage!"
But despite the protests from Elisa and her roommate, the charge remained on Molly's credit card.
An incident report and photos to justify a biohazard cleanup fee
When the friends pressed the issue further, the manager promised to send photos and an incident report.
If you're a regular reader of my columns, then you know I've been tracking these surprise post-stay hotel charges for years. In most of the cases I've tackled, the hotel has not even a shred of evidence to support the fee.
But in this case, the hotel had documented the "damage" extensively. The manager of the hotel soon provided not only an incident report but a variety of photos. When the friends reviewed the evidence, they agreed that there was some light staining on the sheets. However, they continued to insist to the manager that it was only a water stain.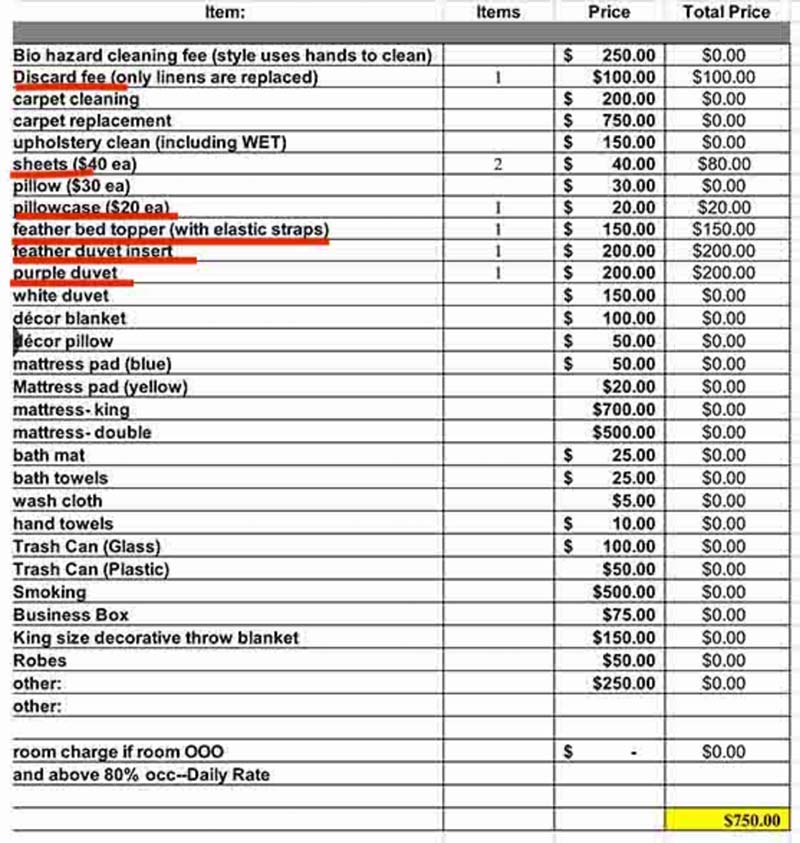 Will this embarrassing hotel experience ever end?
"That is not urine. It's a water stain," Molly wrote to the manager. "It is unfortunate that you mistakenly disposed of perfectly good bedding, but it is not our responsibility to replace it. This entire situation is embarrassing and disgusting."
Molly's explanation did not sway the manager. He made it clear that he considered the matter closed.
I investigated your claim that it was just a water spill. I spoke with the security officer who made the report. Then I talked to the houseman who removed the Biohazard.

All the employees confirmed a strong smell of urine on the wet sheets, pillowcase, duvet, and bed topper. I included our Bio Hazard Replacement Charge Sheet. We cannot reuse any of these items and [the hotel] charged you the cost of replacements.

The manager of the W Hotel
Both ladies realized they were getting nowhere with the manager. Their experience was only getting more embarrassing with the mounting evidence of photos and reports from the hotel.
That's when Elisa decided to ask our advocacy team for help.
Can I help get rid of these unusual charges?
When Elisa's plea landed on my desk, I scrolled through all the correspondence between the hotel and the two ladies. The lengths the hotel had gone to document the "problem" was impressive. Most of these cases I've covered involve hotels with little to no documentation. They've helped themselves to the guest's credit card but can't provide any evidence as to why. Or worse, the manager has provided "evidence" that appears to be fraudulent.
These cases are fairly easy to resolve.
However, in this case, the hotel provided photos and an itemized list of the damages.
One photo showed a light yellowish circular stain on a sheet. And then there were some other photos of piles of sheets and blankets that I didn't think showed anything at all.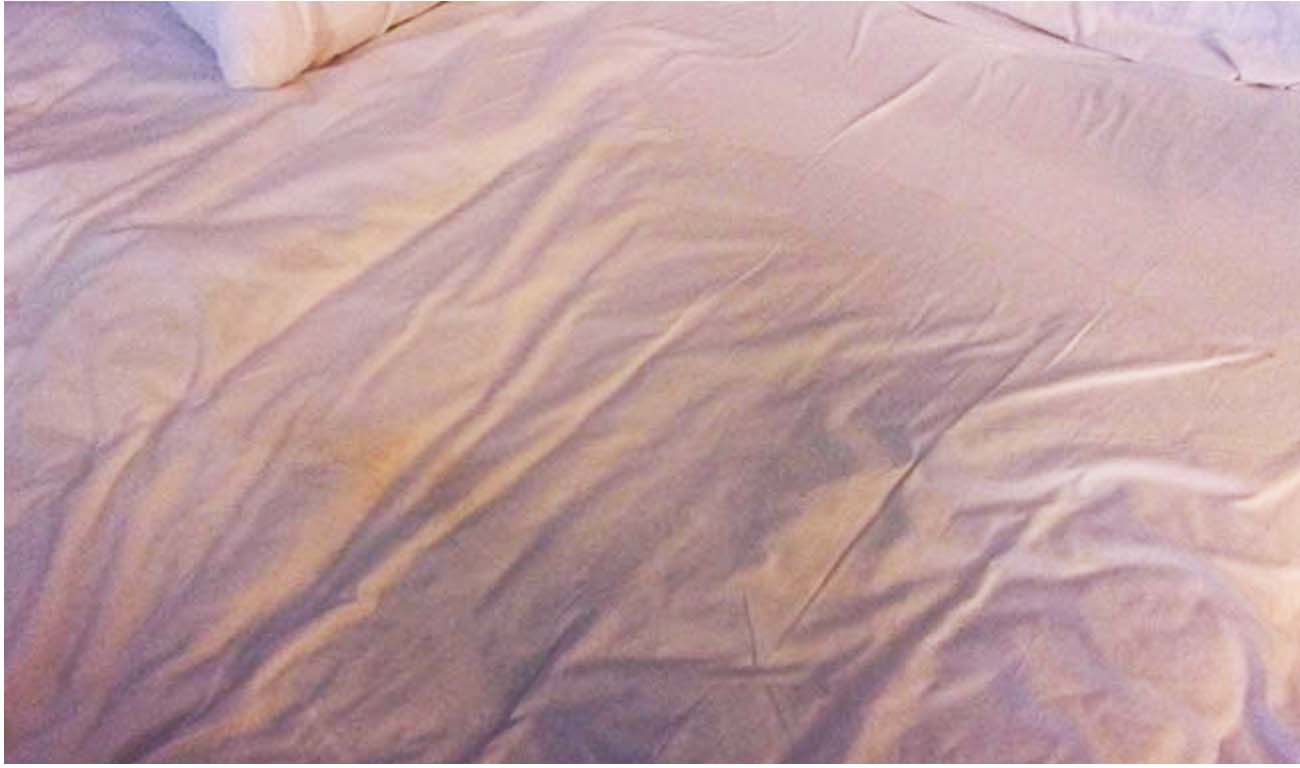 I asked Elisa what she thought caused the faint yellow stain in the bed.
Well, I had taken one of the water bottles and had a swig and laid it next to me. I thought the cap was on, but it wasn't and it spilled on my side of the bed. Lastly, that small smear is makeup from when we were at the pool. I used some spray for my legs, rear, stomach, and arms that can tend to come off. It's not a spray tan but Sally Hansen's leg & body makeup.

Elisa to Michelle
This explanation seemed plausible to me.
And the cost of this biohazard clean-up seemed incredibly high. In fact, I haven't ever seen a hotel charge such a steep fine (P.S. I have seen an Airbnb host try to charge a guest a whopping $1,470 cleaning fee — and without a shred of evidence!). Also of concern was that the hotel had processed the $750 fee without even a call to the guest.
It was time to contact the W Hotel and find out if their team had followed all the correct procedures in this situation.
Asking the W Hotel about these post-stay charges
I reached out to the W Hotel's executive team and asked if a $750 charge to a guest's credit card without any notice was standard practice. And I pointed out that this charge seemed out of line with the types of cleaning fees we typically see.
[your guest]reports that after she checked out, she found an additional $750 charged to her credit card. Subsequently, she learned that staff members said that there was urine in her bed and the clean-up fee/ damage costs totaled $750. Your guest and her roommate reported that they spilled a bottle of water in the bed, but that there was no urine.

The reason that I am contacting you is that the clean-up fee seems entirely out of line with what other hotels are charging for such remediation. Of additional concern is that [your management] charged your guest's credit card without consultation.

We are requesting a review of what the hotel charged the guest for and a reconsideration of these charges. It would appear the hotel is charging for a variety of replacement costs, but the photos that I have here do not seem to show damage to the comforter or pillowcases.

Michelle to the W Hotel
A (mostly) happy ending to this embarrassing hotel experience
The next day came mostly good news for the two friends. This awkward hotel experience ended with the W Hotel agreeing to lower the fine to a more reasonable $225.
"I feel responsible for the sheets. [It's fair] that we would pay an acceptable cost for the sheets," Elisa says. "But we shouldn't be paying a biohazard clean-up fee since there was no biohazard. The $750 charge was outrageous, but more surprising is that the hotel felt they were in the right to charge without any notice, which is scary."
Both ladies agree that the $225 is an acceptable resolution. They say, it's a relief to be able to put this embarrassing hotel experience behind them. And one thing is sure, the next time Elisa or Molly visit a hotel, they'll check their water bottle caps and leave the tinted body lotion at home.
How to reduce your chances of getting hit with surprise hotel charges
Unfortunately, hotels seem to be more willing than ever to charge guests post-stay fines. Many of these surprise hotel charges are applied to the credit card days after the guest has left the property — typically with no warning.
Here are some things you can do to reduce your chances of a hotel blindsiding you with extra charges.
When you arrive, review your room for any damages: Your hotel room should get the same type of inspection you're likely doing before you drive off a car rental lot. Look around the room for damages or missing items. Don't forget to peek in the minibar and make sure it's fully stocked. You don't want to pay for the last guest's pre-departure snack grab. Let the front desk immediately know if there are any oddities in your room.
When you leave, take some photos or a quick video: Taking a quick video to show the condition of your room at departure can help protect you should you find yourself with surprise hotel charges later. Pay particular attention to high-value items like the television and any appliances in your room.
Alert staff members if you need help cleaning up something in your room: No one likes to be surprised by a mess of unknown origin — especially hotel employees. It's always better to be proactive if there is a self-created problem in your hotel room. So ask for help. The biohazard confusion here could have been avoided if the friends had alerted the front desk of the water bottle spilled in the bed.
Don't use a debit card to pay for your hotel stay: Whether by coincidence or something else, a high proportion of these types of cases involve consumers who've used a debit card to pay for their stay. Remember, when you hand over your debit card, you're allowing access to your entire bank account. This can be devastating to a consumer should a hotel help itself to several hundred dollars to cover fines. And remember, debit cards don't come with the protection of the Fair Credit Billing Act which can leave a consumer in this situation out of luck. (Michelle Couch-Friedman, Consumer Rescue)
Last Updated on July 13, 2023 by Michelle Couch-Friedman