Could a car rental company bill you for damage you didn't cause — six weeks after you return the vehicle? As you'll soon read, the disturbing answer is, "Yes, definitely."
---
Hertz recently accused Akshay Ghalsasi of causing $600 in damage to a rental car he drove in January. But Akshay says he returned the vehicle in precisely the same state of disrepair as he received it.
He claims the rental car had a plethora of pre-existing damage, and he's sure that the company knew about it. Akshay insists he has some powerful evidence that proves he isn't responsible for the repair of the vehicle.
But unable to get anyone at the car rental company to review his photographic evidence, Akshay is looking for help. He hopes Consumer Rescue can deliver those photos to Hertz and get the car rental giant to drop the damage claim against him.
So what exactly do those photos of the damage on the rental car show?
Surprise! You got a great deal on a rental car from Thrifty
In early January, Akshay and his wife decided to take a mid-winter getaway to Florida from their home in Illinois. They would fly to Ft. Lauderdale, where they would rent a car at the airport.
Using Priceline's Express Deals feature, Akshay was pleased to confirm a really great rate on a Standard mid-size car with Thrifty. The total cost of the prepaid, non-refundable four-day rental was $129, including fees. Little did they know the cost would later explode to over $700. (Note: Hertz is the parent company of Thrifty Car Rental)
Landing in Florida and… could this really be our rental car?
When the Ghalsasis landed in Ft. Lauderdale, they went to the Thrifty rental center, where things started going wrong immediately.
"We waited for almost two hours in a line before we finally made it to the counter," Akshay recalled. "We handed over our voucher, and we finally had the keys and made our way to the rental car."
Weary from the flight and the long wait in line, the couple was eager to be on their way. But when Akshay went to the back of the car to load the suitcases, he noticed the vehicle seemed beaten up. It didn't really look like any car he had ever rented previously.
"There were five yellow Xs painted along the side bumper," Akshay told me. "I didn't really want to wait in any more lines, but obviously, I couldn't drive away with this car."
Akshay says he reported his findings to a lot attendant and asked to switch to a different car.
The Thrifty employee told me that there were no other cars available. But he said the Xs meant that Thrifty was aware of the damage, so we didn't need to worry.

Akshay
Reluctant to accept the car, but knowing they had little recourse since Express Deals are non-refundable and non-changeable, the couple got into the rental and drove away.
More damage on this rental car
Akshay says at their first stop after they left the airport, now in the bright Florida sun, he took a really good look at the vehicle. He found more damage and more yellow Xs.
In addition to the exterior damage to the rental car, there were internal problems as well. The change oil lamp lit up as soon as the couple hit the highway.
One thing was clear: This rental car was not well cared for.
Akshay snapped some photos of the damage painted with the yellow Xs, and the couple resumed their drive to their destination. It wasn't a pretty car, but the price was super low, and it got them where they wanted to go.
The Ghalsasis enjoyed their getaway, and soon it was time to return the dumpy rental car and fly home.
"We returned the car, and the attendant cleared it – again, obviously because all the damage on the rental was highlighted by yellow paint," Akshay explained.
The couple was soon airborne, headed back to Illinois. And the little beat-up rental car was likely soon in the hands of another surprised traveler.
The Ghalsasis didn't give the negative rental car experience another thought. That is, until about six weeks later when a surprising letter arrived from Hertz.
Hertz: "No matter who was at fault, you must pay for the damage."
The letter began by telling the couple:
Due to unforeseen circumstances during the above-referenced rental period, the vehicle assigned to you sustained damage. The rental Agreement reflects that you declined Loss Damage Waiver, choosing to accept responsibility for any loss or damage that should occur, regardless of who was at fault. Therefore you are responsible for the amount described on the attached invoice.

Hertz Damage and Recovery Unit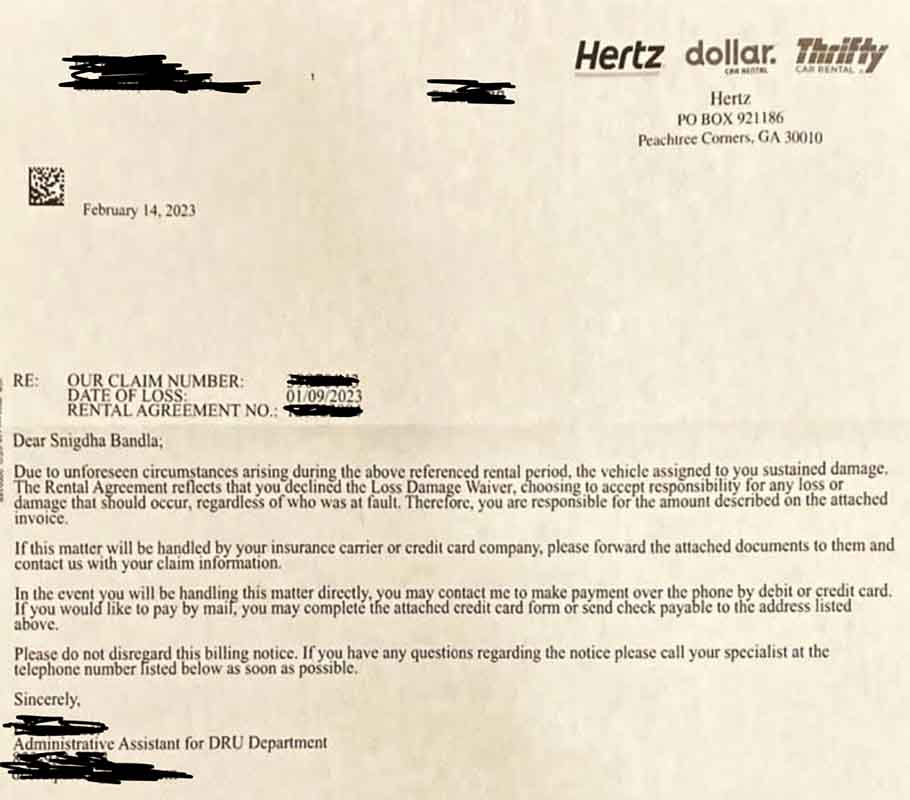 When Akshay read the letter, he couldn't believe it. No matter who was at fault? It seemed like this was a "gotcha" scheme. Because he had not refused the car outright, Hertz was pinning all the pre-existing damage on him (technically on his wife).
The whole thing was outrageous and Akshay was sure it was not legal. He had no intention of paying for the damage to that beat up rental car, "No matter who was at fault." So although the letter warned the couple not to ignore the invoice, they did.
And as we've seen time and again, the next move by Hertz was to send its customers to collections.
Can Consumer Rescue defend this couple against this damage fee?
Scrolling through the internet soon after discovering that Hertz had sent the $600 repair bill to collections, Akshay came across Consumer Rescue. He read about other Hertz customers who had found themselves battling the car rental giant as well.
He hoped that we would be able to rescue him too. And soon his request for help hit my desk. When I opened his attachment – the one with the pictures of this rental car, I was confident this case was a slam dunk.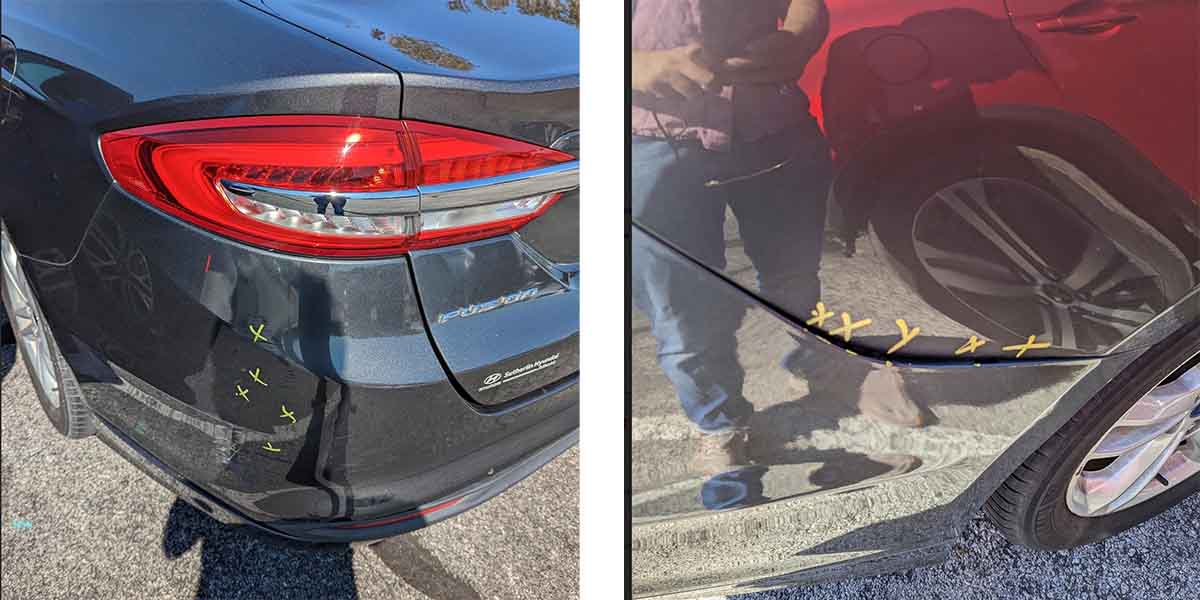 Why is this customer being charged for pre-existing car rental damage?
Looking at the pictures, I was having a difficult time imagining how someone without ill intent had created a damage report for Akshay's rental. Thrifty had rented him a car which had clearly been previously identified as having significant damage and then, after six weeks, billed him for the repairs.
It was time to ask Hertz what was going on here – and get Akshay and his wife out of collections.
Hi ****,

I have an unusual case from a Thrifty customer today. Akshay Ghalsasi and his wife Snigdha Bandla (rental agreement *****) rented a car on 1/6 from the Ft. Lauderdale airport. They noted immediately on inspection that the car had a line of Xs painted on both of the back panels where there were several dents. The oil light was on too, and the couple asked for an alternate car, but there were none available. So they accepted this one.

A month after they returned the car, Hertz sent them a notification that they had returned the car with damage to the back panel (the one where the Xs were painted). Hertz is now billing this couple $600 for this damage that was pre-existing – and they are in collections.

This seems to be some kind of internal mistake since the couple has photos of the Xs on the car (below my signature) and they certainly didn't paint those Xs on the vehicle.😬

Would your team be able to have a look at this one? Thank you!😊🚗

Michelle to Hertz
The good news from Hertz
And very shortly the Ghalsasis' troubling saga came to a happy conclusion. The Hertz executive resolution team took a look at the photos which showed the pre-existing damage and yellow Xs dotted all over the back of the rental car, and agreed there had been some mistake.
Hi Michelle,

Thanks again for bringing this to our attention.

Our Customer Care and claims teams have resolved the issue and closed this out.

Hertz executive resolution team
And Akshay and Snigdha are thrilled to be able to put this travel fiasco to rest.
Thank you! I shall spread the word about the excellent work you guys do at Consumer Rescue.

Akshay Ghalsasi
How to get a rental car company to drop damage charges against you
Unfortunately, our consumer advocacy team knows that many car rental customers are charged for vehicle damage they didn't cause. You can lessen the chance of being one of those unlucky travelers by taking a few precautionary steps before, during and after your car rental.
Take photos and videos of the rental car
You should never hop in a rental car and drive away without thoroughly inspecting the vehicle – inside and out. Take photos and videos of the car and zoom in on any areas that look suspicious. Don't forget to have a look on the roof as well. Remember, once you take the car out of the parking lot, you are responsible for any damage to that vehicle – even pre-existing damage. So you want to make absolutely certain that there are no dings or dents on the rental car or you could end up getting charged for them later when you return the car.
Make sure an employee signs off on the damage
Taking photos and videos of any damage on the rental is great, but you also want to document the problems on your contract before you take ownership of the vehicle. You should be presented with a Vehicle Inspection Report where an employee can mark Xs on areas of the car which are problematic. That form can vary by agency but it will look something like this: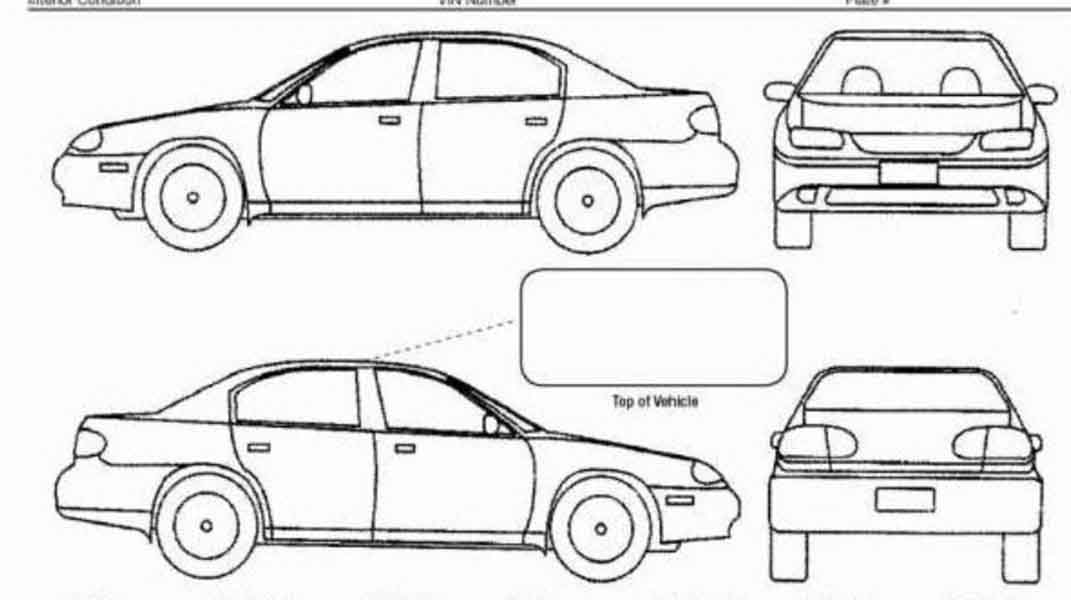 Get a receipt when you return the vehicle
When you return the car, ask for a manual inspection of the rental vehicle. Note the name of the employee that inspects the rental car and make sure to get a receipt.
The receipt is critical and not just for damage clearance.
We've seen a dramatic increase in the number of cases in which car rental companies accuse their customers of not returning the vehicle. In some cases, it seems that the rental car goes missing – sometimes for many weeks. The fees can be mind-numbing if a car rental company can't find the vehicle you already returned. But these types of shenanigans can all be avoided by always getting a receipt when you return your rental car.
Don't delete the photos of the rental car
Another recent trend our advocacy team has noticed is car rental customers getting blindsided by extra charges many weeks and months after the rental. In last week's tale of a man who thought it was OK to return a rental car dirty (Hint: It isn't), I also shared the story of another customer who got hit with a smoking charge two months after he returned the vehicle.
These surprise cases, many weeks down the road, show why it is so important not to delete those photos you've taken before and after your rental.
Unfortunately, you may still need them long after the rental is a distant memory.
Escalate your complaint
It's very important not to ignore a demand from a car rental company to pay for damage. I assure you that nothing good will come of this tactic, but it is one that quite a few consumers who have contacted my team have taken. A similarly bad idea is to dispute these charges on your credit card. Nearly every car rental company will simply put you on its Do Not Rent list and pursue the debt through collections. And your credit rating will take a hit.
Instead, you must respond and attempt to escalate your complaint within the company – up the corporate ladder. Consumer Rescue makes finding a real executive customer service person at Hertz or any other car rental agency easy. Send your request to Your Research Valet, and we'll provide you with the name and email of a real person at the car rental company who we know to be helpful to consumers.
Ask Consumer Rescue for help
Consumer Rescue is all about empowering consumers to resolve their own problems. But if you find yourself in a situation as Akshay did in which you've reached an insurmountable wall between you and a positive resolution to your dilemma, we're here for you — always ready to rescue troubled consumers. (Michelle Couch-Friedman, Consumer Rescue)
Last Updated on May 8, 2023 by Michelle Couch-Friedman