Could you be falsely accused of causing damage to your next vacation rental — and be forced to pay for it?
Colleen McKenna is sure that the answer to that question is "yes." She just returned from what she thought was a peaceful and uneventful stay in a rented condo in Hawaii. But the property manager says she and her husband caused significant damage to the vacation rental during a domestic disturbance. As a result, he charged her credit card for cleanup and repairs — several days after the couple's departure.
Colleen says she has absolutely no idea what this man is talking about and believes it's a scam. Now she's asking our advocacy team to investigate.
Can we find out what's going on here?
This case is yet another reminder that travelers must always stay on alert. From smoking fees charged to nonsmokers to damage and wacky theft accusations from hotels and vacation rental owners, dangers lurk everywhere for unsuspecting consumers. Here's Colleen's disturbing tale and tips that travelers can use to protect themselves from being blindsided by similar charges.
Renting a condo in Kauai for a relaxing getaway
Last July, Colleen and her husband booked a two-week Hawaiian vacation. They wanted to have a peaceful respite from the pandemic lockdown of the past 18 months. The couple would fly from their home in Alaska to the tropical island of Kauai for their getaway.
"We rented a vacation condo at the Kaha Lani Resort," Colleen recalled. "It was a basic condo — a bit older, but served our needs."
Colleen says as soon as they checked in, they noticed their unit was a bit beat-up.
"There were carpet stains," she remembered. "In the kitchen, one of the main cabinets was hanging off its hinge."
Being a well-informed and frequent traveler, Colleen knew it was essential to take photos and inform management. She sent an email to the front desk manager and asked maintenance to tighten the hinge.
Broken cabinet doors and more in this old vacation rental
That didn't happen, and the next day, the door fell off. Colleen immediately informed the front desk manager of the turn of events.
Aloha – Today, I spoke to Chelsie about a broken kitchen cabinet in our unit. I have photos showing the door barely attached upon our arrival, and yesterday the door fell off.

We're fine not having a door until we leave, but I'm attaching pictures of the door hinges, which most likely need replaced. Please call me if you have any questions or would like to come to look at it.

Colleen to the desk manager
Colleen says Chelsie soon came to the unit to have a look and apologized for the problem.
No problem at all, Colleen assured Chelsie. The couple just wanted to enjoy their vacation and didn't really need the cabinet door anyway.
And enjoy their vacation is exactly what they did. According to Colleen, the next two weeks were peaceful and refreshing. Precisely what they wanted from their Hawaiian getaway.
Which makes the accusations that were to come so outrageous.
Accused of causing damage to the vacation rental during a domestic disturbance.
Colleen says that on the day they checked out of the condo, they tidied up the unit.
The condo was in nice shape — nearly the same way it looked when we checked in. I took some photos of all the rooms and then we left. No one was around to check us out from the vacation rental. So I also took a photo of me dropping the keys into the lockbox to show that we had left on time.

Colleen
Then the couple drove to the airport and flew back home to Alaska.
Two days later, Colleen was still savoring the tropical memories of their Hawaiian vacation. But all those pleasant thoughts were about to be replaced by some of the most bizarre and unpleasant accusations of her adult life.
She opened her email inbox and found a message from the property manager of the condo complex in Kauai.
In that message, he informed her that she and her husband had caused significant damage to their vacation rental.
And his email got even more outlandish when he gave his theory of how it happened.
He claimed the couple had been involved in a domestic disturbance and caused damage to the vacation rental at that time.
Baseless damage accusations
Colleen read the email several times to make sure that she understood. She couldn't believe what she was reading. This man was accusing the couple of being involved in a domestic disturbance and damaging the condo.
I am assuming the damage to the vacation rental happened during the domestic disturbance that we received several calls from your neighbors. One of our guests called the police department and evidently your disturbance had ended by the time they arrived.

Excerpt from the property manager's email
With growing outrage, Colleen sent back an email to the manager.
What are you talking about?? We are both mature, working professionals (a K-12 teacher and a university professor) who travel frequently, and no one has ever accused us of anything remotely like this. We are not partiers, and we did not have any children in the unit (or anyone, for that matter). Your baseless accusations are insulting. You've made a mistake. Please refund the charges you put through our credit card immediately.

Colleen
But the property manager wasn't backing down. He sent photos of a condo that appeared vandalized. There were liquor bottles on the floor, broken slats on the bathroom door, lamps tossed about. The unit was a mess.
Aloha Colleen:

Upon our staff's arrival to your condo after your departure, we found that there was a need for extra work necessary from a normal departure. We noticed that you declined the damage waiver offered at check-in. So we needed to [charge your credit card]

Property manager
No evidence to support this accusation
Colleen asked the property manager to provide the police report that would support his wild accusation.
"I asked the police for a report, and they said they couldn't give it to me," he reported.
Huh? Newsflash: For the most part, a police report is a public record — if one actually exists.
And if you're a property manager accusing a guest of causing damage that looks a lot like vandalism, and you say the police were involved, you'll need to get that report.
Back and forth Colleen and the manager went until she finally told him that she would file a credit card dispute.
"I'm sure my credit card company will support me here," Colleen retorted. "You can't fraudulently charge me for damage to that vacation rental that we didn't cause."
Oddly, the property manager seemed to welcome a credit card chargeback as a way to resolve this dispute.
Fact: You should not file a credit card dispute to defend against false accusations of causing vacation rental damage.
Colleen started scrolling through the internet, looking for guidance about what she should do next to fight these false accusations.
That's when she found my ultimate guide to credit card disputes, and she suddenly realized that filing the chargeback might be a big mistake.
Instead, she filed a request for assistance from our team.
Hi Michelle,

Our initial plan was to dispute the credit card dispute for the vacation rental damage, but I read your article Credit Card Disputes: How to Use them in the Right Way, and saw that you recommend using disputes sparingly. Can you please look at our situation and see if you can help?
When I read through Colleen's paper trail, I found it quite unusual that the property manager seemed to be encouraging a credit card dispute.
Most merchants do not want customers to file a credit card dispute. The reason? Those businesses risk getting penalized and even restricted if too many customers file chargebacks.
So what was happening here? It was time to contact the property manager and find out.
Charging a guest for what looks like vandalism — two days after check out
When I looked through all the documentation from Colleen and the property manager, I found the evidence bizarre.
First, Colleen had several photos time-stamped on the day of check-out. The images showed a condo in no disrepair. Her final shot was when she dropped the keys into the management company's dropbox — 6 minutes after the other photos.
The property manager's photos showed a condo that appeared vandalized — with outrageous damage. The time-stamp on those photos shows he took them two days after Colleen checked out.
Here is her bedroom photo stamped 6 minutes before check out:

Here is the property manager's photo time-stamped two days later: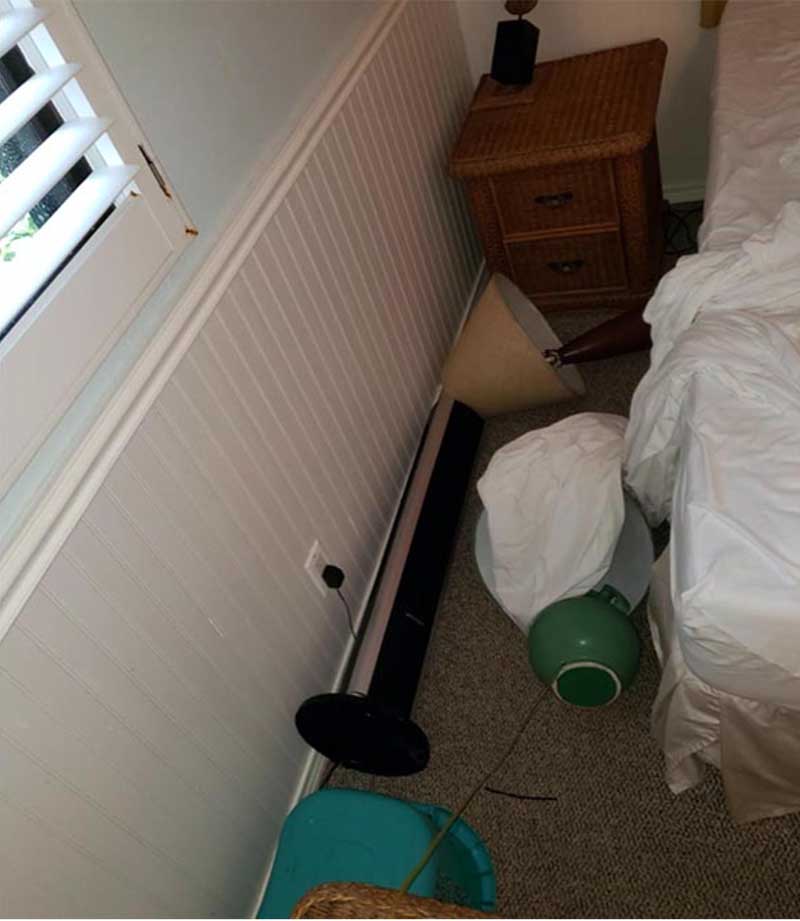 And other photos from the property manager showed more damage to this vacation rental. The bathroom door was missing multiple slats. Liquor bottles appear strewn on the floor in the living room.
Asking the property manager: What is going here?
So I decided to get some clarification from the property manager.
Hello!

Your guest, Colleen McKenna, contacted us concerning a damage fee that you charged her after checking out of the vacation rental.

She says that you accused her (and her husband) of causing damage to the condo, but you provided photos time-stamped two days after they left the property. She also says that you claimed that the police came to the condo and that you suggest that a domestic dispute caused the damage. But you have no evidence that the police were ever called to the unit — nor do the police.

We are investigating these charges and would like to know if you have an incident report OR photos dated on the day this couple checked out.

If not, it seems that someone else may have caused this damage since the couple has time-stamped photos of just before they left the property and the damage you are charging them for is not visible.

Michelle to the property manager
And I soon heard from the property manager, who only wanted to speak by phone.
"But why can't they just file a credit card dispute?"
I had what I would call an amicable conversation with this property manager. He admitted that he had no real evidence tying this couple to the damage in the vacation rental they occupied.
But if they don't pay for it [the damage], the vacation rental owner will be forced to pay.

The property manager explaining why he charged this couple for damage
I pointed out that the damage looks like someone accessed the unit after the couple left. It appears someone had a party. This couple did not have a party nor misuse the property as per their time-stamped photos.
He conceded to the possibility that the couple didn't cause the damage. Then he asked why we couldn't just allow the couple to file a credit card chargeback and let the bank decide.
Fact: Businesses should not encourage customers to file unnecessary chargeback disputes
That seemed like an odd suggestion since, as I mentioned, most reputable businesses would rather not get involved in a credit card dispute. Companies should always attempt to resolve problems directly with their customers. In fact, the Fair Credit Billing Act requires consumers to try to fix the issue directly with the merchant before filing a credit card dispute.
I explained why it could be pretty catastrophic for the consumer to file a credit card dispute in this type of circumstance. Credit card companies do not conduct grand-scale investigations in the way our team does. In most cases, a consumer will lose a credit card dispute if the business fights it. And once a credit card company closes a dispute, it is challenging for a consumer to receive assistance resolving the problem even when their case is valid.
But I assured the property manager that I would follow up with the credit card company to prove Colleen's case, if necessary, and defend the consumer. However, I hoped to resolve the problem now.
The property manager was pleasant and asked me to give him a few days to consider his options.
The good news: Here's the refund of the vacation rental damage fees
A few days later, I hadn't heard back from my Hawaiian property manager friend. So I sent him a follow-up.
Hi ******,

It's Michelle again. I'm following up on this case. Can you let me know what you've decided so that we can have some forward movement with the case? Have you contacted the police again to see if they can help you corroborate your position here? If not, it seems like the reversal of this charge is the correct thing to do, as you have no supporting documentation or evidence that this couple caused any damage to the property. They, on the other hand, have the time-stamped photos and a variety of other supporting documentation. Please let me know at your earliest convenience. Thanks!
And then came the good news although, the manager had a few digs left to give. I still don't know what his "investigating" involved, but I know it didn't include gathering evidence from the police or anywhere else that would have supported his wild accusations.
Aloha Michelle:

I did do some investigating after our call. Which was enlightening. Some of your premises on our call were incorrect. If the guests had done what was agreed to this issue would have been solved.

Regardless, I am crediting the guests the charge for the damage. That is what the guests wanted. I am assuming the matter is resolved.

The property manager
One final point: Stop asking guests to file credit card chargebacks
I sent one final follow-up with this guy for clarification, and that was the last we've heard from him.
Hi #$#$

Thank you for that update. I assume you're talking about your suggestion that the guests should just file a credit chargeback? The information I gave you about why that would not be a correct use of the Fair Credit Billing Act is valid. If you would like more information on the topic, here is an article that explains further. Merchants should not recommend credit card chargebacks when the situation could quickly be resolved through other means.

It was nice speaking to you last week, and I appreciate your willingness to participate in mediation here in resolving this case. This does conclude the matter.😊

Michelle to the property manager
Colleen is thrilled with the outcome. She wants to make sure that anyone who reads this article knows that the accusation that she and her husband had a domestic dispute is outrageous. She is delighted that this is all over and hopes never to encounter this property manager again — and she hopes you don't either!
How to protect yourself against and fight false vacation rental damage fees
Unfortunately, our team receives a steady stream of complaints from stunned travelers who've been hit by unexpected (and sometimes embarrassing) charges post-trip. Here's how you can protect yourself against and fight phony vacation rental damage fees.
Don't pay the rental fee or security deposit with a debit card, check, or cash.
Whenever possible, use a credit card to pay for your vacation rental, including the security deposit. Most cases involving withheld security deposits for damage claims affect consumers who did not use a credit card to pay for their vacation rental. Always remember the Fair Credit Billing Act protects credit card users from fraudulent merchants. If you use any other payment method, you will not have the ability to dispute a charge if needed.
Read reviews of the management company.
Most companies that hit guests with unsupported charges on a routine basis won't be able to hide that information from the internet for long. Travelers should always do some basic research before they book any vacation with an unknown business. The Google search engine can be your best friend when you're looking to find information about a management company. In the search field, type the company's name plus words like "reviews," "scam," "lawsuit," or "bad experience." If this is a business you should steer clear of, you'll likely be able to tell by the results of those queries.
On arrival, ask for a walkthrough/ take photos.
Surprisingly, much of the guidance that Consumer Rescue gives concerning protecting against false rental car damage accusations also applies to vacation rentals. At check-in, ask the property manager for a walkthrough and note any signs of damage. If a walkthrough is not possible, travelers should still carefully inspect the home immediately upon entry, documenting the conditions with photos and video. The good news is that most media taken with a smartphone contain all sorts of valuable metadata that can protect you against surprise accusations later.
Ask for a walkthrough at check-out.
You know the drill; as you did on arrival, make sure to document the property's condition as you leave. If possible, have someone from the management company come to the unit and walk through to verify that all is well.
Hold off on a credit card dispute to challenge damage accusations.
This is very important, because as I previously mentioned, once a consumer loses a credit card dispute, the merchant has no reason to discuss the case further. Keep in mind that credit card companies do not investigate chargeback cases in the way that you routinely see the Consumer Rescue team doing here. These are highly superficial investigations. And many consumers lose their credit card dispute even when the evidence points to a case they should win. (See: How do I get off the Do Not Rent List? This wasn't my mistake!) Fact: Most consumers will lose their credit card dispute if the merchant provides ANY documentation or statement to support the charge. For that reason, a traveler should be cautious if a vacation rental owner invites them to file a credit card chargeback. That person might just be laying a trap.
File a complaint with the state's attorney general.
The more similar complaints that a state attorney general receives about a particular company, the more likely an investigation will ensue. If you believe a business has adopted an underhanded way to increase its revenue, file a complaint with the state's attorney general where the company is licensed. You can find all the U.S. state attorneys general here.
Contact the Consumer Rescue team.
Unlike your credit card company, our team will do a thorough investigation and get to the bottom of any shenanigans. If you've followed all the guidance we offer in our guide to resolving your own consumer problem and still reached a dead end, submit your request directly to our team. Remember, the Consumer Rescue team is always here to help. (Michelle Couch-Friedman, Consumer Rescue)