Last fall, Russell Wayne's rental car inexplicably crashed into the ocean in a picturesque seaside town in Spain. Unfortunately, the strange accident totaled the Europcar-owned Audi and plunged Wayne into an insurance nightmare with Chase Eclaims.
Now Russell is asking our advocacy team for help in getting his $27,825 insurance claim paid.
Can we do it?
Russell's bizarre tale is a cautionary one for anyone who relies on the free car insurance benefit from a credit card. Only after his rental car crash did he discover the precarious nature of this type of insurance coverage. And he suddenly found himself in a protracted insurance battle, with endless requests for additional paperwork he didn't have. Worse: the impersonal agents who were unable to pinpoint when or even if Eclaims would pay his jumbo claim.
Honey! Isn't that our rental car crashing into the sea!?
Russell and his wife had been enjoying their Spanish vacation when the surprising turn of events took place. One sunny afternoon the couple parked the car in a lot near the harbor in Getaria, a town in Northern Spain. They intended to have an afternoon snack along the waterfront.
The couple had only walked a short distance when a shocking sight stopped them in their tracks. They couldn't believe their eyes — their rental car was rolling toward the sea and gathering speed.
"The car continued until it crashed into the water and capsized," Russell recalled. "I had just put on the parking brake and locked it. So I assumed a malfunction had caused this accident."
Soon the police, a tow truck and eventually a crane came to retrieve the rental car from the ocean. By then, the car had become completely submerged.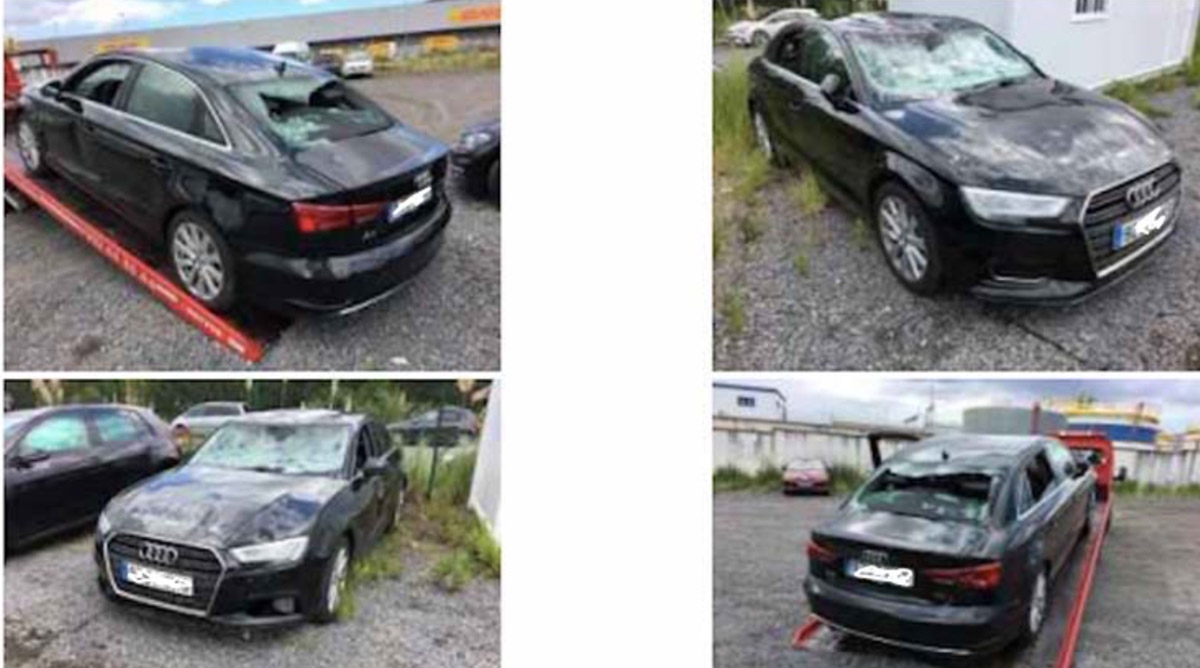 Who will pay for the damaged rental car?
When Russell reported his rental car crash to Europcar, he shared his suspicion of a mechanical malfunction. He was sure that he had activated the parking brake before it rolled away into the ocean.
Unfortunately, a little over a month after the accident, Russell received some bad news that disproved his theory.
"The experts examined the handbrake system and concluded there was no fault with the braking system," a representative from Europcar explained.
The implication was clear: the cause of this car rental crash was likely user error. And there was more bad news. The car was a "complete write-off."
Europcar: The customer must pay for the totaled rental car
In goodwill, as the value of the vehicle at the time of the accident was over that the cost of repairing it, we will charge [to Russell] the value of the vehicle, taking into account its age and kilometers driven (18,998 E).

To this cost, we should add the cost of recovering the rental car from the sea. We are still waiting for [that cost], which logically is not included in our Road Assistance Policy, as this incident implied [the use] of a special crane and divers for getting it out of the water.

Europecar
Suddenly, the financial implications of this car rental accident became shockingly clear to Russell. If a malfunction had not caused this crash, he was on the hook to pay for the waterlogged vehicle.
The importance of Collision Damage Waiver (CDW) protection
Russell had turned down all additional insurance that Europcar offered for this rental — including CDW (Collision Damage Waiver).
CDW is a type of protection that covers almost all damage to a rental car — even if it ends up crashed into the sea. If you damage the vehicle, the rental agency agrees not to bill you for it. Although it can add a significant cost to your car rental bill, it can be a blessing in a situation such as Russell's.
The good news for Russell was that his Chase credit card also provided this type of protection. So now the Europcar agent urged Russell to initiate a claim through Chase Eclaims.
And that's when Russell's seemingly endless insurance nightmare began.
How long will Chase Eclaims take to pay for the crashed rental car?
After Russell provided all the information that Chase Eclaims requested, he assumed the company would quickly approve his insurance claim. After all, when he reviewed the FAQs about his Eclaims CDW coverage, he noted that:
How long does it typically take for the claim to be settled?
It usually takes about 8-10 weeks to gather all documentation because they come from various sources. International claims may take longer. Once all required documentation is received, we can usually finalize your claim in about five business days.

Eclaims
But several weeks later, Eclaims had not paid the bill for the crashed rental car and Europcar wanted reimbursement for their lost vehicle. Europcar sent a demand letter to Russell for the entire cost of the vehicle. Added to that bill were all the fees associated with pulling the Audi out of the ocean. The grand total: $27,825. The notice informed Russell that Europcar intended to charge his Chase card to settle the debt.
When Russell received the jumbo bill, he called Chase Eclaims. He needed to know how long it would take to get reimbursed for this charge.
Now an Eclaims agent told him they need more documents to process the claim. Russell was confused. He had provided everything that Eclaims requested initially. He hadn't realized he was responsible for gathering any additional international documentation.
Russell started making ardent inquiries with Europcar and Auto Europe (the third-party agency he used to reserve the rental car).
Endless requests for documentation to support this claim
As Russell tried to obtain every piece of required documentation for Chase Eclaims, he became more frustrated. He wasn't even sure what some of the documents were. And to his surprise, the agent at Auto Europe expressed the same sentiment.
It does seem that often the credit card company suddenly requests documentation which does not exist. For example, sometimes they request something such as photos. But when the rental car company does not take photographs (there is no obligation for them to do so) takes this as an opportunity to put up an obstacle for reimbursing their customer. I am not familiar with the second request [from Chase eClaims]. We've never seen that request, but I will ask.

Agent from Auto Europe
By now, this insurance battle was reaching the six-month mark. Seeing no end in sight, Russell wondered if this insurance claim would ever be paid. Every day was consumed with trying to track down all pieces of requested information for Eclaims. And still, no one could tell him when or even if the claim would ever be approved.
That's when he contacted our advocacy team to ask for help.
Allianz: A lack of proper documentation is the number one travel insurance mistake
When I read through Russell's request for help, I could sense his terrible frustration. This nightmarish situation had snowballed into something completely out of his control. Because he hadn't gathered all of his documentation before he left Spain, he faced the struggle of trying to get it many months later — from thousands of miles away. His problem is not unusual, unfortunately.
The number one travel insurance mistake, according to our executive contact at Allianz? The lack of proper documentation that supports the claim. (See: Hurt on vacation? Don't make this travel insurance mistake!)
Russell had a giant paper trail that detailed all his determined efforts to provide everything that Eclaims wanted. But each time he sent a document, Eclaims asked for a new piece of information. Then he would reach out to Auto Europe, or Europcar and even the local police in Getaria in an attempt to gather every possible piece of evidence to bring this case to a close.
And given the unusual nature of the rental car crash, Russell was understandably concerned about the possibility of a rejection of the claim. He had grown worried that he might have to pay for the damaged Audi permanently.
Finally, an end to this insurance nightmare!
Hoping to put an end to Russell's insurance nightmare, I contacted Allianz, the Third Party Administrator of the Chase CDW policy, to find out what might be the missing link to this claim.
After a short two-day investigation, Russell's insurance nightmare finally came to an end. I heard from our executive contact at Allianz. He explained that the international nature of the crashed rental car caused the extended delay.
Hey Michelle,

Thanks for your email. I'm sorry for the inconvenience Mr. Wayne experienced with his claim.

I checked with our Claims team and they have advised me that they've approved Mr. Wayne's claim for $27,825. There was a delay in finalizing the claim because this was an international rental and we were waiting for documentation. He will receive the funds shortly.
Russell is thrilled to finally put this awful experience behind him. He says this insurance nightmare has taught him a lot , and he has advice for our readers:
I will not rely on credit card insurance for international car rentals in the future. Even if payment will ultimately be forthcoming, the many hours of effort expended to get this taken care exacted a far greater price than whatever premium is required to get the full insurance package.
How to avoid your own insurance nightmare
If a car rental is in your future plans, here are a few essential things to keep in mind, so you don't end up in your own insurance nightmare.
Check with your personal car insurance company.
Travelers can run into big trouble by assuming that their personal car insurance will cover their rental car. While this may be true in some cases, it's critical to confirm your coverage with your car insurance company.
Consider purchasing insurance coverage.
If you don't have a personal car insurance policy or a credit card with car rental insurance coverage, it's imperative that you purchase protection. If you don't, you will be leaving yourself vulnerable to damages to the car. Worse, if you injure someone or cause damage to someone else's property, you'll have no protection.
Read your car rental contract.
Don't feel pressured to quickly sign your car rental contract at the counter. Many coverage mistakes happen after travelers too quickly decline or agree to coverage that they don't understand. It's critical not to sign any legally binding contract until you a clear about what you are signing.
Make sure you have the insurance/protection you need for your situation.
Before driving off that car rental lot, make sure you have the coverage you need to protect yourself against damage to your rental car and other cars. Remember CDW (sometimes sold as LDW, which covers theft as well as collisions) protects you if you return a damaged rental car. Liability Insurance protects you if you cause an accident that causes personal injuries or damages to the property of others.
Report all accidents promptly and get a police report.
In this case, one of the missing pieces of evidence was a police report. Wayne says that he didn't realize he would need one. If you have a car rental accident, make sure you get a copy of the police report. You will likely need it to file an insurance claim.
Don't assume your credit card's insurance coverage is enough.
Many free credit card-based car rental insurance policies are basic and will not provide all the coverage you'll need. Make sure you carefully review and understand exactly what the policy will cover (and the time frame to process claims) should you decide to use this type of insurance.
Make sure your credit card company hasn't discontinued its car rental insurance benefits.
Several years ago, Citi surprised its customers by dropping many of its complimentary travel protections for cardholders — including the Worldwide Car Rental Insurance benefit. Before you rely on any credit card's benefits for your insurance needs, it's essential that you confirm your company has not dropped this benefit, too. (Michelle Couch-Friedman, Consumer Rescue)