Robinhood, the online millennial-focused brokerage site, brags that "Investing is simple here." That sounded great to Bryan Santer when he was looking for an easy way to invest some cash. So, he followed the onscreen prompts, transferred $2,400 into his Robinhood account and prepared to make his first transaction.
Of course, as is true with any investment, Bryan knew there would be some risk involved. But what actually happened, he never saw coming. That simple investment he hoped to make turned into an instant nightmare. Robinhood accepted his money, immediately froze his account, and refused to explain why.
That was four months ago.
Since then, Bryan has been in an ongoing, highly emotionally charged battle with Robinhood to retrieve his $2,400. But now he's reached his limit. Bryan is hoping our advocacy team will join this fight and convince Robinhood to give him back his money.
Can we do it?
Robinhood: "Investing is simple here."
Last November, Bryan had been reading about the Sweetgreen company, a restaurant/cafe chain dedicated to healthy eating.
I received my stimulus check, and I thought Sweetgreen would be a great company to invest in. So I transferred $2,400 over to my Robinhood account, and I thought the whole transaction would be simple. I had read good things about the potential for that stock, so I wanted to make the purchase ASAP.
But it quickly became apparent that Bryan wouldn't be investing in Sweetgreen. He would miss that opportunity because Robinhood had other ideas for his money.
As it turns out, for Bryan, investing wasn't simple at all with Robinhood – in fact, it was impossible.
"Your money will be frozen for 60 days while we investigate."
First, Bryan received a message that Robinhood wanted to know the origin of his money.
"I received messages that the company needed statements from my bank account and identification," Bryan explained. "I gave them all of that, and then I waited."
Bryan assumed that all of these requests were just a formality and that he would soon get to the "simple" part of investing with Robinhood. But with each additional piece of information the company requested, it became less and less simple.
Then came the message that, based on everything Bryan had presented, Robinhood had determined that it would need more time. The company explained that it would be holding his funds for 60 days while it completed its investigation.
That money was my stimulus check, and now Robinhood was telling me they intended to hold my cash in limbo for 60 days. I couldn't believe it. I asked them just to give it back. But the company refused.
Bryan was stunned. But he shouldn't have been. Robinhood isn't the only company that can get hold of your cash and keep it for extended periods during an "investigation." We've been warning consumers that PayPal and Venmo both have clauses written into their terms and conditions that allow the freezing of accounts for up to 180 days for nearly any reason.
Faced with no other choice, Bryan waited out the 60 days.
Robinhood: No account for you!
After the holidays, when the 60 days was finally up, Bryan still hadn't heard from Robinhood. So he sent a follow-up asking when the company would release his $2,400.
Bryan found customer service to be impossible to reach.
"There is no phone number, and the messages I sent would go unanswered for a long time," Bryan reported. "Finally, I received an email that Robinhood would not reopen my account."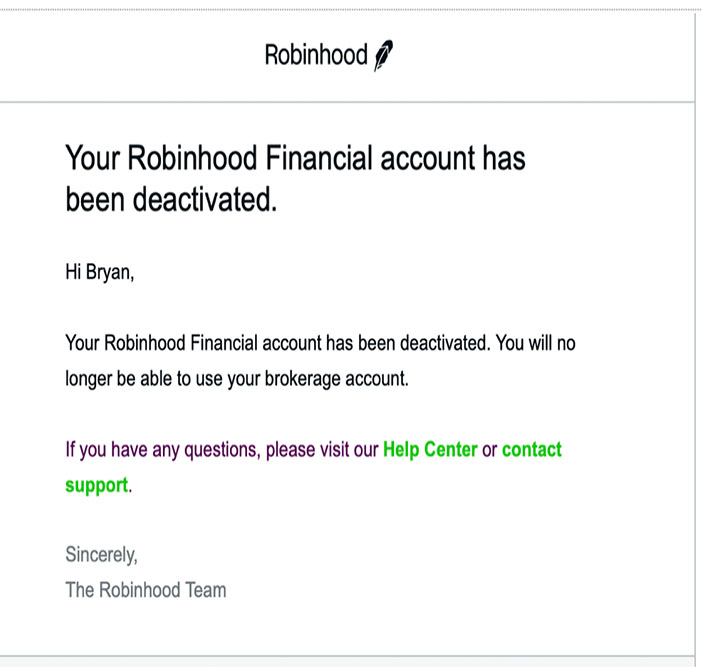 Bryan was angry. The company had been holding his money for over two months, and now the company's investigation ended with no explanation.
"Where is my money!?" Bryan asked.
He hoped Robinhood would return his money, and then he never wanted to hear about the company again. But the brokerage firm wasn't quite done with him. Nor did it intend to give him back his $2,400 just yet.
Bryan still had a battle on his hands.
"We can't facilitate this type of account activity."
In response to his request about the fate of his funds, Bryan received an ominous email from a first-name-only customer service agent.
Hello Bryan,

Thank you for your patience. Based on the information provided, we will no longer be able to support your account.

This is a final decision, and your account has been deactivated.

All remaining funds have been reverted back to the source from which they were originally transferred.

Any funds that continue to arrive into your account will be rejected automatically and sent back to the sender. Your account is now permanently deactivated.

Thank you for your assistance during your account review. We regret these circumstances, but we simply cannot facilitate this type of account activity.

Sincerely,

Kristin, Robinhood Support
Bryan couldn't believe what he was reading. The only thing he had tried to do with Robinhood was to invest in Sweetgreen. He never even got beyond step one – transferring money into the account.
"I have no idea what kind of account activity this email is referencing," a frustrated Bryan lamented. "I just want my money back now."
And even though the Robinhood representative claimed the company had returned Bryan's money, it hadn't. His bank confirmed no incoming or pending transactions from the brokerage site.
For the next month, Bryan sent email after email asking Robinhood to send back his $2,400. Each time, in response, he received the same message as Kristin sent. He was getting nowhere — fast.
Then one day, scrolling through the internet, he came across an article I had recently written about a consumer struggling to retrieve money lost through the Zelle app.
That's how he learned about our advocacy team, and he decided to submit his request for help.
Will Robinhood return this money?
When I first read through Bryan's request for help, I thought we likely couldn't help. Often when banks or cash apps freeze a consumer's account, it's because the customer has run afoul of the terms and conditions. They may be using the service in a way that violates the rules of the platform. But in general, those companies will not discuss specifics about frozen accounts with our team (citing banking and other customer privacy laws).
I explained all of this to Bryan, but he wasn't willing to give up.
Michelle –

I received your email today and still hope you can help me.

The Robinhood team tells me a different story almost daily about why I don't have my money.

They are now saying that my Nov. 15 transfer into Robinhood ($2,400) has not cleared yet as of today.

They're lying. They have always lied to me.

Please take this on.

Sincerely,

Bryan Santer
That didn't make any sense. No previous emails had mentioned that his original deposit hadn't cleared. And where had the money gone if it wasn't with Robinhood or Bryan's bank?
When I reviewed the paper trail, it seemed to me that nearly all the correspondence may have been auto-generated. We know that, to the great detriment of their customers, many companies have outsourced human customer service.
And this looked like an extreme example. Robinhood had been holding Bryan's $2,400 for nearly four months. Now, in the latest email, the company didn't seem even to know where the funds were.
I decided to reach out to Robinhood and see if we could get to the bottom of this investment fiasco.
Putting an end to this Robinhood fiasco.
Never having had a case involving this brokerage company before, we don't have an executive contact there. And it wasn't easy finding a real person in the company to reach. But I tracked one down.
Hello there! We were contacted by a (former) client of Robinhood, Bryan Santer, who had an experience that he hoped we might be able to assist him with. He opened an account with Robinhood some time ago but deposited $2,400 into this account on Nov. 17, 2021, and his account was quickly frozen. Mr. Santer was asked to provide a variety of documentation to show where the money was coming from… A T-Mobile Money account (Parent bank is Customers Bank). However, Mr. Santer has still not received his money back despite RobinHood's customer service informing him that it was sent back to the original account.

Mr. Santer would like clarity about whether his money is still with Robinhood or if it was actually sent back to his T-Mobile account. Can you help?

Michelle to Robinhood
And much to my surprise, Bryan's battle came to a swift and positive end.
The good news: Your account is open – with your money included.
Very shortly, I heard from Bryan. Although the executive at Robinhood did not directly respond to me, Bryan received a phone call from the company. He received an apology and an assurance that his account was open and ready for trading. His $2,400 was there waiting as well.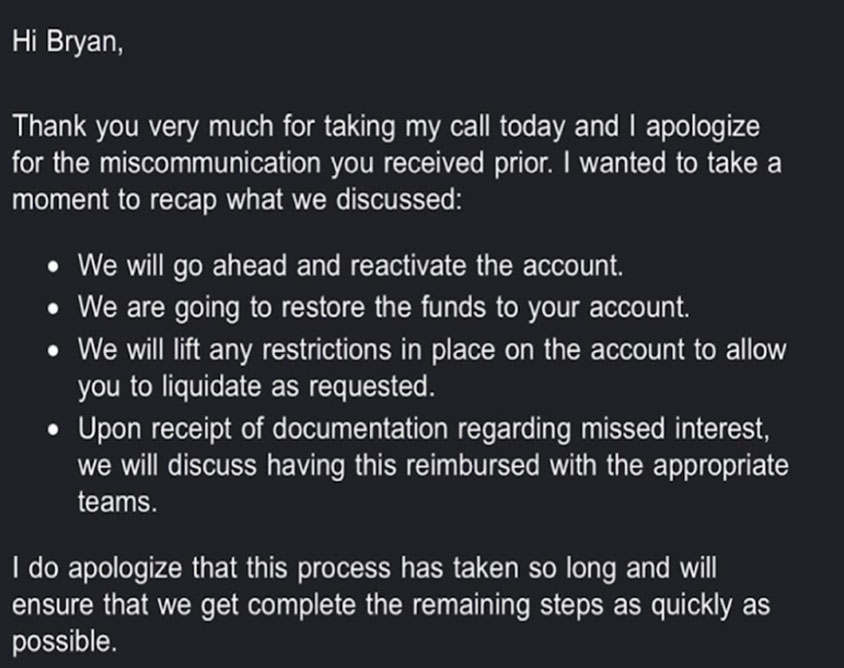 Bryan is relieved to finally have his cash back and end this fight. While he appreciates that Robinhood has finally corrected the problem and returned his money, he likely won't be entrusting any more of it with the company.
Oh, and he has a suggestion for anyone considering using Robinhood because of its claim of "simple investing": Don't believe it.
Robinhood: Important things to consider – before you hand over your cash.
Apps like Robinhood make it easier than ever for amateurs to get into the investing scene. In fact, advertisements for the company show young adults casually strolling down the street and other places, making investments with the app. Unfortunately, many of these investors are naive, with little understanding of potential pitfalls.
Here's what you need to consider before handing over your cash to Robinhood or any other online brokerage firm.
Read the terms and conditions.
We all know that the terms and conditions of most companies – including Robinhood – are long and tedious to read. But there is no way to know if you do actually agree to those terms unless you read the entire document. The time to find out that you disagree with any part of that agreement is before, not after the company is already in possession of your money. Remember, not reading or fully understanding the TOS will not be an excuse that will help you should you run into problems later. Read that document.
Turn on two-factor authentication.
Most Robinhood investors access their accounts via an app on their phone. As is true with all app-based services, the user is responsible for keeping their account safe from unauthorized access. To reduce the chances of anyone gaining access to your Robinhood account, here's how to turn on two-factor authentication.
Research: Make sure you understand what you're doing.
One of the problems with making investing so easy and simple for the masses is that novice users may impulsively purchase stocks with little thought. They may also participate in risky transactions with a minimal understanding of the process or the potential loss. This can lead to tragic consequences, as in the terrible case of Alexander Kearns. The 20-year-old Robinhood user believed he had somehow made a nearly million-dollar mistake and could not reach customer service to tell him differently. He committed suicide before anyone from the company returned his plea for help. (Robinhood has since settled a lawsuit concerning Kearns.) If you have a child or grandchild dabbling in investing, it's essential that you help them understand the dangers. And even though the Robinhood app can facilitate instant investments, users should only do so after thoroughly researching their intended stocks and transactions. Websites such as Motley Fool can provide investing guidance to inexperienced investors.
Think long-term.
In this era of instant gratification for nearly everything, it's crucial for the (primarily millennial) Robinhood users to think in the long term. Investing is not a quick venture. And although an app like Robinhood makes it possible to check and obsess about your investments multiple times per day, that isn't a good plan. Read, research, and learn about the companies you're investing in, and realize you're in a long-term game. (Michelle Couch-Friedman, Consumer Rescue)