What if you don't want to tip on your cruise? Or maybe you're not against cruise gratuities but prefer to give on a person-by-person basis. Can the cruise line force you to pay a set amount for the crew's bonus?
That's the question Laurie May wants to be answered. She says Oceania recently blindsided her by adding $320 to the cost of her 10-day European cruise. The reason? Automatically added gratuities.
Now she wants our advocacy team to retrieve the crew bonus and put it back in her wallet. But is that something we can do?
Surprise! Automatically added cruise gratuities
May and her husband set off on Oceania's Nautica on a cruise from Portugal to England. The couple had a lovely time. However, just before disembarking, a problem came to light.
That's when May says a crew member slipped the final invoice under her cabin's door. She was surprised to find a $320 fee automatically added for crew gratuities.
"Oceania says in its brochure that gratuities are discretionary and that passengers can have the tips removed or changed," May explained. "But they do not provide an invoice of the charges until shortly before disembarkation."
May was under the impression that there would be no additional fees on her cruise invoice. She says she attempted to have the auto-tips removed immediately before the couple left the Nautica.
"I personally went to the desk in the main lobby within minutes of receiving this invoice," May reported. "I asked to have the gratuities removed from my bill."
But with just 5 minutes before disembarkation, no one was able to adjust the invoice.
Cruise tipping confusion: Who will refund this forced gratuity?
Once at home, May tried to determine who was responsible for this cruise tipping confusion. She went on a mission to get the forced gratuities refunded.
First, May contacted her travel agent. She thought the agent might have made an error by not offering her a "tips included" promotion.
Apparently, different travel agents offer a 'tips included' option to get people to sign [up] but [they] use this promotion inconsistently. I asked our travel agent repeatedly before making the reservation if there were any other charges or fees. [She] did not orally disclose the $320 fee. [She did tell me about] a $24.99 processing charge. This [auto-tipping practice] is, unfortunately, I believe, pretty widespread, and a stain on the cruise industry. It needs to be exposed.

May explaining her efforts to get the forced gratuity refunded
May told her travel agent about the unwanted gratuity charge she discovered at the end of the cruise. She asked the agent to facilitate a refund of the $320 tip she had not intended to give.
Soon May's travel agent had an answer from Oceania: The cruise line would not refund the cruise gratuities.
Oceania: Gratuities are never refundable after the cruise
An Oceania customer service administrator explained that the cruise line doesn't include tips in the cost of its cruises. This information is made clear in all pre-cruise documents. Those documents also detail that the cruise line will automatically add a set gratuity per person per day to the passenger's onboard invoice.
However, these tips are not mandatory. Should a passenger decide they don't want to tip on the cruise, they can request an adjustment of this fee. But this request must be made before disembarkation. And the cruise line had no record of May asking for a modification of the gratuities before leaving the Nautica.
Oceania's executive ended her email with the company's final word on May's request:
Most importantly, we do have a reasonable expectation for our guests to read and review all documentation Oceania provides about their cruise vacation.

Unfortunately, it is not possible to make any adjustments or refunds post-cruise as we have already disbursed the gratuities among the crew. We regret any disappointment [this couple] experienced in this regard; however, gratuities are non-refundable.

Oceania Cruises executive
A credit card dispute over the forced cruise tips
The response from Oceania only served to frustrate May further. Her next move was to file a credit card dispute over the gratuities.
Unfortunately, May's credit card dispute of the $320 in cruise tips was doomed from the beginning.
The Fair Credit Billing Act allows credit card-using consumers to dispute billing errors. But although this act provides much-needed protection to consumers, credit card chargebacks are often misused. And as we've seen time and again, when a consumer uses the credit card dispute mechanism in a way it wasn't intended, it only leads to more significant problems:
In May's case, as other cruisers before her have discovered, she found that filing a credit card dispute to resolve this issue was just a waste of time.
I filed a complaint with Chase Card Services. I provided extensive documentation. After a month of going back and forth, Chase came back and said it wasn't possible to dispute the automatically added tips. So I wasted a total of two months.

I would like for Oceania to be outed for deceptive practices. They provided [to Chase] only UNDATED invoices and claimed they APPLIED the gratuity charge to our account, four days before disembarkation. But they never shared the invoice or charge with us until we disembarked. It is impossible to dispute a charge of which you have no knowledge. How can a large travel company like this get away with this lack of transparency in their billing?
Oceania's terms did not support a billing error for these auto-tips on May's cruise invoice
But Oceania Cruises' terms and conditions regarding gratuities did not support a billing error:

May's credit card dispute ended when Oceania provided that information to Chase. But, still undeterred, she pressed on with her mission to retrieve the tips from Oceania.
"How can I get a refund for these cruise tips?"
May's next move was to ask our advocacy team to ask the cruise line to refund the tips.
My fellow advocate, Dwayne Coward, is well-versed in all cruise-related matters. He took charge of this case and was soon scouring through May's extensive paper trail. In her initial request to our team for help, she was sure that she had been bamboozled by not only Oceania but also her travel agent.
"We paid over $10,000 to Oceania Cruises, and they thumbed their noses at us," May complained. "They said the policy of assessing cruise gratuities was in their [30 page] brochure. But Oceania never acknowledged that their brochure also said the tips on the cruise were discretionary and could be changed."
Dwayne immediately noticed problems with May's complaint. Although she said that the automatic gratuity was a surprise and never disclosed until minutes before disembarkation, her paper trail told a different story.
"In your confirmation, Oceania did disclose the gratuities that it would charge to your account," Dwayne pointed out.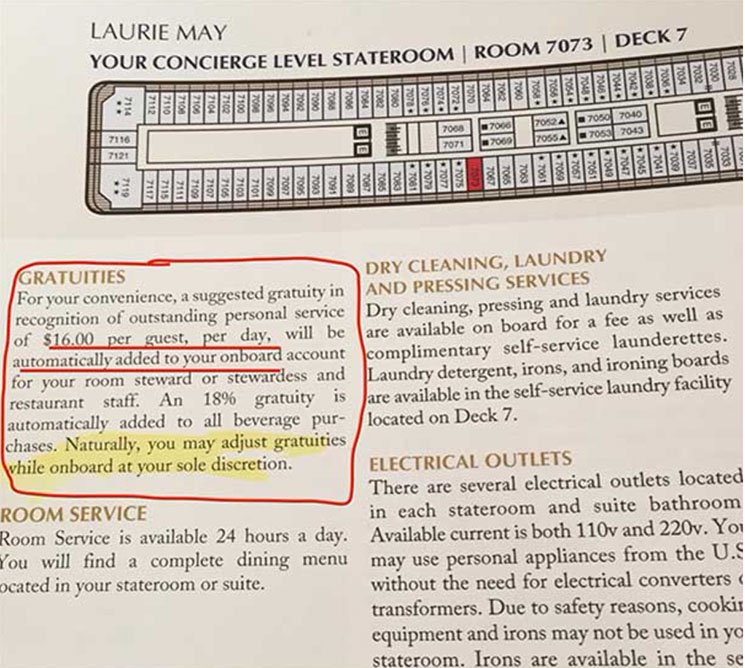 Dwayne went on to explain that today, most cruise companies handle tipping in this way.
The cruise lines do allow passengers to have the automatically added tips removed if they wish. But the request usually must be made before the cruise line closes out your account onboard the ship. I need to have a better idea of why you believe this is a deceptive practice in the cruise industry before we can determine how best to assist you.
Is auto-tipping in the cruise industry deceptive?
It was evident from the paper trail that Oceania had made its tipping policy clear in multiple pre-cruise documents May had in her possession:
Her cruise contract
The pre-cruise documentation, which included the gratuity information directly under the map to her cabin
The terms and conditions of Oceania Cruises, accessible online
Dwayne soon determined that he had no basis for asking Oceania to refund the tips. The automatic gratuity was not a hidden feature, and there was no record of May ever asking for the refund until after she was home. By then, the cruise line had already given the tips to the crew.
Dwayne broke the news to May. Our team would not be able to mediate her case and retrieve those gratuities.
Finally, giving up on the refund of the tip the cruise line took automatically
She continued to cling to the defense that Oceania had not added the gratuities to her invoice until minutes before disembarkation. But in its official rebuttal to the credit card dispute, Oceania stated that it had applied the tip several days before the end of the cruise.
However, May says she never saw any invoice before the final one she found under her cabin door. She appeared to be unaware that she could have viewed the invoice through her cabin's TV throughout the cruise. Alternatively, she could have visited guest relations to discuss tipping at any time during her journey on the Nautica.
In the end, May decided to give up on her pursuit of the refund of those tips.
"I am giving up. I just called Oceania again, and they were stern in their reply to me," May told Dwayne. "The best recourse at this point is to not ever travel with them again and to tell others about their guest relations."
"We're not against tipping."
After we first published this article, May emailed me to provide additional information that she had not mentioned previously to Dwayne.
We left the cash tip in our cruise cabin on the desk before we went to breakfast. When we got back from breakfast, we found the undated invoice on the door. We had already left the money and did not take it back. And we believed the cruise line gave us the invoice in error, and we could correct it later. We were not against tipping and tipped our guides as well on land tours.

May
Things to keep in mind about cruise gratuities
Crew members often rely on tips to supplement low wages. You might have noticed that many cruise ships fly a "Flag of Convenience." That means the vessel is registered in a foreign country, often to lower operating costs. It can also allow the company to avoid various labor laws. The crew members aboard your cruise are likely making less than minimum wage and working long hours. When you skip tipping on your cruise, you aren't hurting the corporation. You're just lowering the pool of funds that hard-working service employees share at the end of the journey.
Automatically added gratuities take the confusion out of tipping on your cruise. Tipping on cruises is a hot topic and a source of confusion, especially among new cruisers. Whom should you tip? How much? When the cruise line discloses the suggested gratuities pre-cruise and adds it automatically to your invoice, it takes the guesswork out of the equation. Just remember, if you want to adjust your tip (up or down), visit guest services before the end of the cruise.
Your cruise contract will explain the gratuity policy. Many of the travel fiascos you read about here could have been avoided if the consumer had read their contract. In this case, all the information May needed was made available to her weeks before embarkation. Neither Oceania nor her travel agent included gratuities in the cost of her trip. Had she read her contract or the pre-cruise information, the automatically added tips would not have surprised her.
Consider a cruise line that wraps gratuities into the cruise cost. If you're really against tipping, then you may want to consider only using no-tipping cruise lines. Azamara, Regent, and Silversea are among the high-end cruise lines that have a no-tipping policy. Those cruise lines have already worked gratuities into the total cost of the cruise. Of course, you are always free to provide additional gratuities to specific crew members who have been of help to you.
How much you should tip on your cruise in 2023
As Dwayne explained to May, automatically adding gratuities to passengers' onboard invoices has become standard practice in the cruise industry. And although tipping isn't mandatory on your cruise, it's proper cruising etiquette to do so. When figuring out your cruise budget, don't forget to factor in these suggested tips per passenger, per day.
(Editor's note: Last updated and checked for accuracy on Nov. 13, 2023)
* Related: Consumer Rescue's ultimate guide to planning and taking a cruise