What if you flew 7,500 miles to take an NCL cruise only to be denied boarding at the pier? It happened to one stunned couple. Here's their story.
As Erin Beztilny's flight from Vancouver touched down in Auckland last month, she could hardly contain her excitement. She and her husband were about to embark on a much-anticipated dream cruise aboard NCL's Norwegian Spirit from New Zealand to Australia.
At least that was the plan. But that isn't what happened.
Instead, when the unvaccinated couple handed over their documents at embarkation, a Norwegian Cruise Line supervisor handed them denied boarding cards. And the bewildered would-be cruisers were soon on their way back to Canada.
Now home after the stunning turn of events, Beztilny is asking Consumer Rescue for help. She insists that she and her husband were erroneously denied boarding their dream cruise by confused NCL employees. She hopes our team can convince the cruise line of its mistake and secure a do-over.
But what exactly are the COVID vaccination rules for cruise ships sailing between New Zealand and Australia?
This case – and the fate of the couple's cruise fare – hinges on that detail.
Finally able to take an NCL cruise without a COVID vaccination
In February, Beztilny and her husband got an idea. Knowing that most cruise lines had lifted the COVID vaccination requirements, they realized cruising was a possibility again.
Perusing the NCL website, the couple found a cruise that caught their attention. It was a voyage that embarked from Auckland, New Zealand, and ended in Sydney, Australia.
Early on during the pandemic I caught COVID. After recovering from the coronavirus, just a few months later, I came down with a variant. Then the pandemic was winding down so I've never received a vaccination. But I always complied with all requirements for testing.

This specific cruise appealed to us because many other cruise lines offered similar routes, but required passengers to be vaccinated for COVID. We wanted to cruise and it was clear from the Norwegian Cruise Line website that as long as we embarked from New Zealand we didn't need to have proof of a vaccine.

Erin B.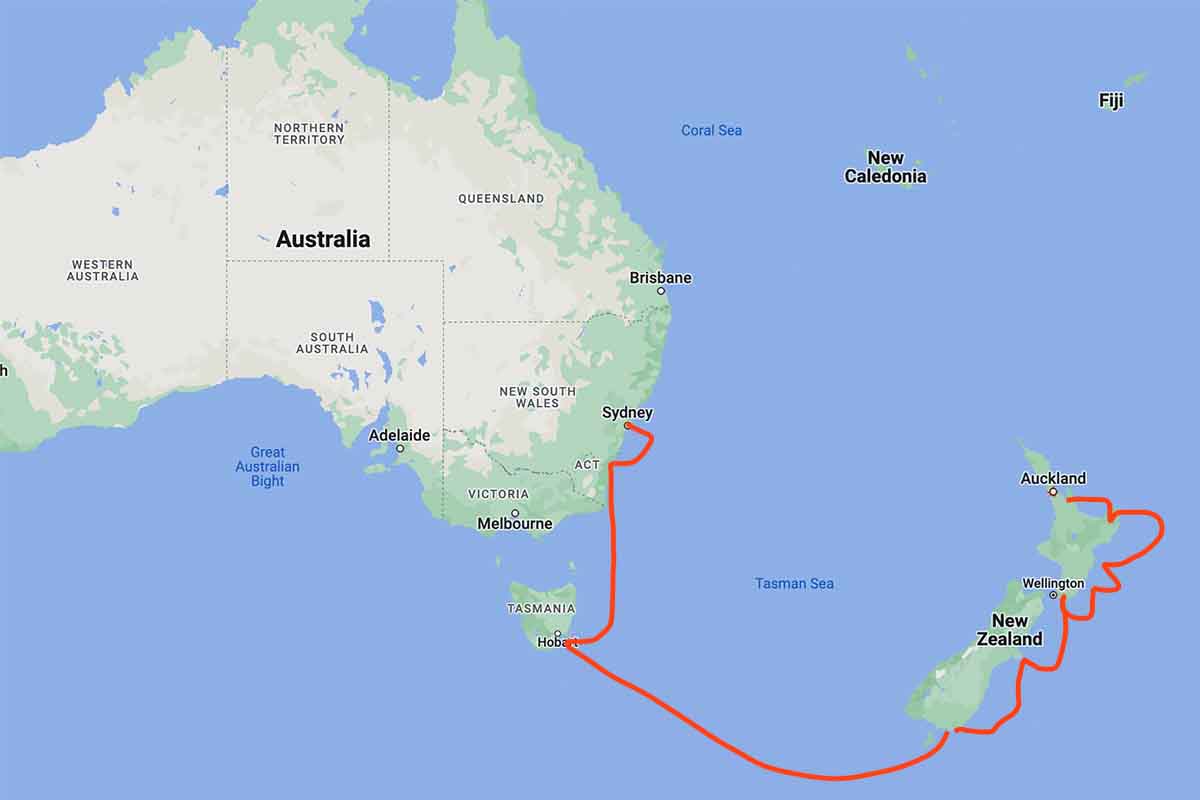 Asking a professional travel advisor to book the flights and cruise
Although Beztilny and her husband are both seasoned world travelers, they decided to hand over the reservation to a professional travel advisor.
"The Alberta Motor Association (AMA) advertised the agent as a cruise specialist," Beztilny explained. "I told her that I wasn't vaccinated and that the NCL website showed that cruise passengers embarking from New Zealand can sail [without being vaccinated]."
The AMA travel advisor booked the specific NCL cruise that Beztilny requested. Next, she found suitable Air Canada flights from Calgary to Auckland via Vancouver.
It was a routine transaction between this "cruise specialist" and Beztilny, who had done almost all the planning herself.
Soon Beztilny received the NCL cruise contract and flight confirmations for the trip that was just weeks away.
But something had gone wrong with the booking at this very first step. The couple was now set on a path that could only end in one way – they would be denied boarding the cruise.
However, neither Beztilny nor her travel agent would find out why until weeks after the troubling events at the port in Auckland.
Planning cruise excursions, spa treatments, and special dinners
An unaware Beztilny happily spent her free time over the next several weeks scrolling through the NCL app.
I gleefully spent lots of extra dollars purchasing spa packages and cruise excursions through the NCL app! This was our first big trip since the beginning of the pandemic. We couldn't wait to enjoy everything on the ship.

I added unlimited beverage and specialty dining packages, some spa treatments, and the internet so we could stay in contact with our family at home. Of course, there were so many interesting shore excursions available!

Erin B.
Beztilny and her husband intended to make up for all that travel time they lost during the pandemic.
Advertisement
NCL: Without proof of a COVID vaccine, you're denied boarding the cruise
After a full day of flying from Calgary to Auckland, the tired couple quickly passed through immigration. As we always recommend to travelers, they had booked their flights to arrive the day before the cruise was set to begin.
They made their way to their hotel just blocks from the cruise port.
After a good night's sleep, the couple headed to the pier the following afternoon. They had already done the online check-in and assumed boarding Norwegian Spirit would be a snap. Of course, we already know that it wasn't.
Arriving at the check-in area, an NCL representative asked for their vaccination cards.
Confused, Beztilny told the crew member she didn't have a vaccination card.
I reminded him that this cruise didn't require proof of a vaccine as per the NCL website. But he and some other employees just shook their heads and said I was wrong. [The NCL agent] said that on every sailing of this cruise itinerary, there has been a pile of passengers denied boarding because they don't have vaccination proof.

Erin B.
Beztilny looked around and noticed similarly distraught would-be cruisers. She says that a small crowd of NCL customers who were being denied boarding was forming.
An NCL supervisor appeared and handed denied boarding cards to each rejected passenger.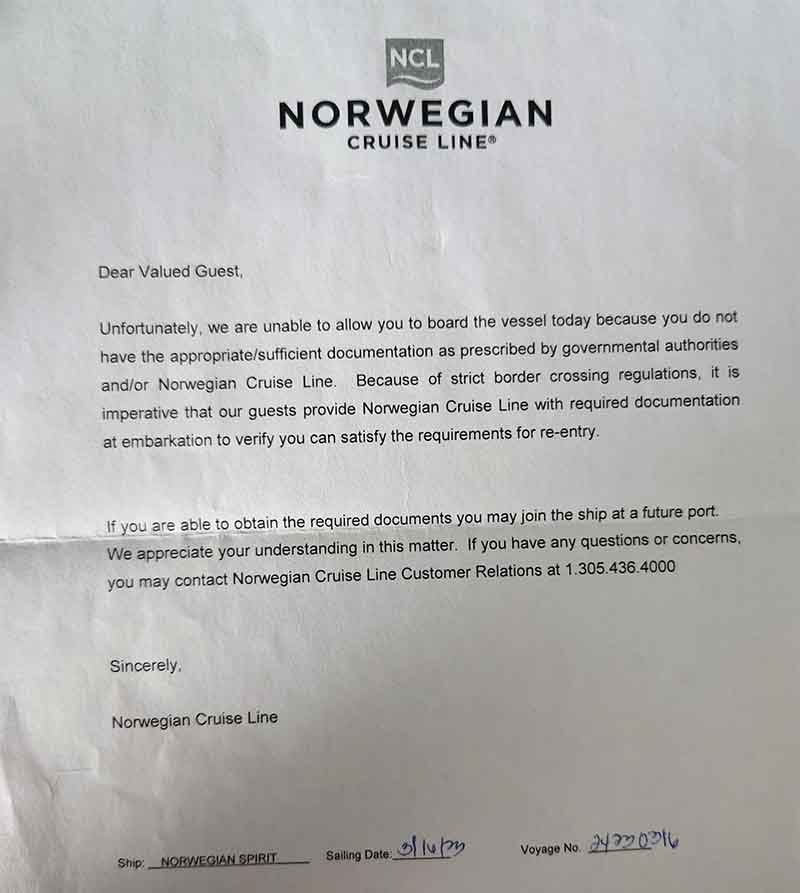 Will an online chat with NCL reverse this "error"?
When the supervisor was unwilling to reconsider the situation, Beztilny frantically opened an online chat with an NCL agent. She hoped there was still time to reverse this error before the Norwegian Spirit sailed away without them.
A first-name-only NCL representative quickly gave Beztilny the news she wanted to hear.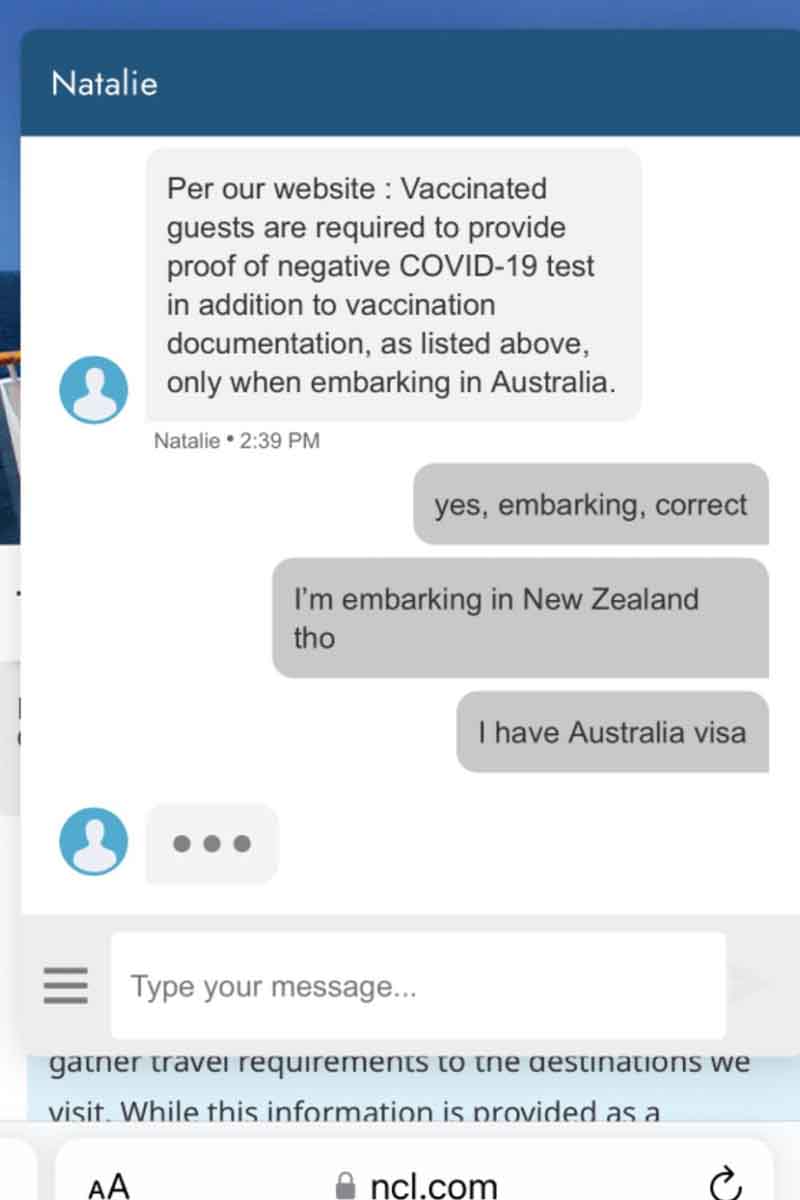 Relieved, Beztilny believed she now had the key to being able to board Norwegian Spirit. Suddenly, it seemed all wasn't lost. For a brief moment, she started picturing herself enjoying those spa treatments after all while cruising to Australia.
But it wasn't to be.
Even with the written affirmation from NCL's own customer service that seemed to confirm the Beztilnys were being denied boarding the cruise by mistake, the pier staff didn't budge.
"I was literally in a state of shock," recalled Beztilny. "Even with that information, they referenced the denied boarding sheet I shared with you and told us to leave the building."
While other excited cruisers boarded the ship, and Norwegian Spirit prepared to set sail, a dejected Beztilny and her husband gathered their belongings and walked back to the hotel where they had excitedly begun their day.
Can the cruise specialist help?
Beztilny says that same night the couple made arrangements to return to Canada.
Air Canada allowed us to switch our flights and fly back home. I wasn't thinking straight. I thought about flying to Australia and waiting at the pier in Sydney for Norwegian Spirit to show NCL they were wrong in denying boarding to us. But I didn't want to spend any more money on this trip. I was sick, thinking of all the money we spent on this cruise and NCL told us there would be no refund. So we flew home the next day.

Erin B.
When she told her cruise specialist, the sad turn of events, Beztilny says "Nicole" inexplicably told her to file a travel insurance claim.
FYI: No travel insurance policy will cover a cruise passenger who misses their vacation because of incorrect or absent documentation.
Beztilny was aware of this fact and asked her cruise specialist if she had any other suggestions about how to recoup all the money lost on the cruise and flights.
She didn't.
But Beztilny wasn't willing to give up so easily. She still believed that NCL had made a mistake. She reasoned, if that was true, then the cruise line should provide her with a refund or future credit.
However, NCL was firm in its position: This couple wasn't denied boarding the cruise by mistake.
Although the customer service agent sided with Beztilny, NCL confirmed that Australia rejected the duo for entry to the Land Down Under – not Norwegian Cruise Line. And worse:
As per the cruise contract: It is always the passengers' responsibility to know and possess all required documentation for cruising. When a passenger is denied boarding because they don't have the correct documents, the cruise line will not owe the customer a refund or credit.
Discovering Consumer Rescue: free help for troubled travelers
Not knowing where else to turn, Beztilny was scrolling through her favorite YouTube cruise channels for guidance when she came across a video from fellow Canadian, Don of Don's Family Vacations. That's when she heard about Consumer Rescue for the first time.
On that episode of Don's show, he was discussing an outrageous cruise fiasco. An NCL passenger had reached out to Consumer Rescue for help after Norwegian Cruise Line canceled her cruise over a $112 ground transfer.
Ultimately NCL agreed to provide a full future cruise credit for that passenger after a groundswell of outrage from Don's viewers, as well as from fans of Tony at La Lido Loca and Justin (a former NCL employee) at The Shiplife. (All great channels to follow if you love cruising.)
After learning about Consumer Rescue and what we do here every day, Beztilny had renewed hope. She sent her request for help to our team with her fingers crossed.
Consumer Rescue investigates: Was this couple denied boarding in error?
When Beztilny's request for help landed on my desk, she was truly distressed by the loss of her money and dream cruise.
This was especially true because she was still convinced that NCL had denied boarding to her by mistake.
I reviewed all of her documentation, and, initially, it appeared she was correct. The alert on the NCL website clearly stated that there were no vaccination requirements on cruises embarking from New Zealand.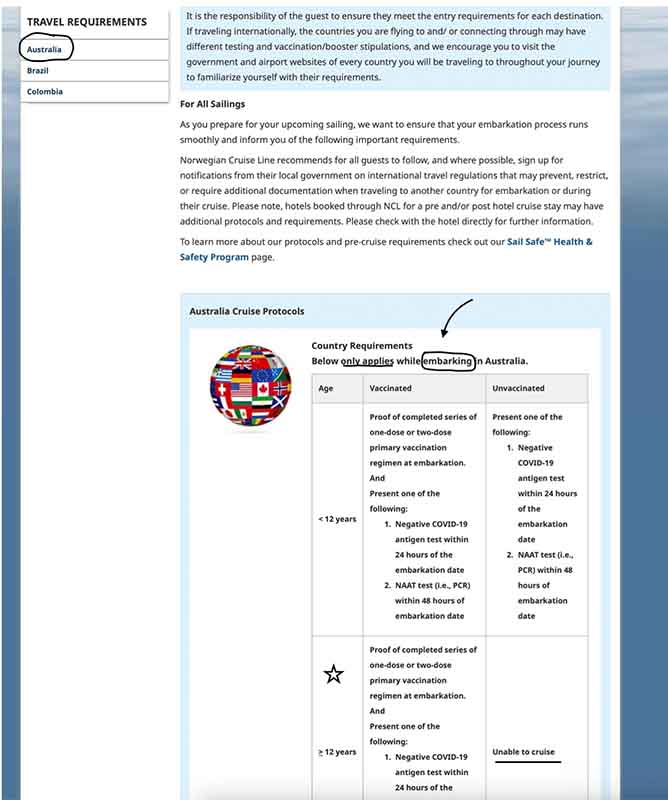 Based on this information, it appeared that the couple should have been allowed to board Norwegian Spirit. But there was some conflicting information on Australia's government website that warned travelers to check with each individual state for entry requirements.
As I always do with murky cases, I asked my trusted colleague Dwayne Coward to have a look. He agreed that there seemed to be confusing guidance for travelers on various sites — and none of it was easy to interpret. Dwayne believed that the disembarkation state of New South Wales was the problem. If that was the case, then NCL was posting incorrect guidance to its customers.
New South Wales Ministry: Unvaccinated travelers may not cruise to Sydney
To cut to the chase, I contacted the New South Wales Ministry in Sydney. And we soon had our answer. The couple was not denied boarding the cruise in error. The NCL pier staff had correctly prevented them from boarding Norwegian Spirit.
Hi Michelle,

The Eastern Seaboard and Western Australian Cruise Protocols require that all passengers aged 12 years and older are fully vaccinated in order to travel on a cruise ship operating in NSW waters. Passengers with a medical exemption to the COVID-19 vaccine are permitted to travel, however must not exceed 5% of all passengers on board. This requirement applies to cruise ships travelling to, or departing from, NSW ports.

Travelling on a cruise ship increases the chance of being exposed to infectious diseases, such as COVID-19. The COVID-19 vaccines are highly effective in preventing severe outcomes from COVID-19 infection and remain an important element of the COVID-19 response. By ensuring that cruise passengers are vaccinated, their risk of serious illness will be reduced in the case of an outbreak.

Kind regards,
NSW Government spokesperson
DPC media
Premier and Cabinet
With that information confirmed, I turned my sights back to Norwegian Cruise Line which was still displaying incorrect information on its site.
Asking Norwegian Cruise Line about this passenger's experience
Hello *****! 😀

I have another distraught Norwegian Cruise Line passenger over here, Erin Beztilny, who seems to have been provided some murky information that led her to fly the entire way to New Zealand to board Norwegian Spirit, embarking from Auckland and disembarking in Sydney (NSW in Australia).

Ms. Beztilny is not vaccinated for COVID. New Zealand nor Australia require a COVID vaccine for entry (via air). Ms. Beztilny and her husband obtained the necessary visas to enter Australia and New Zealand, but when they attempted to board Norwegian Spirit they were denied boarding.

The pier staff told them that to cruise to Australia all passengers must be up to date with their vaccinations for COVID.

It was nearly impossible for my team and I to determine if this couple was denied boarding in error since even the NCL website and the link in the couple's NCL contract declares that COVID vaccines are only required for passengers who are EMBARKING from Australia. (Screenshot below my signature)

However, I contacted the NSW ministry in Sydney and their spokesperson confirmed that passengers cruising to or from NSW must be vaccinated against COVID (This is specific to New South Wales).

This couple relied on the information on the NCL website being correct — in fact they chose NCL specifically for this cruise because of the assurance that this itinerary allowed them to cruise to all these exciting destinations (without the vaccine) because they weren't embarking from Australia.

Even their professional travel agent seems to have relied on the page on the NCL website to be accurate concerning the COVID vaccine.

I was hoping (as is this couple) that your team might review this case and given all the confusing/murky information, grant this couple a FCC.

As always, I appreciate your team's help and consideration!! 🚢☺

Thank you!

Michelle Couch-Friedman, Travel Ombudsman
Good news from NCL: Here's a cruise credit and a refund
The good news from NCL came in just a few days for Beztilny.
Hi Michelle,

After investigating this case, our team has issued a refund in the form of future cruise credits to the guests, which can be used on any sailing by December 31, 2024. Thank you for providing us with the opportunity to respond.

Thank you,

Spokesperson| Norwegian Cruise Line
In the end, the couple received a cash refund for their port fees, shore excursions, spa treatments, and other special packages to the tune of $1,900. Next, the couple received a $6,400 future cruise credit from Norwegian Cruise Line.
Beztilny and her husband are thrilled.
Hello Michelle! I have just heard from a VP at NCL.

I'm shook. I'm literally shaking. We have been given a credit for the full amount of the price we paid. I know this is wholly due to your diligence. Your service and skills are amazing!

I can never thank you enough.

Erin Beztilny
Beyond this resolution, Erin wanted Consumer Rescue to tell her story in the hopes that no other cruise passenger will fly halfway around the world and be denied boarding at the dock.
And that's a hope we hold as well.
What happens if you get denied boarding your cruise?
As one of my trusted editors reminded me last week, the pandemic is not over. That means if you are not vaccinated against COVID, you must proceed with caution during your travel planning. Beztinly's case is not an isolated one.
There are circumstances around the world in which travelers are still required to provide evidence of vaccination against the coronavirus.
Of course, being vaccinated against COVID is only one of many reasons that a would-be cruiser could find themselves denied boarding (See: No, a printout from Ancestry.com is not a valid ID to cruise). In fact, most consumers who contact us because they have been rejected at the pier have neglected to have the correct identification to cruise.
Here is everything you need to know about being denied boarding a cruise.
It is always the passenger's responsibility to know
It's important to remember that as an international traveler, the ultimate responsibility is yours to know and possess what is needed to navigate the globe. There are no laws or regulations anywhere in the world that shift this personal responsibility to a cruise line, airline, or tour operator.
If you're denied boarding your cruise (or flight), you aren't owed a refund
If you end up getting denied boarding or rejected for entry to the country where your cruise ship is waiting, the cruise line will not provide you with a refund. This is true across the cruise industry. Don't believe me? Read your cruise contract.
Travel insurance won't cover this
Travel insurance will not cover your losses if you are denied boarding a cruise (or flight) because you did not have the correct ID to travel (See: This passport mistake will ruin your vacation every time). So don't assume a travel insurance policy will protect you — because it won't. Do your research so you don't end up at the pier with incorrect or missing documentation required for travel.
Errors and Omissions insurance may save the day
Many of the fiascos you read about on Consumer Rescue could certainly have been avoided if the traveler had utilized a travel advisor. These professionals are focused on making sure that their clients have a trouble-free vacation. That includes alerting their customers of ID and health requirements for all the destinations on their trip's itinerary.
But, of course, anyone can make a mistake – even an expert travel advisor.
The good news: A professional travel advisor, if you use one, will almost certainly have Errors and Omissions Insurance. That means if they give you incorrect guidance or neglect to give you the necessary information you need to complete your trip, and that leads to your financial loss, the insurance will protect you. Before engaging a professional travel advisor, ask about whether or not they carry this critical insurance.
Note: Had NCL not come through for Beztilny, our next step would have been to pursue the "cruise specialist" who booked this trip. She failed to make certain that the couple could actually take the journey that she booked for them. That was an error and is a mistake that E & O insurance would likely cover.
The bottom line
Travelers are 100 percent of the time responsible for having the required documentation to successfully complete their vacations. There is no way to recoup your losses if you neglect to ensure you have the correct documentation to travel. 
Do your research well before booking any international trip. And make certain you have what you need before you show up at the check-in counter for your cruise or flight.
Of course, when things go wrong, you know where to find the Consumer Rescue team. We're always ready to help — and always free of charge for consumers who need to be rescued! (Michelle Couch-Friedman, Consumer Rescue)
*Before you go: Here's a traveler who got denied boarding her flight to New Zealand by mistake! Who will pay for all these extra expenses?
Last Updated on July 30, 2023 by Michelle Couch-Friedman