You should never rely on an anonymous stranger's advice about the required ID you need to take your next cruise. Salvatore Friscia knows this all too well. While planning a vacation on Carnival's Pride, he says an unidentified phone agent gave him the wrong information about the documentation requirements for the cruise. That guidance led him and his wife to show up for the cruise without the correct ID. As a result, the Friscias were denied boarding the ship and missed the entire cruise.
Now the couple wants to know how they can get a refund or a cruise do-over.
Unfortunately, the Friscias aren't going to like the answer.
This case is one that highlights the unique, ever-changing, and often confusing topic of documentation requirements for cruise ship passengers. And if you're a cruiser, you'll want to pay close attention as there are additional changes on the horizon.
Carnival: You don't have the correct ID to take this cruise
Salvatore and his wife were looking for a special way to celebrate their 48th wedding anniversary. They decided to take a closed-loop Caribbean cruise that would begin and end in Baltimore.
A closed-loop cruise is one that begins and ends in the same U.S. port. The itinerary will typically include foreign destinations.
The Friscias selected a one-week cruise that would visit the Bahamas and Turks and Caicos.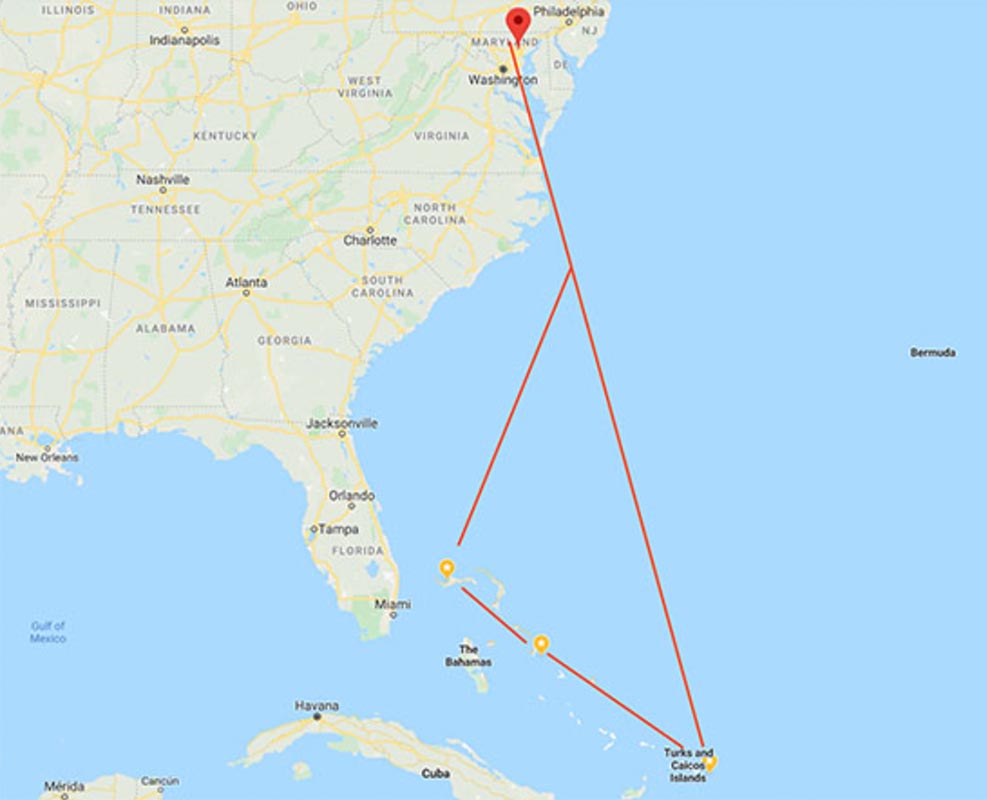 The couple was under the impression that the only ID they needed for the cruise was their driver's licenses. And so that's all the identification they brought with them. But upon arrival at the pier, the trouble became immediately apparent.
When they attempted to check in, they quickly learned that they needed additional ID to board the cruise ship.
"We did not have our birth certificates," Salvatore recalled. "And so Carnival denied boarding to us."
Fact: If you don't have the required ID, you aren't cruising
Salvatore says that he tried to reason with the employee who was delivering the news. He explained that someone at Carnival had assured him that only a driver's license was needed to take the cruise.
Not so, said this cruise representative. The couple needed passports, passport cards, or birth certificates together with their driver's licenses to board the Pride. Alternatively, if the couple each had an Enhanced Driver's License (EDL), that would also fulfill the documentation requirements to take the cruise.
An Enhanced Driver's License (EDL) is a type of driver's license that functions much like a Passport Card. It can be used alone for closed-loop cruises and land crossings between the U.S. and Canada and Mexico. Currently, only five states offer the EDL: Michigan, Minnesota, New York, Vermont, and Washington. If you aren't a resident of one of those states, then you don't have an EDL. 
The couple had none of the documents that would allow them to board the cruise.
As their fate became apparent, the Friscias gathered their belongings and headed back to their car. They wouldn't be celebrating aboard the Pride after all.
Fact: It's the passenger's responsibility to know and have the required ID to cruise
Dejected, the couple drove back home. But they were convinced that someone at Carnival had made a terrible mistake. That error had caused the couple to miss the cruise, and they wanted Carnival to make it right.
"It took us two years to save for this trip. We don't know if we'll be alive for our 50th anniversary," Salvatore lamented. "All we would like is another cruise or our money back. But really, we just want to take this cruise so we can enjoy what time we have left."
Unfortunately, Carnival soon clarified that there wasn't any mistake. The cruise line had correctly denied boarding to the couple. As per the terms of the Carnival cruise contract, a passenger is owed no refund if they show up without the correct ID to travel.
Required Documentation & Identification

Please note that travel documentation requirements vary by destination and change often. It is the responsibility of the guest to provide valid travel and medical history documents required for air travel, debarkation at various ports of call, and re-entry into the appropriate country of origin.

From Carnival's FAQs
Showing up without the correct ID to travel = no vacation and no refund
As regular readers of our site know, it is a standard policy across not only the cruise industry but the entire travel industry — if you don't have the correct documentation to navigate all parts of your trip, you won't be getting a refund.
I've told countless cautionary tales about the consumers who contact our team who've shown up ready for travel but neglected one critical step in their travel planning: checking their ID and documentation requirements for their journey.
Unfortunately, for any would-be passenger who shows up without the required documentation for travel, a refund will not be in their future. No cruise line, airline, or tour operator will take responsibility for this easily avoided traveler error.
But Salvatore didn't have any intention of accepting this responsibility. He insisted that someone at Carnival had told him that his driver's license was sufficient ID to cruise.
Asking our advocacy team to investigate this cruise fiasco
When Salvatore initially contacted our team, he made no mention of a Carnival employee giving him misinformation. And although his dilemma was a sad tale, we didn't have any foundation to mediate.
The unfortunate truth is that the Friscias' situation is not very unique. We often receive similar requests from consumers who forgot to check the ID requirements for their intended destination before heading to the air or cruise port. This oversight has led to the loss of their anticipated vacation (and the money spent on it) and they would like us to ask the company to overlook their mistake and offer a do-over.
Travelers beware: We're not able to advocate the numerous requests for goodwill gestures that we receive. Our team turns down virtually all of these cases — as do the cruise lines and airlines.
But then Salvatore said that an employee had given him bad guidance. We know from past cases that sometimes cruise line employees have been known to give bad advice. And Carnival staff have made mistakes that caused families to miss their cruise.
I decided to investigate further. I thought if an employee contributed to this couple missing their cruise, then Carnival should shoulder part of the cost of that mistake. In fact, I had just successfully mediated a case with NCL in which a cruise consultant had provided incorrect information about the ID requirements her client needed. This guidance caused the family in that situation to miss their cruise as well.
For that family, there was a happy ending, and now I hoped for the same outcome for the Friscias.
Did a cruise line employee misguide this couple?
Unfortunately, it wasn't to be.
The Friscias say that they aren't sure who offered the incorrect information about the ID they needed to take the cruise. In fact, in my last email with Friscia's wife, she was uncertain when or who they spoke to before the cruise.
And so, the facts of this case don't support an error on the part of the cruise line.
Unfortunately, as much as I would love to see the couple take that 48th-anniversary cruise, we can't ask Carnival to cover this mistake. But we can share the story so that others like the Friscias might avoid a similar fate.
So, what ID is required for your next cruise? Here's your guide
It's not difficult to determine what ID you need for your next cruise. However, it does take a little effort. It's critical to do your research to ensure that you don't get left behind as your cruise ship sails away.
So you can avoid a similar cruise fiasco, here's a guide to the ID requirements for various types of cruises.
ID requirements for a closed-loop cruise
In order of importance, here are the acceptable IDs for a closed-loop cruise.
Passport book: Although a passport is not required on a closed-loop cruise, it's always the safest ID to possess. The passport book is your entry ticket to the world. You'll need no other ID on your closed-loop cruise if you have a passport. Cruise ship passengers should always consider what might happen if they don't have a passport and miss embarkation or need to fly home from an international destination because your cruise ship sailed away without you during a port visit. Only the passport book will allow for international air travel.
Passport Card: The U.S. Passport Card is valid for closed-loop cruises and land crossings between the U.S. and Canada and Mexico. Travelers can also use it for domestic flights. But you can't fly internationally with the U.S. Passport Card. So, although you can use the Passport Card as your only ID to board your closed-loop cruise, you're still running a risk should you need to catch up to the ship or fly home internationally.
An Enhanced Driver's License (EDL): The EDL is a type of driver's license that serves much like the Passport Card. It can be used alone for closed-loop cruises and land crossings between the U.S. and Canada and Mexico. Currently, only five states offer the EDL: Michigan, Minnesota, New York, Vermont, and Washington. If you aren't a resident of one of those states, then you don't have an EDL.
Real ID driver's license or a standard driver's license AND your birth certificate: If you don't have any of the above identification to board your cruise, then you'll need to have a government-issued photo ID plus your birth certificate. You must have both to be allowed to board your closed-loop cruise. You can request an official copy of your birth certificate through the Office of Vital Records in your state.
Identification needed for international cruises
An international cruise is one that embarks from a different port than it begins and visits foreign ports OR begins and ends in foreign ports. You will always need a passport book for an international cruise. You may also need a visa.
Visit the Department of State: This site is a valuable resource for all travelers. The U.S. State Department dedicates an entire section to guidance for cruisers. If you're a U.S. citizen, you can find everything you need to know about the correct ID required to enter all the destinations on your itinerary, safety and health tips, and more.
Check with the consulate of any country you'll be cruising through: Whether online or in-person, you should visit the consulates of all of the countries on your cruise's itinerary. This is especially true if you have a unique citizen status. Most consulates are easily accessible through the internet and you can email and ask for specifics about your situation. Just make sure to keep a copy of the answer you receive.
Visit Global Visa Search (online): Global Visa Search is another excellent resource for all travelers. You enter your passport information, your intended destination, and the purpose of your visit, and it tells you if you'll need a visa.
The International Airport Transport Association's (IATA) traveler's tool: IATA provides a helpful tool for travelers to determine their required documentation for entry to foreign countries. The professional version of this tool is what many airlines use to decide if you have the correct ID to travel.
Read your cruise contract: Your cruise contract contains essential information about your journey. It's critical that all passengers carefully go through all their pre-travel documentation. The cruise line sends it to you for a reason — to help you avoid your own travel fiasco.
Double-check and cross-reference your information: It's always a good idea not to rely on just one source for your information. So if you want to really make sure you never miss your cruise, flight, or entire vacation, double and even triple-check your data. And don't forget — a library card is never an acceptable form of ID to fly internationally! 🤪 (Michelle Couch-Friedman, Consumer Rescue)
Related: Is your middle name on your passport? Don't make this airline ticket mistake