An elderly couple flew halfway around the world only to miss their $28,000 bucket list Viking cruise. Is there anything Consumer Rescue can do to help?
---
Last November, Thomas and Jane Entenza began a grueling 20-hour journey via United Airlines from Jacksonville, Florida to New Delhi, India. The excited couple was on their way to take a much-anticipated bucket list Viking cruise through the Bay of Bengal.
Or so they thought.
Unfortunately, the Entenzas would miss that bucket list cruise. In fact, the only part of India they would see was New Delhi airport's immigration hall.
That's where Indian immigration officers asked Thomas and Jane for their tourist visas – something they didn't possess. As a result, the distraught couple quickly found themselves on a return 20-hour trip right back to Florida. And their dream Viking cruise sailed without them.
Now the Entenzas are asking Consumer Rescue for help. They hold Viking responsible for this cruise fiasco and want a full $32,000 refund for their missed bucket list adventure. That's $28,000 for the cruise and $4,000 for the flight they were forced to buy on the spot to get back home.
But does Viking Cruises owe this couple anything?
Planning a "bucket list" Viking cruise
Early last year, the Entenzas, octogenarians, decided it was time to scratch off one of their bucket list items.
This was to be our last intercontinental tour. We have fond memories of a wonderful Viking cruise we took some time ago. So we decided to book Viking Cruises 'Across the Bay of Bengal' to complete our bucket list of seeing India.

Thomas Entenza
Booking the cruise directly with a Viking consultant, the couple also chose to add the pre-cruise land extension. They would spend several days in New Delhi and Jaipur before making their way to Mumbai. The Entenzas would then board Viking's Mars and enjoy the comforts of a Penthouse Veranda suite as they cruised through India, Sri Lanka, Malaysia, Singapore, and Thailand.
This 29-day bucket list adventure came with a hefty price tag of just below $28,000.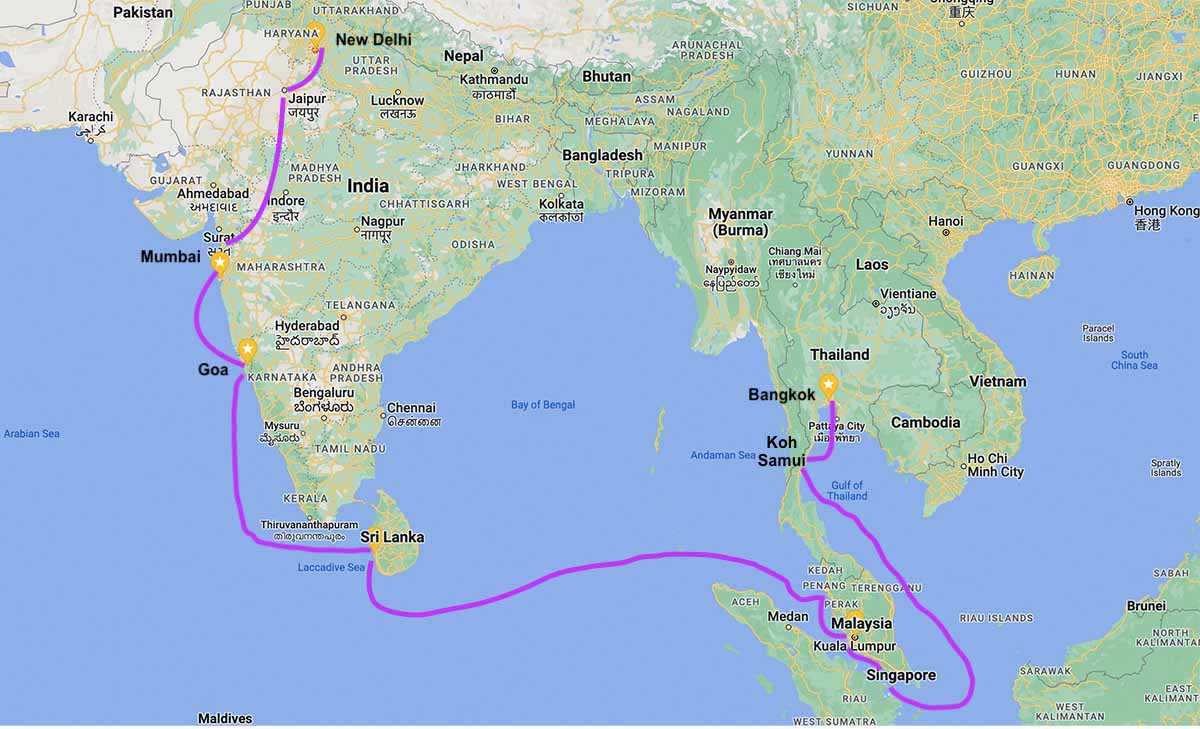 It was to be a trip the couple would never forget. And it was.
But, unfortunately, it turned out to be a trip they wished they could forget…
Viking Cruises: "Important visa information for your upcoming cruise."
Shortly before the Entenzas were scheduled to fly to India to begin their exotic land and cruise vacation, Viking sent them a reminder.
Dear Viking Guest,

This message is a reminder that there is an ETA requirement for Sri Lanka. The e-visa application must be completed before boarding. The visa is free of charge and takes a minimum of 24 hours to process…

Viking Cruises
Viking Cruises even included a link to make it simple to apply for a visa for Sri Lanka. Thomas and Jane completed the application and soon had the visa they needed for that part of the cruise.
United Airlines: "Passports, please. Bon voyage!"
Just a few days later, the couple headed to the United Airlines check-in counter at the Jacksonville airport for the first leg of their itinerary. The Entenzas would fly to Chicago and make a flight connection to India.
The United agent asked for their passports, checked their luggage, and handed the couple their boarding passes. All seemed to be in order. They soon arrived in Chicago and, before they knew it, were settled into their comfy Polaris lie-flat business class seats aboard a 787 Dreamliner for the 16-hour flight to New Delhi.
They passed the time by chatting about everything they planned to do and see in the next three weeks. Having never taken a cruise on Viking's Mars, they were looking forward to all the ship had to offer.
The couple just needed to tolerate the tedious flight – it was most difficult for Jane, who has some mobility problems. Of course, the business class seats certainly made the flight a bit more bearable. But as soon as they arrived in New Delhi, they would be whisked away to the luxurious Taj Mahal hotel, where they could get some rest before beginning their adventure in earnest.
Welcome to India: But without a visa, you must leave immediately!
Finally, the aircraft pulled up to the gate in New Delhi. At the couple's request, Viking Cruises had arranged wheelchair assistance for Jane. The Entenzas, with the help of the wheelchair attendant, made their way to immigration.
When they arrived, Thomas handed over their passports and waited for the India stamp he wanted as part of his bucket list.
Instead of stamping his passport and waving them through, the officer said something that Thomas didn't quite catch.
Jane's wheelchair pusher said that the immigration officer also needed our Indian visas! We only had visas for Sri Lanka because Viking told us that is what we needed. We had no idea we also needed a visa to enter India. Why wouldn't Viking have told us that?

Thomas Entenza
Thomas says a "traumatic, difficult, and very stressful confrontation ensued."
The Entenzas hoped there was an easy way to fix the problem – one that didn't involve what the immigration officers were suggesting.
They (immigration officers) immediately started to tell us that we had to leave India. The officer said we would need to buy a new ticket on the next flight back to the United States. By now, Jane was crying in desperation. We couldn't imagine that there was no way to get an emergency visa.

Thomas Entenza
The immigration officers explained that emergency visas aren't issued to tourists and reiterated that the couple must vacate India ASAP.
Asking Viking for emergency help to avoid "expulsion."
The couple was allowed one call before the immigration officers put their expulsion plan into action. Thomas called the Viking Cruises help desk and begged for assistance.
But as many travelers have discovered before the Entenzas, foreign immigration officers are charged with guarding their borders. If you don't have the required documents to enter, you'll be denied entry or worse… (See: Welcome to Switzerland. Now you're going to jail.)
Luckily for this couple, the "or worse" wasn't necessary. There was a flight available that could immediately take them out of India as the officers required. It came at a premium cost, though.
FYI: Walk-up, one-way fares are some of the most expensive flights that exist. And that's what the couple was forced to purchase as the immigration officers stood beside them.
The very unfriendly authorities required that we purchase the next flight. It was sitting at the gate getting ready to return to the United States. The economy class tickets we were forced to buy on that flight cost $3,900.

Thomas Entenza
Once the purchase was complete, those authorities escorted the couple to the waiting plane – the same one they had excitedly arrived on just hours before.
Instead of the spacious, lie-flat seats they occupied earlier that day, the elderly couple settled into cramped economy seats to begin yet another 20-hour journey. They were devastated at the turn of events. They had expected to be having afternoon tea in the lovely garden of their hotel by now.
The chatter on this unexpected express flight back home was quite different.
When they landed back in the United States, they were sure they had determined who was responsible for this vacation nightmare: Viking Cruises.
Asking Viking for a full refund for the missed bucket list cruise plus new airfare
When the couple arrived home, they began a letter-writing campaign to Viking describing their utterly horrible experience.
By the time the Entenzas' request for help landed in my inbox, it had been over two months since they had begun their attempts to get Viking to provide a complete cash refund for the missed bucket list cruise, extension, and last-minute airfare back home. The grand total: nearly $32,000.
Viking had yet to respond to the couple. And when I read through their paper trail, I assumed it was because of the letter Thomas had sent to the CEO of Viking. The complaint was quite long, asked for a complete cash refund and noted that an attorney was copied.
From years of experience mediating cases, my team and I know that once a customer says they've got an attorney involved, that typically shuts down the problem-solving process.
Most companies will send that type of letter to their legal department and then wait for the customer's attorney to make the next move. FYI: Most consumers who send a letter with a notation that an attorney is involved are bluffing, and the companies know this as well (otherwise, the lawyer would be sending the message, not the consumer). So before you send such a letter, keep that in mind. You may just be shutting down communication between you and the company.
The other problem with Thomas's letter was that it included: "We're not really interested in a travel voucher for any future Viking journey." When a consumer tells a company they are no longer interested in being a customer, it can quickly put the brakes on any chance of a positive resolution.
From the company's point of view, why should they spend time trying to fix a problem for someone who is no longer a customer?
However, there was a much, much more problematic aspect of the Entenzas' request… and if you're a regular reader of my column, then you already know what that is.
It's always the passengers' responsibility to know what documentation they need for travel
Distraught travelers who have been denied boarding cruises and flights often contact our advocacy team. These passengers are typically focused on the airline or cruise line as the target of their fury. This is misdirected anger. Every cruise line and every airline has written into their contract that it is always the passenger's responsibility to know and possess all their required travel documentation.
Fact: No rules or regulations anywhere in the world shift the personal responsibility of knowing and having all the required documents for travel from the passenger to the travel provider.
I explained this to the Entenzas so they might be more reasonable with their expectations of what a fair outcome could be in their case. I showed the couple the clause in their contract with Viking that relieves the cruise line of responsibility for their truly awful experience.

Fact: U.S. citizens must have a visa to enter India
U.S. citizens do need a visa to enter India and this has been the case for quite some time. The Entenzas told me that they were lulled into thinking that all they needed was their passport because of the email from Viking about the visa for Sri Lanka.
I thought that there could be a friendly "argument" made with Viking that the cruise line shared some responsibility here for two reasons:
The couple had used a Viking cruise consultant (Although this was a very minimally involved phone representative).
Viking had informed the couple of one of the necessary visas. Had Viking mentioned the Indian visa in that same message, the couple could have applied and received it in time.
Of course, I knew a full refund wasn't in the cards for the Entenzas, and I explained that to the couple. But I decided to see what Viking had to say about this couple's missed bucket list cruise.
Will Viking provide reimbursement for the missed bucket list cruise?
We don't receive a lot of complaints about Viking Cruises – which is always a good sign for customers of a company. So I wasn't sure how the cruise line would respond to this case. I hoped their team might consider a future cruise credit so that this couple could possibly take that bucket list trip in the future.
And now that the Entenzas' reimbursement expectations had been brought down to earth, I thought we might be able to negotiate something that would be reasonable for both sides.
This case involves two elderly Viking customers who used a Viking consultant to book their cruise "Across the Bay of Bengal."

For some reason, the Viking consultant (T**** ****) alerted the couple, in writing, that they needed visas for Sri Lanka to board this ship, BUT the consultant didn't tell them that they also needed visas to enter India. Of course, we know it is always the cruise ship passenger's ultimate responsibility to know and possess the required documents for travel, but this case seems a little murky because the couple received some instructions from Viking's consultant (in writing) about the need for visas for part of the journey.

This couple, Thomas and Jane Entenza (both in their 80s) flew the entire way to India and then when they arrived at the immigration window, they were denied entry to India and forced to fly back to the U.S. ASAP.

This was a bucket list trip for the couple, and I hoped that we could negotiate at least some future cruise credit for them. I have already informed them that a cash refund isn't in the cards, but I hoped the Viking team would review the details and offer the couple some percentage of a refund in a future cruise credit.

Michelle to Viking Cruises
The very good news from Viking Cruises: $14,775 in future cruise credits
Soon we had some news… some very good news for the Entenzas. After a little back and forth negotiation, Viking gave the couple a quite generous offer – $14,775 in future cruise credits. This represents half of the cruise fare, all of the pre-cruise extension, and all of the cost of the last-minute flight back home from India.
Viking also agreed to make these cruise credits transferable for the Entenzas in case they are unable to use them.
Thomas and Jane are pleased with this outcome. He says they're going to make this work. They're determined to find a new bucket list cruise — and they definitely won't miss the next one!
Michelle…We can tell you are faithfully dedicated to your mission. From this old Marine…(back when Gen/Pres Eisenhower was in office)…SEMPER FI!

Best of everything in this New Year!

Thomas Entenza
Thank you, Thomas. I'm very happy to have been able to help! This is exactly why Consumer Rescue is here…Semper Fi!😀
6 steps to follow so you don't miss your cruise — bucket list or not
I've been mediating and writing about cruise fiascos for many years now. As a result, Consumer Rescue receives a high volume of help requests from devastated would-be cruise passengers who missed their much-anticipated voyages. The fact is that most (but not all) of these cruising misadventures could have easily been avoided.
Here are six steps to take to avoid a missed cruise of your own.
1. Do not fly to your destination on the same day as your cruise begins
One of the most common reasons that travelers miss their cruise is because they've pushed their luck and chosen to fly on the same day their ship embarks (See: Here's why you should not fly on the same day as your cruise).
Of course, as long as you hit no delays along the way to your cruise ship (on the ground or in the air), you'll probably be fine. But life is unpredictable, and airline delays are more common than ever. Give yourself a comforting buffer of at least one day between your flight and your cruise ship's embarkation.
2. Use a professional travel advisor to plan your cruise
Especially for cruises that involve international flights, a travel advisor can be indispensable. A professional travel advisor's goal is to ensure their clients have a smooth and enjoyable trip.
That means, among other things, your advisor will keep you aware of the entry requirements to all the destinations on your cruise itinerary. It's highly unlikely that you will miss your cruise because you don't have the correct documents if you engage a professional travel advisor for your planning.
A word of caution: Not all people who call themselves travel agents are professionals (See: Is this the world's worst travel agent? 😵).
You can find a trained and experienced professional specializing in planning cruises through the American Society of Travel Advisors (ASTA) website.
3. Visit the U.S. Department of State (online)
A free resource that many travelers are unaware of is the international pages of the U.S. Department of State. The State Department provides a plethora of information about every country in the world – including a general overview, current entry requirements for U.S. citizens, health and safety issues, and consulate information. Use the search feature on the homepage to begin your research for every destination on your itinerary. Look for this box in the sidebar: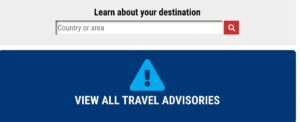 The State Department even has a page dedicated to providing current recommendations to cruise ship passengers.
4. Visit the consulate of all international destinations on your cruise itinerary (online)
Travelers should never rely on just one resource to confirm the necessary documents to enter foreign destinations.
There have been times, especially during the pandemic, when entry requirements around the globe were changing at lightning speed, that the U.S. State Department lagged behind with current information. It's best to visit the consulate pages of all the countries you intend to visit. You can find a link to most international consulates from the country's page on the State Department's website.
5. Use the free version of Timatic – an international document checker
Most airlines have access to the professional version of Timatic, an identification checker created by the International Air Transport Association (IATA). Passengers can access the free version of Timatic through Travel Centre, and many airlines, including United, provide a link to Timatic on their websites. If your plans include international travel, you should use Timatic. Just enter all your personal details, and the program will tell you if you have the correct identification to successfully navigate your plans (including passport, health, and visa requirements).
Timatic is a highly accurate tool – in fact, during the pandemic, the database was updated multiple times every day. If you use Timatic to check your travel requirements, it is doubtful that you will ever miss a cruise or flight because of incomplete or inaccurate documentation.
6. Check your travel documentation again and again and again
To make sure you don't experience the devastation of missing your dream vacation, it's critical that you check and recheck your documentation right up until you head to the airport. The reason? Identification and health documents can and do change — sometimes at a moment's notice — even as we enter this post-pandemic travel world.
The bottom line
Our intention at Consumer Rescue is not to make you paranoid about missing your cruise or other international vacation. Our goal is to give you a healthy dose of awareness of what can happen if you don't pay close attention to what you need to travel – so you don't end up with your own disturbing tale to tell.
But of course, if you're a consumer who needs help, send your request, and we'll be happy to make every attempt to rescue you, too. 😃🛟 (Michelle Couch-Friedman, Consumer Rescue)
Last Updated on August 10, 2023 by Michelle Couch-Friedman