Stepping up to the check-in counter of Alaska Airlines, new mom Jisu Lee wasn't expecting any problems. She was well-prepared for the grueling 20-hour journey ahead, flying alone with her infant from Seattle to Auckland via Vancouver. In New Zealand, her parents were excitedly waiting to meet their granddaughter for the first time.
Lee had anticipated almost everything – except the possibility of being mistakenly denied boarding by a confused agent of Alaska Airlines. That error caused the trip to morph into an expensive four-day travel nightmare for the frazzled mother and baby.
Now Lee is hoping Consumer Rescue can help. She's asking Alaska Airlines to admit it made an error refusing to allow her to board the flight. She also wants the airline to repay her for all of the additional expenses she incurred during this travel nightmare.
But what is the real reason that Alaska Airlines denied boarding to Lee and her child? That's the question of the day.
Booking flights to New Zealand with Alaska Airlines
Last summer, Lee's husband, who is in the military, received new orders. As a result, the family would be relocating to Italy for the next three years.
"We decided that this would be a perfect opportunity for me to go see my parents in New Zealand," Lee told me. "I hadn't seen them since before the pandemic and they had never met our daughter."
She knew it would be an arduous trip to tackle by herself with the baby. But Lee, who grew up in New Zealand and is a permanent resident there, excitedly started planning.
Lee used American Express Travel to find the most direct and economical flights for the trip to see her parents. With the flights booked, the family happily looked forward to the next phase of their life.
Off you go! Or maybe not…
For the next several weeks, Lee and her husband packed up their belongings and prepared for the big move. She made checklists of all the things she would need for the long trip to New Zealand with her baby.
On the day that Lee and the baby set off on their adventure, Lee was confident that she had everything she needed to make the trip go as smoothly as possible. Her husband was preparing for a different journey – with the family dog.
"My husband would be driving cross-country from Washington to Virginia with our dog," Lee told me. "They would then fly together on a government contracted flight to Italy."
But before he would begin that 2,500 mile road trip, Lee's husband took her and the baby to the airport. There they would check in for the first leg of their journey on Alaska Airlines to Vancouver.
Lee kissed her husband goodbye and gave their dog a scratch. She and the baby headed into the airport and her husband headed east on his road trip.
Juggling her bags and pushing her daughter in a stroller through the check-in line, Lee waited her turn. But her mind was on other things.
"I was so thrilled to finally see my parents after all this time," Lee recalled. "I didn't mind the long flight because I was so happy that I would be back in New Zealand — at least for a short time. It was such a great feeling."
Unfortunately, that great feeling only lasted until Lee handed over her passport to the Alaska Airlines agent. That's when all Lee's plans for the day drastically changed — and the short time that she planned in New Zealand got a lot shorter.
Alaska Airlines: You're denied boarding this flight
When it was finally Lee's turn at the Alaska Airlines counter, she handed over her and the baby's documents.
Confusion ensued immediately.
I am a permanent resident of both the United States and New Zealand. My passport is from South Korea. I have a valid green card from the U.S. My daughter is an American citizen with a U.S. passport.

Lee describing the documents that she provided to Alaska Airlines at check in
Certainly, Lee's status would be a bit confusing for anyone to sort out. But the Alaska Airlines agent in front of Lee looked completely baffled by Lee's documentation.
First he told me that I needed special approval to enter Canada for the short transit. He [The Alaska Airlines agent] said I needed to apply through ArriveCan for negative COVID approval. I knew that wasn't true so I asked him to review the information again with his supervisor. Twenty minutes later they all agreed I didn't need ArriveCan approval.
With that crisis averted Lee assumed that the Alaska Airlines agent would quickly be handing over their boarding passes.
When that didn't happen, Lee asked what was going on. The baby was becoming cranky and she was eager to get through security to feed her daughter.
But there was more troubling news from the airline.
Alaska Airlines: You don't have the required eTA to transit Canada
Now the Alaska Airlines agent and supervisor had determined that Lee, traveling on a Korean passport with a U.S. green card, needed an Electronic Travel Authorization (eTA) to transit Canada.
This was an easily provable mistake and Lee tried to show Alaska Airlines that U.S. green card holders don't need an eTA, but the employees remained unconvinced.
Since Lee had shown up with plenty of time before the flight, she got an idea – she would apply for the unnecessary eTA. These "visas" often can be approved within minutes.
"I applied and a little while later I was approved, but it was too late," Lee told me. "The agent of Alaska Airlines told me he had denied boarding to us. I was devastated."
Standing there with her baby, she asked the airline's representative what she should do next.
That's when Lee learned the brutal truth about getting denied boarding when the airline has determined you don't have the correct documents to travel: You're on your own.
Denied boarding and stranded in Seattle
What followed was nothing short of a travel nightmare Lee says. Her husband was already three hours into his road trip east with their dog. She called a friend to come get her and the baby as she tried to figure out how things had taken such an awful turn.
I knew I had done all my homework about what we needed to get to New Zealand and through Canada. When I called American Express Travel for help they told me that Alaska Airlines had taken over our ticket.

I was certain that I never needed an eTA but now that I had one when I called Alaska Airlines they agreed to rebook us on a flight three days later. But the agent said the airline wouldn't get us a hotel or pay for anything else.
With no other choice but to accept this arrangement, Lee made plans to stay nearby the airport for the next several days.
But the day before the new flight was scheduled to finally take Lee and the baby on their way, it became clear something else had gone wrong.
Now Alaska Airlines had only booked Lee and the baby as far as Vancouver. No one at the airline had protected the flight from Vancouver to Auckland and so that part of the journey – the most important part – was missing.
Enough mistakes: Booking new flights on another airline
After spending many unproductive hours on the phone with Alaska Airlines trying to get the Air New Zealand part of the flight reinstated, Lee called her husband for help.
"Then he spent hours on the phone as well trying to fix this problem," Lee explained. "I only had a certain amount of days that I could spend with my parents and now, Alaska Airlines suggested they would just refund our ticket."
It appeared that Alaska Airlines was done trying to get Lee to her destination.
"I was distraught," Lee remembered. "My parents were waiting and now I had no tickets at all and my husband was getting ready to fly to Italy."
There was only one choice now. Lee and her husband decided to purchase a last minute flight on another airline so that she and the baby could leave ASAP for Auckland.
And the next day, Lee and her daughter went back to the airport and checked-in without any further disruption. This time they took off as scheduled and after a lengthy flight, Lee finally was able to reunite with her parents in New Zealand.
It was a wonderful visit, but Lee was not about to let Alaska Airlines off the hook for this travel nightmare.
Asking Consumer Rescue: Did Alaska Airlines make a mistake?
After many unsuccessful attempts to find a sympathetic ear at Alaska Airlines, Lee was looking for additional guidance. A quick Google search brought up an article I had written about another solo traveler denied boarding by mistake.
That unfortunate passenger fared much worse than Lee.
Sarahy Sigie was detained in South Korea after Air Canada denied boarding to her by mistake.
That error caused her to arrive in South Korea with an expired COVID test. That led her into a forced two week quarantine there.
In the end, after much effort and only after the court of public opinion weighed in, Air Canada apologized. It also covered all her expenses for her unintended two-week visit to South Korea.
In Lee's case, she had spent nearly $2,000 that she didn't expect to spend because of this travel nightmare. She also lost several precious days with her parents in New Zealand. She hoped we might be able to convince Alaska Airlines that it should correct its mistake as well.
As you can imagine, we are very disappointed with the lack of care and accountability Alaska Airlines has shown us throughout this process. Multiple agents have made critical errors at various points, only to cancel our flight last minute and take no responsibility for anything.

We are feeling helpless at this point and would be very grateful for any assistance you could provide.

Lee to Michelle
When I went through Lee's paper trail, I quickly determined that as long as all of her documents were unexpired, Alaska Airlines should not have denied her boarding. A U.S. green card holder does not need a Canadian eTA.

Lee sent me a copy of the same documents that the Alaska Airlines employees had available to them at check-in. They were all valid and provided proof that she should have been able to board the flight without any problems.
It was time to ask Alaska Airlines for an explanation and reimbursement for Lee.
Asking Alaska Airlines why this passenger was denied boarding
…Alaska Airlines agents mistakenly denied boarding to Jisu and her daughter on Flight 2223 from Seattle to Vancouver.

That caused the two to miss their ongoing Air New Zealand flight (21) from Vancouver to Auckland.

The reason given to Jisu was that she needed a Canadian eTA to transit Canada, but as a green card holder in the United States, she isn't required to have an eTA.

Unfortunately, this mistake (and subsequent Alaska Airlines errors) set off a chain of cascading problems for Lee. She missed several days of a planned visit with her parents in New Zealand and ended up spending over $1,800 for new flights to get her there.

Can your team have a look at this?

Michelle to Alaska Airlines
Alaska Airlines: The passenger was denied boarding for something else.
In my correspondence with the resolution team at Alaska Airlines, I included the information from the government of Canada that proved Lee didn't need the eTA that the airline's agent had required.
But faced with this proof of its agent's mistake, Alaska Airlines now had a new explanation for Lee's rejection.
Hi Michelle,

I had our team look into this situation.

It appears the guest held a Korean Passport with a U.S. Resident Card with a Canadian connection/transit and New Zealand routing. An eTA is not required for [travel from ] U.S. to Canada, but [travel from] Canada to New Zealand requires the eTA. That's likely what resulted in the denial of travel.

Alaska Airlines to Michelle
This was the first time anyone at Alaska Airlines came up with this explanation. But it was also wrong.
As a permanent resident of New Zealand, Lee does not need an additional visa to enter the country. In fact, her passport clearly shows that she has a "Permanent Resident Visa" to enter New Zealand "Indefinitely."
I tried again.
Now that we've established that she didn't need a Canadian eTA and her permanent residency status in New Zealand shows that she doesn't require any special entry document there, it's clear that she was denied boarding by mistake. She has incurred $1,800 in additional expenses and many days of inconvenience because of that mistake.

Could you please ask your team to have another look at this case and see what can be done for her? Thank you!

Michelle to Alaska Airlines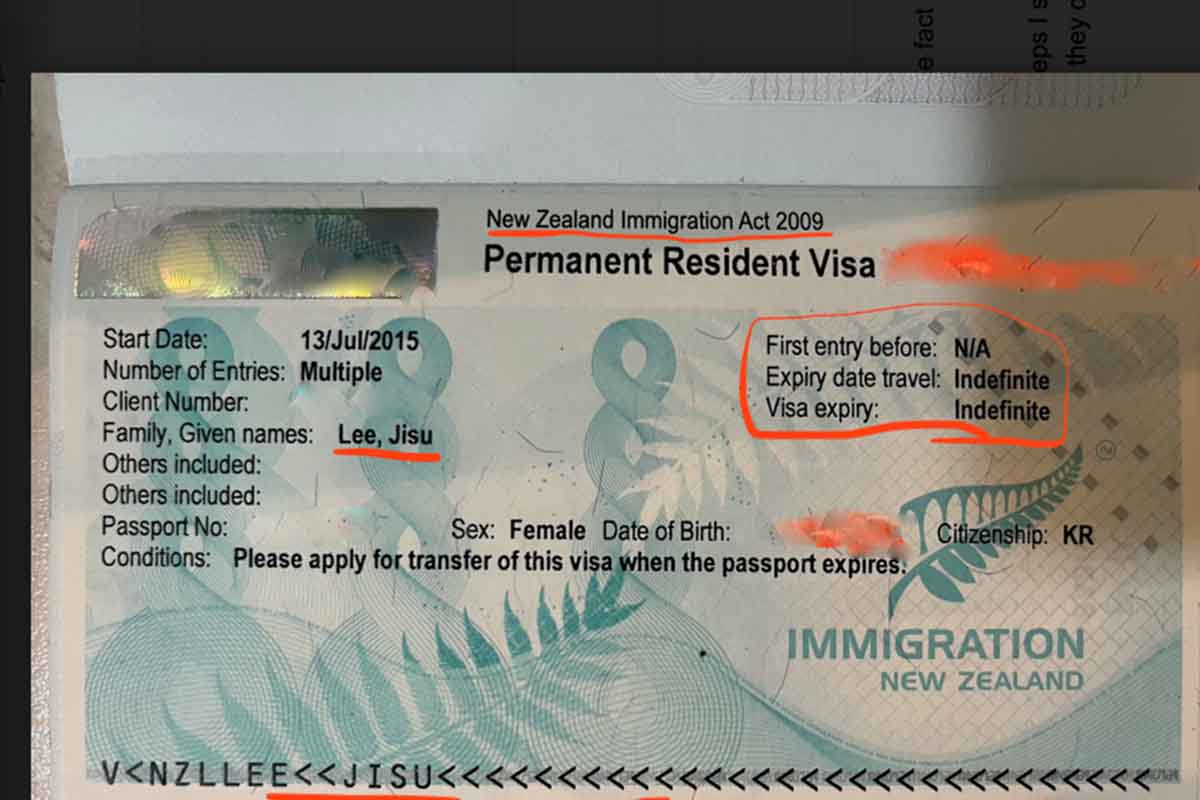 Faced with this information, I assumed Alaska Airlines would now admit responsibility for this mistake, apologize and refund Lee her expenses.
But that isn't what happened. Instead, Alaska Airlines refused to respond to any of my multiple additional emails.
It appeared that the airline had no intention of making its customer whole. That was disappointing. But we still had one more path to follow that I thought might nudge the airline to do the right thing: The Department of Transportation.
Asking the Department of Transportation for help
I sent all the details of Lee's case over to our executive contact at the Department of Transportation. I hoped her team might be able to encourage Alaska Airlines to correct this problem.
After a short investigation, I received what sounded like a bit of good news for Lee. But the DOT also shared some disappointing information about what happens if a passenger is denied boarding by mistake.
Hi Michelle,

DOT's Office of Aviation Consumer Protection has contacted Alaska Airlines regarding this matter. It is our understanding that Alaska will be contacting the consumer in the near future to offer compensation though it is not clear the amount of compensation that will be offered.

An airline must provide a prompt refund to a ticketed passenger, including those with non-refundable tickets, if it improperly denies transport to a passenger on his or her originally-scheduled flight.

Under U.S. law, an airline is not required to reimburse a passenger who incurs incidental expenses, such as a hotel room or meals or another ticket, because of a flight disruption, including disruptions that are due to circumstances within the airline's control, unless the airline has previously committed to providing that service or amenity to its customers.

Airlines may choose to provide reimbursements as a matter of customer service.

Spokesperson from the Department of Transportation to Michelle
The bottom line: When an airline makes this kind of mistake, it only owes the passenger a refund of the ticket (Although, it is, of course, always welcome to provide the customer with additional compensation).
Still waiting for Alaska Airlines to do the right thing
But now we were hopeful that Alaska Airlines would at least cover part of the expenses of Lee's travel nightmare.
So we waited. Then I sent a follow-up reminder to the airline.
I wish I could tell you the "good news" that Alaska Airlines finally did the right thing for Lee. But unfortunately, it didn't.
Although the airline informed the DOT that it intended to "compensate" Lee "In the near future", to date Alaska Airlines has only refunded the original ticket. That refund is something the law required the airline to provide — not "compensation" for its agent's mistake.
That refund reduced Lee's out-of-pocket expenses for this fiasco to around $1,200. But it's clear now that Alaska Airlines doesn't intend to cover any of Lee's additional expenses — expenses she only incurred because of the airline's error(s).
Lee continues to be flabbergasted about the cold treatment Alaska Airlines gave her from start to finish. She wants her experience to serve as a cautionary tale to unaware travelers about what can happen when an agent makes a mistake and your ticket is on an airline with no compassion.
Lee can tell you firsthand: It's a true travel nightmare — especially with a baby in tow.
Good news update (May 26)
As often happens after we publish an article with a negative ending and a company hears the verdict of the Court of Public Opinion, Alaska Airlines had a change of heart — a dramatic change of heart.
Hi Michelle,

I have some good news to share with you to kick off the long weekend! Thank you for your diligence with my case and truly being an advocate for me.

Jisu
In a letter from Alaska Airlines that Lee shared with me, the airline apologized for closing her case without a resolution. It also admitted that she was denied boarding by mistake and has now sent her a check for $1,761. Here is an excerpt from the letter:
In accordance with the Canadian Transportation Agency Air Passenger Protection Regulations, in all denied boarding cases within the airline's control except those required for safety, the airline must compensate the passenger for the inconvenience. The amount of compensation depends on how late the passenger arrives at their destination, compared to the arrival time indicated on their original ticket.

As we delayed you arrival at destination nine or more hours due to our errors, a check in the amount of $1,761.51USD ($2,400 CAD) will be issued as compensation. Please provide your mailing address, and I will promptly request a check for you.

Alaska Airlines
Additionally, she has received a $400 future travel credit. And now, finally, a year after Jisu's terrible experience, we can successfully close this case on a happy note.
What to do if you're denied boarding by mistake
The good news for travelers is that it's quite rare to be denied boarding a flight by mistake. Most of the travelers who contact my team with this type of complaint were actually rejected correctly.
But if you're a regular reader of this site, then you know that Lee's experience is not exactly unheard of.
Here's what to do if you believe you've been denied boarding a flight by mistake.
Ask to speak to a supervisor: When a front-line airline staff member denies boarding to you, ask to speak to that person's supervisor. Remember, everyone can make mistakes, and the more people who look at your situation, the higher the likelihood that someone else will be able to correct the error. Make sure to document the names of all the people who attempt to "help" you and let them know you are taking notes.
Ask for a denied boarding card: When cruise ship passengers are denied boarding, the cruise lines always provide a card that gives a vague summary of why the passenger is being rejected. Those cards always contain the name of the person doing the denying. Unfortunately, airlines don't often provide similar documentation. Make sure to ask for an explanation in writing from the airline if you're denied boarding.
Keep your complaint simple: Time and again, I see consumers with valid complaints writing novel-length explanations of their experiences. It's critical that when trying to prove your case to a company, you keep your summary short and simple — easy for the reader of your complaint to understand. You can read through my article about getting excellent customer service to help you along with this process.
Complain to the Department of Transportation: Receiving a copy of your complaint from the Department of Transportation often can lead to the airline "realizing" its mistake. Travelers must always give the carrier a chance to correct the problem before filing a complaint with the DOT. But if you've provided that airline ample opportunity to resolve your issue with no positive response, your next step is to lodge your complaint with the DOT.
Ask Consumer Rescue for help: Consumer Rescue is here to go to bat for you if you think you've been denied boarding by mistake. If you're a consumer in need of help, submit your request for mediation here, and we'll be happy to try to rescue you too! (Michelle Couch-Friedman, Consumer Rescue)