Eileen Wendorf says a Budget mistake caused her to pay twice for the same car rental. She wants her money back. But there's a big problem with her discovery — it occurred nearly seven months after she returned the vehicle.
Now she's asking our advocacy team to convince Budget of its expensive billing mistake and retrieve her $426. Can we do it?
Eileen's dilemma is a reminder that when you self-book travel reservations, it's imperative to stay well organized and vigilant. She made and canceled more than one car rental reservation before settling on a prepaid price. Shopping around snagged her a slightly lower rate, but ultimately it led to much bigger problems.
Looking for the best car rental deal and making two reservations
Eileen says that she and her husband were planning a two-week road trip through Oregon. Early in her search for the best car rental deal, she made a reservation through Rentalcars-com. The rental was booked with Budget through Priceline.
"A week or so later, we saw a better rate for $414 for the same category car directly with Budget," Eileen recalled. "So we canceled the first reservation and booked the lower rate."
The lower rate with Budget was a nonrefundable, prepaid rate. With their rental car confirmed, Eileen's thoughts turned to planning the rest of the trip.
The car rental went off without a hitch
Eileen says that she and her husband had a lovely time in Oregon. The car rental went off without a hitch. The couple picked up the vehicle at Budget, drove it without incident and returned it as scheduled.
"When we returned the car, we handed the keys to the attendant," Eileen remembered. "He looked the car over and gave us the all-clear."
Eileen and her husband flew home and didn't think much about that car rental. But six months after the trip, Eileen started looking over her credit card statements from the previous year. That's when she made a surprising discovery.
Budget had billed Eileen twice for that rental car in Oregon. And Eileen set off on a mission to get Budget to correct its mistake and refund one of the rental charges. This would soon prove to be a "Mission Impossible."
Charged twice for the same Budget rental car
Eileen called Budget and reported the mistake. She hoped the second charge would easily be reversed. But the Budget representatives told her that she had been a no-show for a nonrefundable reservation.
Eileen was confused by Budget's records. She had two credit card statements that proved that the company had charged her twice for the same rental. The couple had not been no-shows — they had picked up the car, as scheduled.
But the Budget team continued to tell Eileen that she had been a no-show. The correspondence from the car rental agency explained that she had multiple reservations. Budget had marked one of those, a prepaid reservation, as the no-show. Things were getting murkier by the moment and Eileen wasn't any closer to proving her case and getting a refund.
That's when she reached out to our advocacy team.
Will Budget correct its mistake?
When Eileen contacted our team, she had a lengthy paper trail that chronicled her attempts to resolve her problem. After a credit card dispute failed because of the length of time from the billing error to the discovery, she had reached the end of her resources to resolve her problem.
Initially, I assumed that she had made multiple reservations and had forgotten to cancel one.
She certainly wouldn't be the first consumer to make that mistake.
Eileen insisted that she had not forgotten about any other reservation. But one of the emails from Budget mentioned a reservation from Priceline. I asked Eileen if she had ever made a reservation with Priceline for this car rental. Unfortunately, if a consumer books one of those surprise heavily discounted and nonrefundable deals, we can't help.
But Eileen was sure she had not booked such a deal. However, she went back through all her paperwork and made yet another discovery.
Proof that Budget made a mistake
"I'm sorry I never thought of this before," Eileen told me. "I made a rental through Rentalcars.com, but I also canceled it. But I now see in the fine print it says fulfilled by Priceline. This must be what Budget is talking about."
It definitely was the genesis of Budget's mistake. The good news is that Eileen had a copy of the cancellation confirmation of that reservation.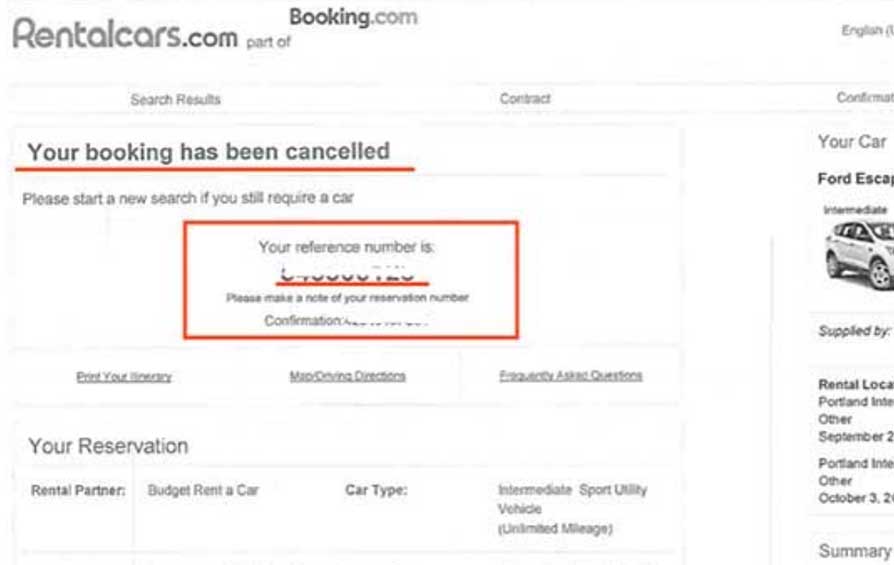 I compared the itinerary number from the Priceline reservation to the one that Budget eventually used. They matched. Although the couple showed up at the Budget counter as scheduled in time for their prepaid reservation, the Budget agents had used a canceled Priceline reservation for the booking instead. That was Budget's mistake. But it ended up costing the Eileens an extra $426. That is until she happened to review her credit card statements seven months later.
The good news: Budget will fix its mistake
With all the evidence in hand, I reached out to our friends at the Avis Budget Group.
I showed our executive contact Eileen's evidence that proved that she had not been a no-show for her Budget rental. The Priceline reservation had been canceled before the couple had made their prepaid Budget rental. Somehow the cancellation from Priceline had not been conveyed to Budget. That allowed the company to use that reservation instead of the prepaid reservation.
And soon came the welcome relief for the couple. Budget agreed to correct the billing mistake. All that was needed was an updated credit card and the company would reverse the additional charge. Eileen was thrilled.
Michelle, I cannot thank you enough for doing this for us!

Before you were interceding for us, we were getting nowhere.

Thank you again!
I'm happy to have been able to help. That's why we're here! 😀
How you can avoid this kind of car rental trouble
2023 is likely to be a very busy year for travel. Unfortunately, likely because of the reduction in the workforce during the pandemic, billing "mistakes" by car rental companies appear to be more frequent than ever. To avoid finding yourself in this kind of car rental trouble, here are some tips.
Shop around, but maintain your records: In Eileen's case, it appeared that she and her husband were shopping around simultaneously. There's nothing wrong with that as long as you keep a list of all of your reservations. Unfortunately, the couple wasn't even clear about which companies they had booked and canceled. Proper record-keeping is essential to ensure you don't wind up in the same situation.
Bring your prepaid rental confirmation to the rental counter: The confirmation codes on Eileen's rental contract did not match her prepaid rental confirmation from Budget. The cost of the rental also didn't match. If she had looked carefully at the contract she received and signed at pickup, she would have noticed something was wrong. Having a copy of the prepaid rental confirmation would have prevented this problem.
Check your credit card bills: Finally, an important point here is that travelers should always do a prompt and careful review of all of their credit card statements after a car rental or hotel stay. Remember, the Fair Credit Billing Act allows consumers to dispute billing errors, but there are time limitations. By the time Eileen got around to reviewing her statement, the FCBA's time limit had long since elapsed. That was a mistake that almost cost her $426 — almost. (Michelle Couch-Friedman, Consumer Rescue)