What if you snagged an international business class upgrade for just $400 but later found out that figure was a mistake? Steven Schmidt says that's exactly what happened to him and his wife. She won a bid for a comfy business class upgrade on a flight from Chicago to Vienna. But once they returned from their trip, the couple suffered a severe case of sticker shock. The actual cost of the upgrade: $3,400.
Steven says the mistake over the cost of the business class upgrade originated with the airline. And he wants our advocacy team to join him in a crusade to obtain a refund. But is that something we can do?
This case serves as a harsh reminder of the importance of reading all airline correspondence as soon as you receive it. Often those emails contain critical, time-sensitive information that if ignored, can lead to unpleasant consequences.
And, mistake or not, taking a business class upgrade and then asking for a refund later will never fly.
Bidding on a business class upgrade
"Before our recent trip to Vienna, my wife bid $100 per flight, per person for our upgrade," Steven recalled. "She received confirmation that Austrian Airlines accepted her bid of $400 for the business class upgrade. We flew and had a good experience."
However, several weeks after the trip, Steven was startled by what he found on his visa bill. The statement listed the $3,568 cost of the original economy ticket. But as he scrolled down the invoice, his eyes became fixated on an additional charge of $3,310. When he called the airline to ask about the charge, the agent informed him that was the cost of his business class upgrade.
Steven says he tried to reason with the representative. He explained that his wife bid just $100 per person per flight. However, the agent insisted he was wrong — the airline would not refund the charge.
Austrian made a mistake with the cost of the business class upgrade and now denies culpability! They expect their customer to find their mistake?????? And then they wait to discuss the matter so now we've had lots of time to misplace the documents. They refuse to talk on the telephone. It is something out of a Kafka novel. I am enraged by this injustice. I hope you can see how we made an honest mistake, and Austrian gets over $3,000 by not accepting blame for their error.
But why had the couple mistakenly believed they had won a bid for a $100 business class upgrade in the first place? That was the question.
$100 for an international business class upgrade?
The Austrian Airlines Smart Upgrade system allows passengers to enter a price that they are willing to pay for an upgrade. The airline then considers the bid and either accepts or rejects the passenger's offer via email.
But $100 for an international business class upgrade? Without reading any more of Steven's paper trail, alarm bells went off for me. This fare seemed highly unlikely.
If Steven had confirmation of an international business class upgrade at this rate, I guessed it was a mistake. Likely a "fat finger fare."
A fat finger fare is one that most consumers would recognize as a mistake — too good to be true. These fares are accidentally entered into the pricing system and then pounced upon by some travelers. But in the end, it's the traveler who often gets burned.
In fact, the Department of Transportation does not require airlines to honor these mistake fares. And so, when a traveler takes advantage of the fare error, they may find that ultimately, it's not honored.
"Pleased to confirm your business class upgrade"
But was this a fat finger fare? I asked to see the confirmation of this $400 round-trip international business class upgrade.
Steven looked for his wife's confirmation that indicated a successful $400 bid for the round-trip journey. And he continued to look for it. Eventually, he admitted he had no documentation that showed that Austrian Airlines had confirmed a bid for $100 per flight, per person.
Strangely, the business class upgrade confirmation that Steven sent to me proved that the mistake was likely with the couple. That document confirmed the duo's business class upgrade at the cost of 3040 euros (the $3,310 in question).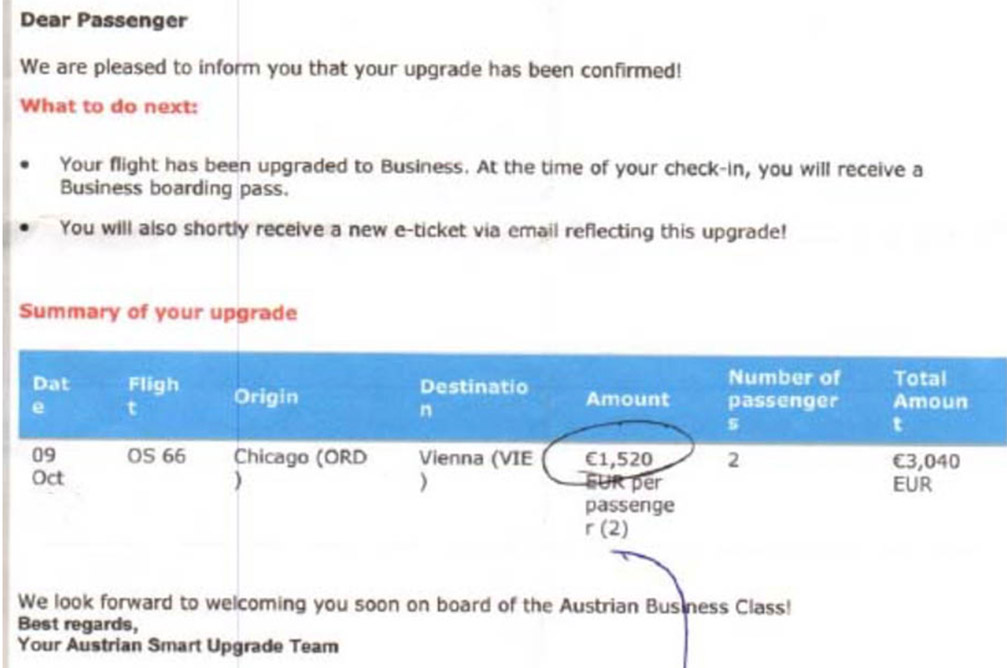 When I pointed out the problem with his evidence, Steven then complained, "My wife made an understandable mistake in reading that Austrian Airlines had accepted her bid."
It's not possible to bid $100 for a business class upgrade
Steven sent me his entire 70-page paper trail with the airline. In that paper trail, he repeatedly asked the company to send him proof of his wife's upgrade bid. His tactics were not ones we recommend (See: 7 ways to get excellent customer service). With an accusatory nature and cap locks on, his emails were predictably not effective.
YOU HAVE NOT ADDRESSED YOUR STATED INVOICE VALUE. CAN YOU PLEASE EXPLAIN HOW MY WIFE'S ENTRY OF $100 MAGICALLY CHANGED TO $1,520. THE DIGITS ARE NOT THE SAME! HOW DID YOUR COMPUTER ARRIVE AT THE $1,520 VALUE? WHY NOT $2,135, OR $179? THIS VALUE CHANGE SHOULD GIVE YOU A CLUE.
The airline reiterated that there were no errors in the Schmidts' bidding process. The company sent a confirmation immediately after the approval of Steven's wife's bid. The representative also explained that when bidding using its Smart Upgrade system, any errors in the bidding process can be reversed by the passenger up to 72-hours before the flight — with no penalty.
After you placed and won your bid you got a written confirmation and invoice for your upgrade of EUR 1520 – per flight. If you inserted something wrong in your bid or you received a bid for a not wished price level it is always possible to recall your bid until 72 hours before departure by contacting our reservation center.

Austrian Airlines
But the airline had received no complaint from Steven until they had completed their entire trip. And this made the complaint appear to be more like buyer's remorse than an error by the airline.
Lastly, the Austrian Airlines representative explained that there is a minimum bidding value of 160 euros (about $185) in the Smart Upgrade program. This fact made the suggested $100 bid impossible. But Steven continued to argue his point that the system had accepted a $100 bid for each leg of the trip.
No refund for a business class upgrade already taken
As it turns out, Steven had nothing to do with the bidding for these business class upgrades. His wife had completed the bidding process entirely on her own. And Steven was spearheading this refund attempt based on her recollection of the experience. She believed that her bid was just $100 per leg, but in another email to me, she admitted she wasn't quite sure. She conceded that she might have made a mistake when she made the bid for the business class upgrade.
"Maybe in my excitement, or with some impulsivity or a senior moment, I agreed to an amount I never meant to," she told me.
Steven wasn't giving up, though. He told me that his wife holds a Ph.D. and restated his belief that she bid $100 per leg.
Unfortunately, there was no way for me to successfully mediate this case. The business class upgrade confirmation from the airline shows the cost of the upgrade. The time to cancel the upgrade passed without notice. And the couple did enjoy the business class seats.
But Steven said he would still like me to tell his story. He maintains that a mistake in the system changed his wife's business class upgrade bid, and he would like to warn future passengers about his suspicions.
How to avoid your own business class upgrade mistake
There are a variety of ways to land yourself a business class upgrade. Virtually all involve some form of payment. So that you don't end up spending way over your budget, here are a few tips.
Make certain you understand the bidding process:
If you decide to bid on an upgrade, whether it be an airline or cruise cabin upgrade, it's critical to read over all the terms of the program before you give it a try. These programs can be tricky — especially for passengers who aren't computer-savvy. If you're not sure of how to use the program, it's probably best to give it a pass.
Understand the cost involved with upgrading using miles:
Recently, we've received quite a few complaints from travelers who cashed in points and then got blindsided by the taxes and other charges tacked onto the cost. Keep in mind that some airports levy high additional fees. Sometimes these fees can add hundreds of dollars to your "free ticket." All these fees are displayed before you click confirm, so make sure to go over the itemized cost beforehand.
Read your confirmation:
No matter how you've landed your upgrade, it's imperative to carefully read over the confirmation that you'll receive. This document will give you all the information you need to know about your fare and the cost involved with the upgrade. Under no circumstances should you wait until after you've taken your journey to review what it cost.
Consider using a travel agent:
A travel advisor can give you important guidance about upgrade possibilities on your ticket. So you may want to consider leaving the planning to a professional who can navigate an unfamiliar system for you.
Do not expect any refunds for a used upgrade:
It seems like it should go without saying, but you should never expect a refund for a used business class upgrade. Unfortunately, it appears that for some passengers, it doesn't go without saying. Never accept an upgrade to a higher class of service unless you are willing to pay for it because you can be certain no airline is going to refund you later for a used upgrade. (Michelle Couch-Friedman, Consumer Rescue)