Sara Hernandez found something critical missing from the all-inclusive resort she booked on Priceline: the inclusive part. After booking the Sheraton Buganvilias All-Inclusive Resort in Puerto Vallarta, she received a confirmation for the Sheraton Buganvilias Convention Center. Her rate included a room — but nothing more.
Now Sara wants Priceline to confirm her reservation for an all-inclusive vacation, as advertised. So why is the company blaming the problem on her?
This tale serves as a warning for travelers considering using online booking sites to make nonrefundable hotel reservations. The financial savings are often minimal, but the headaches can be extreme should something go wrong. And you might find yourself sifting through layers of customer service agents who have a limited ability to help.
Surprise! An all-inclusive resort that doesn't include anything
Sara, her husband and her brother were planning a week-long getaway to Mexico. They decided that an all-inclusive resort would be the easiest type of vacation to book on their own.
"I browsed through Priceline's hotels in Puerto Vallarta and found The Sheraton Buganvilias All-Inclusive Resort," Sara recalled. "The hotel description stated that the rate included all meals and drinks. And so I booked the resort and airfare all through the Priceline site."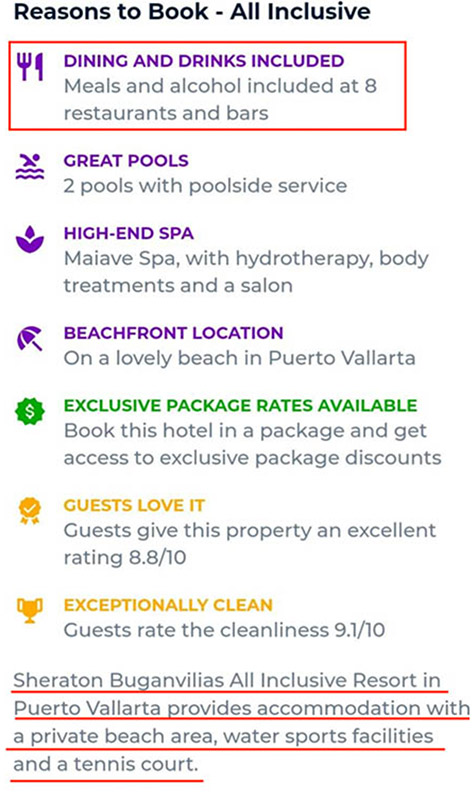 The trio was pleased with the ease of putting their entire package together in just a few clicks. But soon, Sara received an unusual confirmation from Priceline.
The Priceline email mentioned nothing about any all-inclusive resort features. And more alarming, the hotel's name on the confirmation showed the Sheraton Buganvilias Convention Center.
"I grew worried and clicked on the photo on the confirmation," Sara recalled. "The hotel details link took me to the Sheraton Buganvilias All-Inclusive resort."
Not sure what had gone wrong with the booking, Sara made her first call to Priceline. She assumed she could quickly clear things up with a Priceline representative.
It couldn't.
The Priceline agent explained that the nonrefundable rate Sara chose did not include anything but the room. And the fact that Sara had booked a property with the words "all-inclusive resort" in the name didn't sway Priceline.
Asking Priceline to cancel and refund this not-inclusive, all-inclusive resort
Things became even more frustrating for Sara when she requested a cancellation and refund for the phony all-inclusive resort reservation.
I immediately asked for a refund. But the representative stated that it was my mistake. So I explained that I had pictures as proof of what was in the description. I insisted on a refund and asked to speak to a supervisor since I was getting nowhere with this agent.
Escalating the case, a supervisor seemed to understand that the Priceline site had misrepresented the hotel and the rate. Sara became a bit hopeful that this representative could quickly correct the problem.
But her hopes were dashed again.
Unfortunately, the supervisor could not correct the problem. He told Sara that he would forward her case to "upper management" and she should have a response in a few days.
What was meant to be a simple vacation planning venture had now turned into a troublesome irritation. Sara just wanted to be able to cancel this "all-inclusive resort" that was missing all the inclusive features and start over.
But now Priceline had the family's payment and they had no choice but to wait for a (hopefully) positive resolution.
Is this the best resolution Priceline can offer for this all-inclusive confusion?
A few days later, a Priceline representative contacted Sara and her husband with a decidedly murky resolution.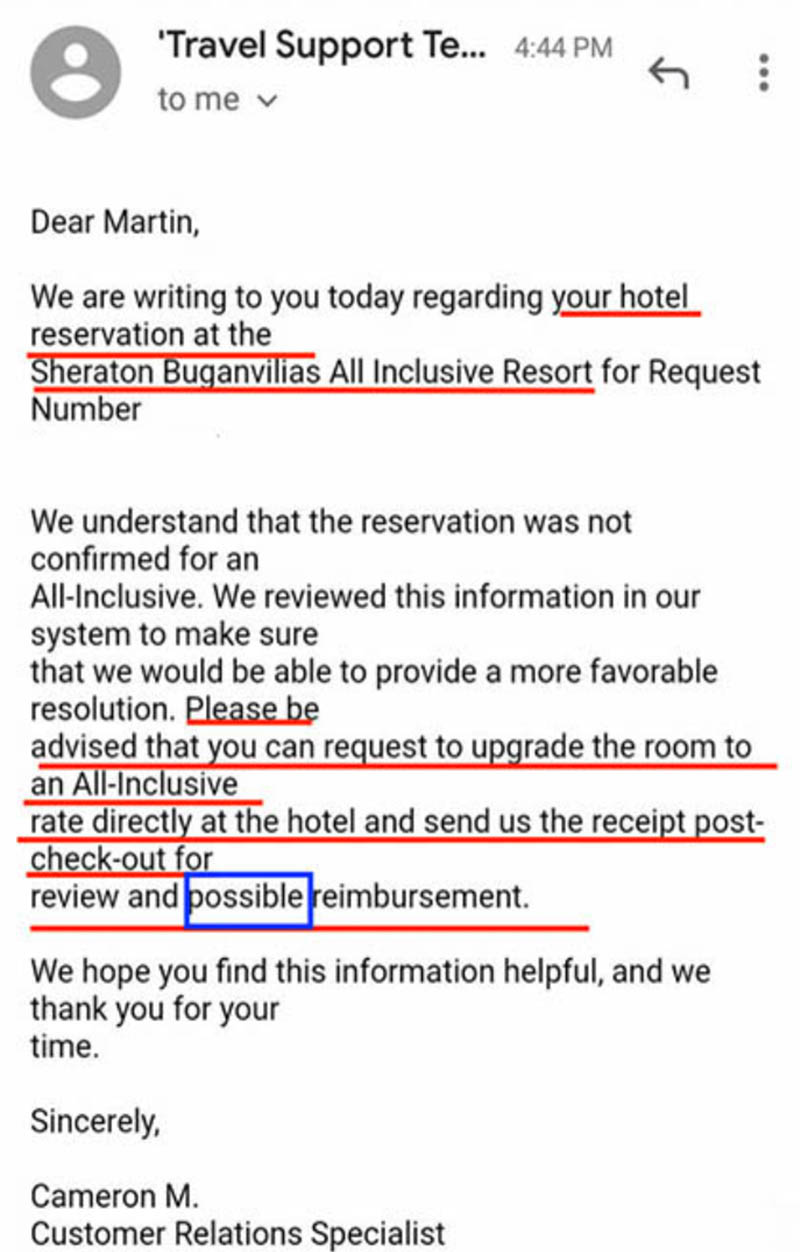 A first-name-only Customer Service Relations Specialist, "Cameron," conceded that Sara had made a reservation at the "All-Inclusive Resort." But Priceline's proposed resolution was not to cancel and refund the clearly mistaken listing.
No, the suggested "fix" was for Sara to travel to Mexico. There she could request an upgrade to an all-inclusive rate at the resort. Later, once home, she could submit the receipts to Priceline. And after all that, Priceline would consider the request for "possible reimbursement."
Sara, a regular reader of my columns had enough now. This was not a good bet for her family. She knew the evidence was on her side. This all-inclusive problem was a Priceline advertising error. And she wasn't about to travel to Mexico and hope for the best. She wanted this problem resolved before her trip — not later, when the problem would be much easier for the company to ignore.
Of course, traveling to a destination and hoping things work out when all indicators show that there is already a problem is a bad bet for the traveler. But if you've read my column for any length of time, you know that other companies have suggested similar precarious action plans to their customers.
Sara had enough banter with Priceline. That's when she contacted our advocacy team.
"I just want an all-inclusive resort. Can you help me?"
Late one Friday evening, I received the request for help from Sara. She was clearly in distress.
Now, what was meant to be a stress-free vacation was a giant sore spot for Sara and her family. The rate they had booked, factoring in the all-inclusive features, was a great rate, but definitely not a "fat finger rate*." However, if no food, drinks or activities were included , the trip would become significantly more expensive.
*Fat finger rates are mistakes that become available only as a result of a human clerical error. (See: If a cruise line makes a big pricing mistake, should you book it?)
FYI: Our advocacy team doesn't mediate fat-finger cases.
I took a look at the paper trail and I immediately could see that Sara had the facts on her side. On that night, Priceline was still offering both the Sheraton Buganvilias All-Inclusive Resort AND the Sheraton Buganvilias Convention Center simultaneously. But the property is the same hotel. So it would seem that the hotel is converting from an all-inclusive resort to a convention center type hotel.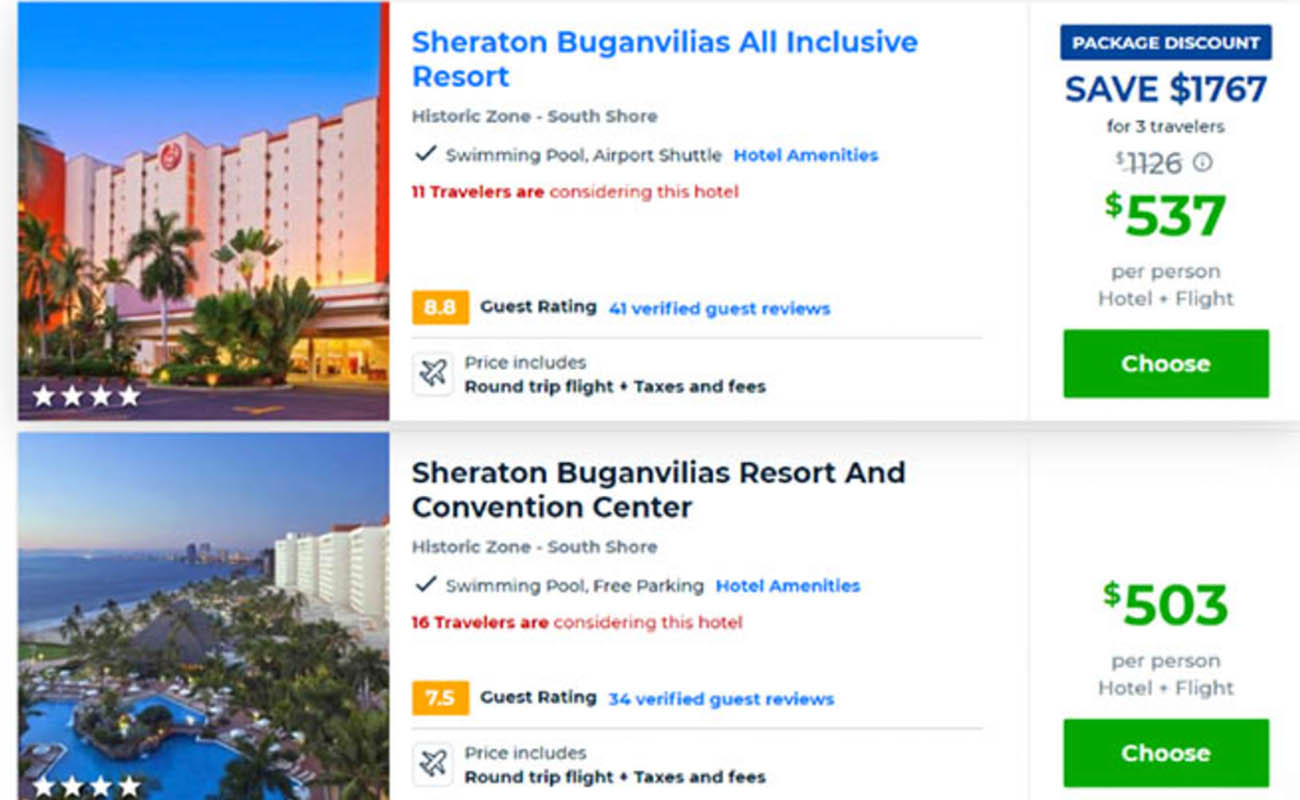 Priceline will make this reservation all-inclusive as advertised
Our team knows the Priceline executive resolution team to be fair and attentive to its customers who contact us.
So I assumed we could put an end to Sara's dilemma very quickly — even late on a Friday evening. I contacted Priceline with the screenshots of the dueling Sheraton listings.
As I suspected, the Priceline executive team was able to reach a positive resolution of the problem at lightning speed:
Hi Michelle-

We have finished the investigation. We are upgrading the family at no charge and have confirmed directly with him. The hotel has quoted us an upgrade fee of $99 per person per night ($2079 in total). The family is going to book this directly with the hotel and share the upgrade receipt with us. When we confirm that the reservation was utilized, we will reimburse him. And we have also edited the "All Inclusive" language on our site, which was obviously confusing.

Priceline spokesman to Michelle
The family is delighted with this resolution and is looking forward to their Mexican adventure. And I'm happy to have been able to help.
Tips for your all-inclusive vacation planning
It's essential to keep a few things in mind if you choose to use online booking agents for your all-inclusive travel planning. Here are some tips for a (hopefully) stress-free and positive self-booking experience:
Read the resort descriptions very carefully. In this case, even when I made a mock reservation at this "All-inclusive Resort" it clearly stated only breakfast was included. A keen eye might have detected the discrepancy before pressing "confirm."
After you make your reservation, make sure to confirm with the resort directly. Sara was on the right track contacting the resort immediately after she received her confirmation. Things could have turned out quite differently for the family if they had traveled to Mexico before resolving this problem.
Only use well-known, established online booking agents: Each day, complaints come into our helpline from consumers who were lured to obscure online websites with promises of extremely low cost airfares and hotels. Unfortunately, these travelers found out too late that many of these sites have very little to no customer service should a problem occur. If you decide to use an online booking agent, stick with the well-known companies that have customer service teams.
If all else fails: Remember the Consumer Rescue team is always here to help consumers — 24 hours a day, 365 days a year. :). (Michelle Couch-Friedman, Consumer Rescue)
Before you go: Here's another family's experience trying to book an all-inclusive resort . This one with Expedia. My Expedia booking went all wrong! How did I end up owing $6,987 extra!?
Last Updated on November 30, 2022 by Michelle Couch-Friedman