It's never a great idea to cruise with just a passport card. If you've ever thought about doing it, you'll want to read this cautionary tale.
Daniel Sellar's cruise fiasco is an unfortunate example of what can go wrong if you decide to cruise with just a passport card. Things may go just fine. But you should consider what will happen if you miss the boat and need to take a flight to catch up with it. Because although you can cruise with just a passport card, you can't fly anywhere internationally with one.
Looking forward to a Caribbean cruise
"We purchased a Princess cruise to the Caribbean," Daniel reported. "The cruise line arranged a flight to Ft. Lauderdale where the cruise would embark."
Ok, so far, so good. Of course, if the couple had made it to the port in time, you wouldn't be reading about their experience.
The couple's first mistake was that they agreed to fly into Ft. Lauderdale just hours before the scheduled embarkation of the ship. As we've pointed out many times, arriving at the departure city on the same day as your cruise begins is not recommended.
But the couple was hoping for a smooth day of travel and thought they would be relaxing onboard the ship by late afternoon.
Unfortunately, their day of travel was going to be everything but smooth.
The problems started when a short mechanical delay hit their JetBlue flight to Fort Lauderdale. By the time they landed and made it to the port, they had missed the ship.
This delay was disappointing, but all was not lost(yet). Princess Cruises agreed to allow the couple to board the ship in Montego Bay. And JetBlue would transport them there free-of-charge because of the delay. That is if they both had the required ID to enter Jamaica.
They didn't.
Daniel's wife only had a passport card as her documentation for the cruise.
Fact: You can't use a U.S. passport card to fly internationally
The U.S. passport card is not valid to use for international flights. Until that moment, the couple hadn't realized the precarious nature of cruising with a passport card instead of a passport book.
"It wasn't until we got to Florida that we realized the passport card would be a problem," Daniel recalled. "We called Montego Bay Airport, and they confirmed they would not allow my wife into the country."
And that's when the reality hit: Because Daniel's wife was traveling with only a passport card, they could not fly internationally and catch up with the cruise. The couple would not be enjoying a tropical vacation after all. They were going back home.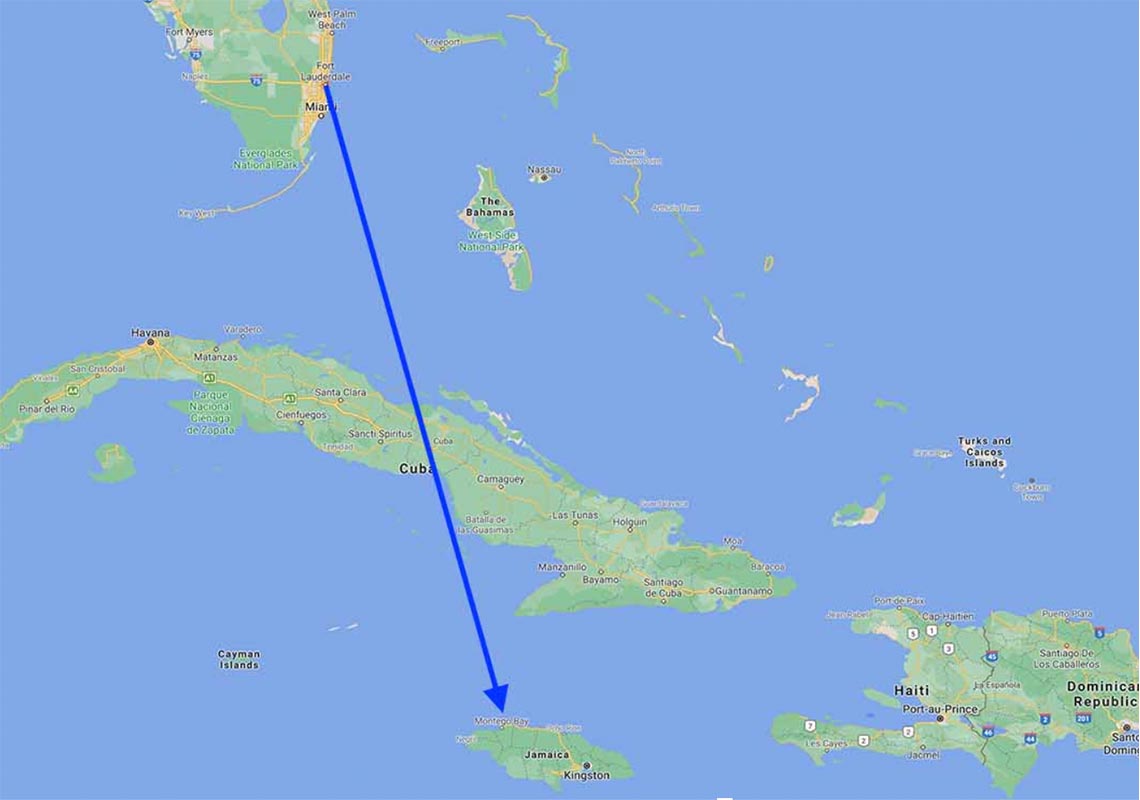 Princess Cruises: You should not cruise with just a passport card
Although Princess Cruises strongly recommends passengers travel with a passport, its terms and conditions clarify that it is possible to cruise with just a passport card — with considerations.
Although US and Canadian passport holders are not currently required to sail with a passport on most domestic or closed-loop itineraries (including Alaska, Bermuda, Canada, Caribbean, Hawaii, and Mexico and Panama Canal), Princess Cruises highly recommends that passports are carried.
The terms go on to explain some circumstances that could lead to passengers needing an actual passport:
Even if your cruise does not involve air travel outside the US, should you be required to unexpectedly depart a vessel prior to the end of the sailing, a passport would be required to re-enter the US by air. As such, Princess Cruises continues to strongly recommend that all guests are in possession of a valid passport.
And if you need an example of another worst-case scenario, look no further than the case of Earl Wentz. After traffic caused his family to arrive late to the Los Angeles port for their Carnival cruise to Mexico, they missed the embarkation of their ship by minutes. Carnival offered to fly them all to Mexico to catch up with the Splendor, but not all members of the family had passports. They ended up missing a much-anticipated vacation because they weren't traveling with passports.
What is the U.S. passport card?
The U.S. passport card can be a handy little form of ID — especially if you frequently cross our northern or southern borders by ground or sea transportation. It's a REAL-ID compliant, credit-card-size identification that you can also use for domestic air travel.
But while you can enter various Caribbean islands by sea with it, you can never use a U.S. passport card to arrive at any of those same islands by air. The U.S. State Department clarifies what the U.S. Passport card can be used for:
Entering the United States at land border crossings and sea ports-of-entry from:

Canada

Mexico

The Caribbean

Bermuda

The passport card cannot be used for international air travel.

The U.S. Department of State
Note: You can also use a Real-ID driver's license to cruise to the Caribbean, Mexico, and Canada. But you'll want to make sure that you actually have a Real-ID license before you try to board your cruise. If you don't, you could be in for your own unpleasant surprise at check-in:
And don't forget, you will also need another form of identification with your Real ID — proof of citizenship (like a birth certificate). But if you travel with a passport book, you'll have all the identification you need to cruise.
Who is responsible when a passenger does not have the required ID for travel?
Without fail, each month, our team receives several requests for assistance from cruisers who have found themselves without the correct documentation for entry to their intended destination.
We've had quite a few memorable cases over the years. One involving:
And a passenger who thought a library card might be a suitable form of identification to fly to Ireland when her passport was stolen:
As you could guess, neither of these cases turned out favorably for the travelers.
At the risk of sounding like a broken record, it's always the passenger's responsibility to possess the required documentation for travel. Every airline and cruise line includes this fact in its terms and conditions.
It is always the traveler's responsibility to have the correct ID to cruise
Using our company contacts for JetBlue and Princess Cruises, Daniels presented reimbursement requests for all of their expenses. Although JetBlue refunded the airfare, it denied any additional financial relief to the couple.
Citing its terms and conditions, which point back to the traveler's responsibility to have valid ID, Princess Cruises similarly denied the couple's compensation claim.
Because Daniel had booked their airfare through the Princess EZair program, my colleague, Dwayne Coward, reached out to the cruise line for clarification of the included "Late Arrival Protection." This protection:
Ensures you'll get your cruise if flights are delayed or canceled, and we'll get you home if for any reason the cruise or Princess transfer cause you to miss your return flight.
Pointing to the flight delay that caused the domino effect that led to the need for the passport, Dwayne asked for a reconsideration of the couple's claim.
As a result of Dwayne's inquiry, Daniel received a final word from Princess Cruises. It reiterated that it's always the passenger's responsibility to know and possess proper travel documents.
The Princess representative suggested that if the couple had purchased trip insurance, they might recoup some of their losses by filing a claim. The agent also recommended that Daniel check with the credit card that he used to pay for the cruise to see if they might have a basic trip insurance policy that will cover this event — Princess Cruises will not.
What to know before you take a cruise with just a passport card
Is your trip a closed-loop cruise?
Keep in mind that you can only use a passport card as ID to cruise if your trip is closed-loop. A closed-loop cruise begins and ends in the same U.S. port. If your cruise does not begin and end in the same U.S. port, you can't use a passport card as your boarding document. Note: If your cruise is a closed-loop cruise you can also use an Enhanced ID to travel. But, beware, don't confuse a Real ID with an Enhanced ID or you'll denied boarding as these Carnival Cruise Line would-be honeymooners were.
What will you do if you miss your cruise?
Consider what will happen if you miss your cruise ship after a shore excursion. If you're delayed getting back to the boat and miss its departure during an international port of call, you won't be able to fly home using your passport card. In that case, you'll need to visit the U.S. embassy and apply for an emergency passport book — at your expense.
A passport card is only valid for entry by sea to Mexico, Canada, and (most of) the Caribbean.
Study your itinerary carefully. Does the ship visit any ports of call that aren't accessible with a passport card? For instance, does your southern Caribbean cruise stop in any South American ports of call, like Columbia? If so, you will not be able to use a passport card to cruise.
What if the cruise ship is forced to make an unexpected stop?
For various reasons, your cruise ship may get detoured or even need to end abruptly while in international waters. If this happens to your cruise and you only have a passport card, your situation will be much more complicated than if you were a passenger with a passport book. Instead of flying home quickly, you'll be going to the U.S. embassy to apply for an emergency passport.
Review your cruise contract:
Some cruise lines may require a passport book even if a passport card might technically be acceptable. It's critical for all passengers to review their cruise contract long before the day of embarkation. Required boarding documents are always detailed in those contracts. If you want to make sure you don't miss your cruise, verify and double-check what you need to board the ship.
Check with the U.S. State Department:
Before you decide to give cruising with just a passport card a try, visit the U.S. State Department's website and review every country listed on your itinerary. Make certain that each destination you'll visit allows cruise ship passengers to enter using a passport card. It's important to note that the U.S. State Department recommends cruise passengers carry a passport book even if the cruise itinerary might allow for the use of a passport card.
What if entry requirements change before your cruise?
Remember, the U.S. passport book will allow you to enter almost every country in the world (although, of course, you may need additional documents — like a visa or health certificates). But a U.S. passport card has limited value for an international traveler. Foreign countries can and do change entry requirements from time to time. Consider what you'll do if entry requirements suddenly change before your cruise. One of the best ways to avoid disappointment at the dock is to carry a U.S. passport book. (Michelle Couch-Friedman, Consumer Rescue)
Before you go: Planning a cruise in 2023: Here's everything you need to know
Last Updated on September 22, 2023 by Michelle Couch-Friedman