Is your Airbnb account safe from scammers and hackers? Berenice Anaya certainly thought so. In fact, the possibility of a criminal accessing her Airbnb account and causing havoc had not even crossed her mind.
However, this Airbnb user recently woke up to an unpleasant reality after a scammer successfully hacked right into her account. The Airbnb security team thwarted the thief and prevented him from completing his ultimate goal. But not before $1,942 was removed from Berenice's bank account.
So why won't Airbnb return the money to its victimized guest? That's what Berenice is asking our team after repeatedly trying unsuccessfully to retrieve her cash from the company.
What's going on here, and can we help?
An Airbnb surprise: You're going to France. Right?
In early January, Berenice received a surprising email from Airbnb. Apparently, unbeknownst to her, she was going to France.
"I received a confirmation from Airbnb about this rental in France," Berenice recalled. "I certainly did not make this reservation, so it was confusing."
Berenice was especially confused because the reservation's listing wasn't in English.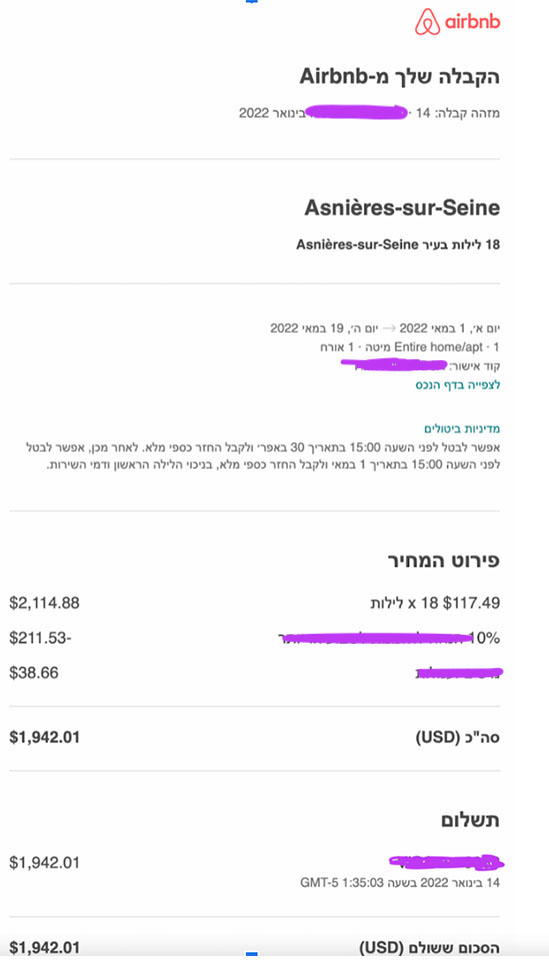 But what was clear to Berenice: her stored debit card was listed as a payment method for the $1,942 rental.
Berenice assumed the email showing the reservation was just an Airbnb glitch. And soon, she received another email. It seemed that Airbnb agreed – or at least had recognized that something was amiss with this booking.
She was relieved that the Airbnb system had handled the problem without her involvement.
That is until she found out this correction included Airbnb retaining the $1,942 that the scammer had forced out of her account.
A scammer hacked into this account and made a fake Airbnb reservation
Berenice says that she contacted Airbnb as soon as she saw that it had deducted $1,942 from her bank account for the fraudulent reservation.
"Airbnb told me that when I canceled this reservation, I asked for a credit instead of a refund," Berenice explained. "But I didn't make this reservation or cancel it, so this made no sense."
She was right. Airbnb had sent her a confirmation that the security team had determined the reservation was fraudulent and canceled it.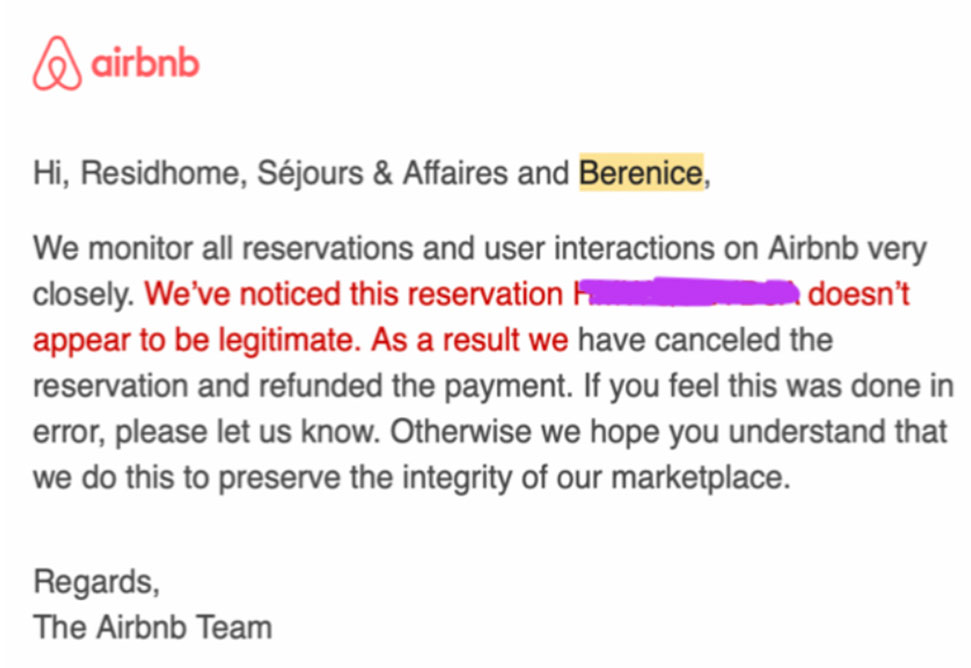 So if the Airbnb team determined that the reservation was fraudulent, why wasn't the payment reversed?
Berenice escalated her complaint within Airbnb as we recommend consumers do to solve their customer service problems. But she continued to hit a brick wall with her efforts.
Can the Fair Credit Billing Act save this traveler's $1,942?
The Airbnb team continued to say that once a booking credit is issued, it cannot be changed to a cash refund. The team is giving no flexibility to this situation even though it was fraudulent activity.

Berenice
When the Airbnb team kept blocking her cash refund request, Berenice turned to her bank for help.
The Fair Credit Billing Act (FCBA) allows credit card using consumers to file credit card disputes in cases of fraud and billing errors.
Berenice's case would surely qualify. Except for one problem: She hadn't added a credit card to her Airbnb account. She had stored her debit card.
Consumer Alert: Don't store debit cards online
If you take only one crucial piece of information away from this article, please let it be this: Do not store a debit card in any online merchant account. When you do that, you have no protection under the FCBA. Your bank may choose to protect you in the same way as the FCBA outlines, but if you use a debit card, there is no requirement to do so.
The bank intends to help… or does it?
Berenice found out that her bank would "protect" her in this situation and allowed a chargeback. But she found out just as quickly that the type of investigation conducted by a bank will not rival what you see here on our site. The bank took the details, and she promptly lost the case because Airbnb provided information that someone had signed into her account and requested credit and not a refund.
"I was stunned," Berenice recalled. "I thought my bank would have my back here. The details were so clearly on my side."
And the details were on her side, but it would appear that just possibly no real human was looking at those details – at either company.
So she decided to send a request to our advocacy team for backup assistance.
How did a scammer hack this account, Airbnb?
When Berenice's cry for help landed in our inbox, I reviewed all the details and assumed this was another case that hadn't been reviewed by an actual person.
Since the pandemic began, we know that companies have been replacing human help with chatbots at an alarming rate. Time and time again, I've reviewed emails and chat transcripts from consumer complaints that so clearly appear to be the result of artificial intelligence being tasked to handle customer service. This is true across many industries that deal with customer service, unfortunately:
But since I know that Airbnb has a very helpful and responsive executive team of friendly (real) people, I assumed this case could come to a quick and positive end.
I sent Berenice's case over to our friends at Airbnb.
Asking Airbnb: Why would a scammer victim ask for a credit instead of a refund?
Hi **** & ****,

I have a case here that I think should be pretty easy to resolve. Berenice Anaya received a notification that her Airbnb account seems to have been breached, and someone booked what looks like a fake Airbnb using her account. Her debit card was attached to her Airbnb account, so $1,942 was deducted to pay for the property.

Then either Airbnb or the hackers canceled the reservation, and Berenice, instead of receiving a cash refund, only received a future stay credit with Airbnb. I"m including the notification from Airbnb that the Airbnb systems recognized the reservation as fake. Berenice is a student and really can't afford to have $1,942 tied up in Airbnb credit when she didn't make this reservation in the first place. Can you help? 😀

Michelle to Airbnb
And soon, the real people at Airbnb had a real look at the details of this case. The good news came quickly.
The good news: Here's your refund!
On the same day I sent Berenice's details to Airbnb, their team reversed course. She would receive a cash refund.
Hi Michelle,

We received the refund into our account today! Thank you so much for your help!

Airbnb contacted me Thursday night (the same day you contacted them in the morning). They told me they would indeed change the credit to a cash refund!

Thank you so much for your help.

My family and I really appreciate it!

Warmly,

Berenice
And our Airbnb friends confirmed:
Hi Michelle,

I just wanted to follow up here and share that we issued a refund back to Berenice. She was able to get the support she needed to get the refund corrected.

Hope this helps!

Airbnb to Michelle
Yes, it definitely helps – to add one more happy consumer to our successfully mediated case files! Thank you, Airbnb! 💕
How to protect your Airbnb account from scammers and hackers
It appears that the ultimate goal of this scammer was to cancel the fake Airbnb reservation and request a refund. But this thief also needed to switch the payment in Berenice's account to his own before this plan could succeed. Unluckily for him, the Airbnb security team caught the scheme before he could complete it. But had Berenice taken a few simple steps to protect her account, this scam would not even have made it that far.
Here's how to protect your Airbnb account from scammers and hackers.
Don't store credit card information in your account.
Many websites will ask you if you would like to store your credit card information to make future transactions easy. You should always decline. The two minutes you'll save by not having to retype your credit card details is not worth the misery that will come if a hacker gets into your account. Remember, if a bad guy gets access, but there is no payment method stored, their scam will be dead in the water. Alway decline these "helpful" prompts to store your credit card information (See: An Airbnb hacker took a vacation using my money! Can you help me?).
Never add a debit card to your Airbnb account.
Adding a debit card as a payment method on any merchant's account, including Airbnb, is a giant no-no. According to the Fair Credit Billing Act, debit cards have zero protected chargeback rights. Always use a credit card, and you'll have the consumer protection the FCBA provides. Remember, when you add a debit card to any online account, you're giving potential hackers a direct path to your bank – and all your money. Beyond that, if you have a problem with an Airbnb rental, you will not have the option of a credit card dispute. Also, use a credit card to pay for major purchases.
Enable 2-factor authentication.
Set up two-factor authentication to make sure you fully protect your account from scammers. Follow these steps to activate the two-factor authentication security feature for your Airbnb account. Once you turn this protection on, scammers will have virtually no ability to get into your account.
Keep your email address up to date.
It's critical that you keep your email address up to date in your Airbnb account. Although it is possible that a hacker can change your primary email address, it is a complicated process. As we saw today, Berenice's first warning that a hacker had accessed her account was an email alert about the fake reservation. If you don't keep your email address up to date, you may miss your earliest warning from Airbnb that a scammer has breached your account.
Change your password regularly.
Bad guys, unfortunately, are everywhere these days. Take a look at the articles on the Consumer Advocacy site, and you'll learn a lot about the latest scam operations on Airbnb and elsewhere. Scammers are especially active on the internet. To combat those predators, you will need to stay one step ahead of them. Changing your password regularly with a hard-to-guess password is another thing you can do to help you dodge the bad guys.
And don't forget, if you've patronized a company that you believe isn't providing the assistance you should be receiving, contact us. We're open 24 hours a day, 365 days a year – the Consumer Rescue team is always here to help. (Michelle Couch-Friedman, Consumer Rescue)
*Before you go: Here's another type of Airbnb fiasco — a property with no locking front door. What could go wrong?
Last Updated on August 27, 2023 by Michelle Couch-Friedman