With the cruise industry seemingly back in full swing, now is the perfect time to review Consumer Rescue's ultimate guide to taking a cruise.
Over the years, I've mediated hundreds of requests for help from distressed cruise line passengers. Many of these cruise fiascos were the result of passenger mistakes and could have been avoided by following some simple guidelines.
Here's all the information you need to know about taking a cruise before you take your next (or first) maritime adventure.
3 ways to book a cruise
The first thing you need to consider when you decide to take a cruise is how you'll book the journey. This decision is more critical than you may realize. The primary ways to book your cruise are:
1. Directly with the cruise line
This is not a booking mode that we recommend for novice cruisers. If everything goes well, you'll probably be fine. But we've seen time and again that the "consultants" the cruise lines hire are often transient employees. The agents often lack the training to be professional travel planners. Many times, we've seen these cruise "consultants" cause more harm than good for their clients with their mistakes.
2. Use a third-party booking agent
There is no shortage of online booking agents who will sell you discounted cruises. If getting a bargain is your primary goal, then this may be the way to book your cruise. But what will happen if you encounter problems before, during, or after your trip? The personalized assistance that a third-party cruise booking agent will provide is frequently minimal (Especially if they make a mistake and then quit!). And when you're in distress, you want to be able to speak to a human who can help you. For these reasons, we recommend door number three when you book a cruise.
3. Use a professional travel advisor
A travel advisor can be your guardian angel when things go wrong during any vacation. An experienced agent will provide you with personalized attention as you plan your cruise and follow through with you until you're safely back home. They may even be able to snag you some perks that aren't available to other cruisers. You can find a travel professional who specializes in cruises through the American Society of Travel Advisors' website.
Online booking agents and even the cruise lines themselves make booking your cruise look simple. Always consider what will happen if things go wrong. You'll want someone you can speed-dial to get swift, personalized attention. You have the best chance of that happening by choosing to use a professional travel advisor to book your cruise.
Do you need a passport to cruise internationally?
Let's cut to the chase. The answer to this question is "yes" — if you want to make certain that you don't get stranded abroad.
The industry has lobbied to allow passengers to cruise internationally without a passport on closed-loop itineraries*. But that doesn't mean it's a good idea. It isn't.
*A closed-loop cruise is one that begins and ends in the same U.S. port.
On closed-loop cruises, passengers may board with a passport card, an Enhanced Driver's License, or a regular driver's license with an official birth certificate. (Note: Do not make the mistake of confusing an Enhanced ID with a Real ID as these Carnival customers did or you will miss your cruise completely.)
But many of these passport-less passengers don't even realize the precarious situation they've placed themselves in.
Fact: It isn't possible to fly internationally with a passport card, Real ID, or birth certificate.
You should never plan to take a cruise that will enter international waters unless you possess a passport book. A passport book is the only identification that will allow you to fly home from an international destination.
I know what you're thinking: "Michelle, I don't need a passport because I will not be flying anywhere internationally. I'm on a closed-loop cruise!"
But I'm here to tell you that unexpected situations can and do happen that make having a passport critically necessary.
Passengers miss the boat
Passengers like Natalie Durflinger. Earlier this year, she got the shock of her life when MSC's Divina sailed away without her in Cozumel as she was enjoying dinner after a shore excursion – in full view of the ship. She was left behind in her bathing suit and flip-flops, but luckily for her, she was carrying her U.S. Passport and was able to fly home. But without that passport, her troubling situation would have been much more complicated. You can read her dramatic tale here:
And she's not the first cruiser whose plea for help landed on my desk after getting left behind during a cruise. Long-time readers of my column will remember the tale of NCL passenger Kevin Rohrer who got an unexpected shock when he showed up at the pier in Havana after a shore excursion. NCL's Sky was nowhere to be found. Kevin had neglected to review the change in departure times when he left the ship – and it sailed away without him.
Emergency situations during the cruise
And consider what will happen if you or the ship encounter an emergency that prevents your return to the U.S. via the cruise. If you don't have a passport, you'll have significant hurdles to jump to get home. Specifically, you'll need to go to the U.S. embassy wherever you are and apply for an emergency passport, which can be quite expensive.
Missing the embarkation of the cruise
Another consideration: If you miss the cruise at the onset and you don't have a passport, there will be no way for you to fly and catch up with the boat. Earl Wentzel and his family found this out when they hit heavy traffic on the way to the port for their Mexican adventure aboard Carnival's Splendor and missed embarkation.
They missed the cut-off for boarding, but Carnival was willing to fly the family south of the border to meet the ship. Unfortunately, not all members of the family had passports, so it was impossible. Instead of relaxing on the deck sipping tropical drinks at the end of the day, the group found themselves on a flight back to where they started. The family's full story is here:
How to get a U.S. passport
You can avoid all of these unpleasant outcomes by getting yourself a passport. The State Department provides detailed instructions for you to apply for a passport book. The cost is $145 for a first-time adult applicant, and it's good for ten years.* That's a small price to pay for the security it will provide to you.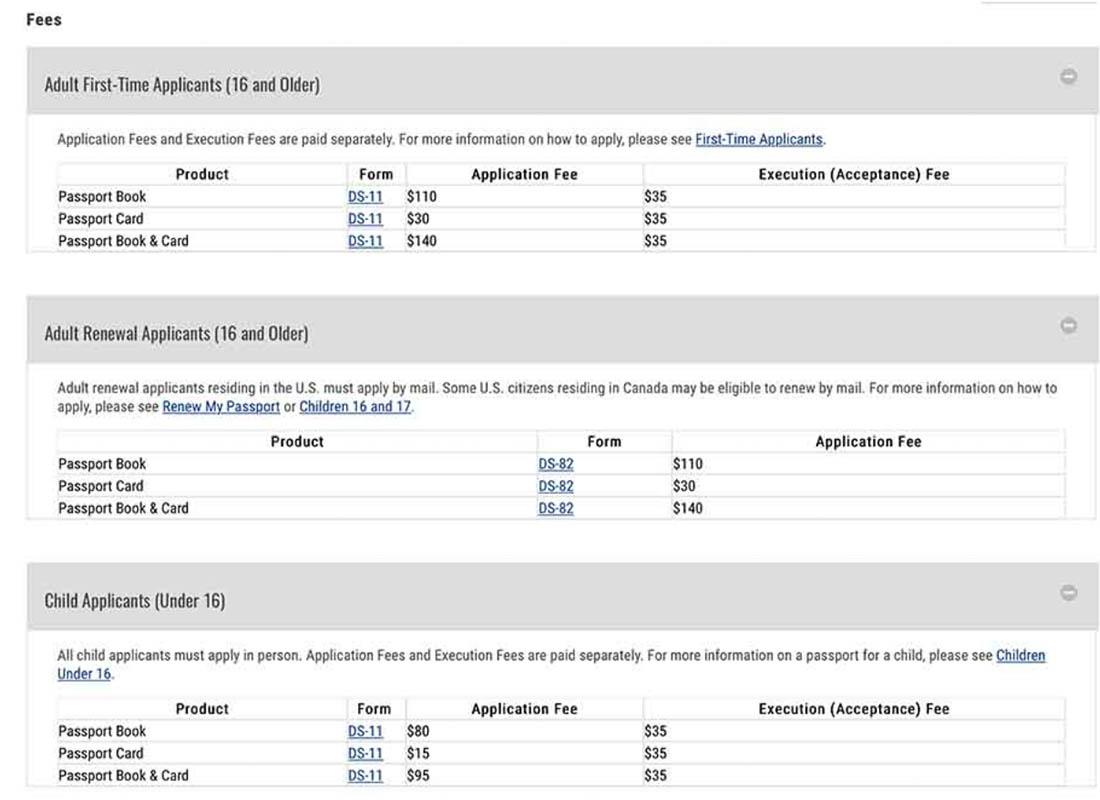 *Expert tip: Although your passport book is technically valid for ten years, make sure that you don't wait until the last minute to renew. Many countries will reject you for entry if you have less than 3-6 months available on your passport before expiration.
In 2023, there are extended processing times for U.S. passport applications:
10-13 weeks for a standard passport application
7-9 weeks for an expedited passport
If you've waited too long to apply, you may still be able to get an Urgent Travel appointment at a regional passport office. But these appointments are quite difficult to obtain. The first step is to call the U.S. National Passport Service at 1-877-487-2778 between 8 a.m. and 10 p.m. (Eastern), Monday through Friday. You can read more about how to get a passport fast in Consumer Rescue's guide.
Will a visa be necessary for your cruise?
Novice travelers may not be aware that a passport is not the only required documentation needed to enter some foreign destinations. A visa might also be necessary to take your cruise and if you don't get one beforehand you'll be out of luck.
Fortunately, the internet makes it simple to find out what identification you need to cruise to ensure that you don't get left behind as the ship sails away.
The U.S. State Department maintains a database of information about every country in the world — and it's easily available to you.
You can find everything you need to successfully navigate the globe via the State Department's website. You can check the passport and visa requirements, safety concerns, health issues and much more for all the destinations listed on your cruise itinerary.
Another great resource for travelers as they research the documents they'll need to take their cruise, is a tool provided by the International Air Transport Association (IATA). The Timatic personalized passport, visa and health tracker can decrease your chances of a denied boarding fiasco going down at your port of departure. You enter all of your personalized information into the program and the system tells you exactly what documents you need for your travels. The professional version of this tool is what the airlines use to determine if passengers have the correct identification for their journey.
Will I need a negative coronavirus test or vaccine?
In 2023, there are still destinations and cruise lines in which you will need to have proof of current vaccination against COVID and a negative coronavirus test.
It's imperative to check with your cruise line well in advance of your sailing to determine the current coronavirus testing requirements – or you could end up missing the cruise completely.
Passengers should be aware that being quarantined for coronavirus infections and close contact is still possible even. We've continued to receive complaints from passengers who have missed most of their cruise because of being quarantined on the ship.
This leads us to our next topic: travel insurance for your cruise.
Do I need travel insurance to take a cruise?
Yes, you will likely need travel insurance to keep yourself protected on your cruise.
Travel insurance doesn't just cover the cost of your vacation should you need to cancel. It can also pay for any medical expenses that happen abroad.
It's important to remember that most domestic health insurance policies will not cover you after you enter international waters. In fact, your standard Medicare policy will cease to provide coverage once you reach six hours out into the open sea. Unfortunately, Maureen Niland and her husband didn't know this when they set sail on Holland America's Eurodam. When her husband suffered a cardiac arrest and died soon after embarkation, HAL sent Maureen a giant bill. She was stunned to find out that Medicare would not cover it, and a horrible situation turned much worse for the grieving widow.
Medical treatment aboard a cruise line can hit your pocketbook hard. For peace of mind, you'll want to make sure that you have a medical insurance policy that will protect you should you need medical assistance while cruising.
A site such as InsuremyTrip can help you compare a variety of travel insurance policies.
(Note: Consumer Rescue is in an affiliate relationship with InsureMyTrip. That means if you use their service through that link, we may receive a small commission — at no cost to you. It's important to note, though, that I've been recommending InsureMyTrip for years prior to this affiliation. You can read more about our advertising policy here. )

Remember, no matter which trip insurance policy you purchase, you'll typically have 10-14 days to review all its details. During that time, make sure to read the entire document and ensure you've purchased the coverage you need. If you haven't, you can return it during that look-over period and start over with your search.
Note: If you have a pre-existing condition, you will likely need to contact the travel insurance company directly for more information.
*Coronavirus cancellation coverage: Unfortunately, we've not seen any insurance companies cover coronavirus cancellations unless the passenger actually contracted the virus. In fact, many of the policies we've reviewed have specifically excluded pandemics as covered events. You'll need to speak to your travel insurance provider directly to discuss your options if you wish to cancel because of a fear of a resurgence of the virus.
Should I fly on the same day as my cruise begins?
In a word: No. You should never schedule your flight on the same day as the cruise's scheduled embarkation.
Flying on the same day as your cruise is an unnecessary risk. Over the years, we've seen countless passengers miss their entire vacations because they pushed their luck and booked flights to arrive just hours before embarkation.
Remember, the Department of Transportation does not require an airline to reimburse you for delays. If you miss your cruise because your flight is delayed or canceled, you'll be on the hook for the consequences.
Is an airline required to reimburse me for expenses if it cancels my flight and I am forced to miss my cruise, honeymoon, wedding, concert, or other activity?

No. Airlines are not required to reimburse you for any trip costs affected by the cancelled flight, such as a prepaid hotel room, a cruise, a vacation, concert or other tickets, or lost wages.

U.S. Department of Transportation
It's essential to know that even insurance that covers flight delays may not cover your missed cruise. If you've booked the flight too close to embarkation, your insurance policy may have a clause that allows the company to reject your claim.
So you must give yourself plenty of buffer room when you're scheduling your flights as you plan your cruise. The wisest decision you can make is to schedule your arrival at least one day before the beginning of your cruise.
Warning: The consultants for the major cruise lines routinely book their clients on same-day flights. If you choose to use one of these booking agents, be forceful and refuse a same-day flight.
Should you buy a food or beverage package?
If you've decided to cruise on a line that is not all-inclusive, you have some decisions to make. A la carte food, specialty meals, and drinks can become quite pricey onboard your cruise ship. The good news is that the cruise lines offer promotional packages that can turn your vacation into more of an all-inclusive one.
We've received some controversial and unusual requests about some of these packages. Joan Barrett shocked our team when she asked us to mediate her complaint with Princess Cruises. The cruise line had put a 15-drink-per-day limit on her beverages package, and she wanted the limitation lifted. Joan believed that the restrictions had been placed after she purchased the package.
Although you're likely not looking to seal the deal on a plan that will allow you to drink endlessly on your cruise, a dining and beverage package is something you might want to consider.
Check your cruise line's website for all the current pre-booking drink and dining packages. If you have special dietary restrictions, you'll want to make sure that the cruise line will be able to meet your needs. Contact guest services well in advance of your journey to confirm.
Depending on the cruise line, you might be permitted to bring some drinks aboard with you. Some cruise lines forbid this practice. To make sure you don't run afoul of the contract of carriage and get booted off the vessel, review that document.
Your travel advisor can provide additional information and guidance on the food and drink possibilities onboard your cruise.
Tip: Join an online community of cruise enthusiasts like Cruise Critic. It's a great way to gather first-hand information and insight into your cruise line and its onboard policies.
Booking shore excursions
One of the exciting parts of going on a cruise is planning your shore excursions.
The same options that are available for booking your cruise are available to book your shore excursions. Each of these options comes with some pros and cons.
Book directly with the cruise line
These shore excursions are often more expensive than if you booked through a third party. However, when you book your adventure with the cruise line, you'll have the peace of mind that should your excursion get delayed, the ship will likely not leave without you. Or, at the very least, if the ship must go without you, you can be confident that the cruise line will arrange for your group to catch up to the boat.
Use a third-party booking agent or local provider
The internet makes shopping for independent shore excursions simple. Companies such as Viator (TripAdvisor) have endless options for day trips during your next cruise. One caveat: Avoid nonrefundable trips. Cruise line itineraries are always subject to change. If yours changes, you'll want to be able to easily cancel any shore excursions you've planned.
Ask your travel agent
Here's where a professional travel agent who knows your style of vacationing can provide tons of guidance. As they likely have booked many other clients on these excursions, that person will have invaluable insight for you. Your agent can book you directly with the cruise line or through a third-party agent. He/she can also help you should you encounter any problems during your adventure.
Tipping crew members on your cruise
One of the most hot-button topics to familiarize yourself with is the subject of tipping on your cruise. More specifically, the practice of auto-tipping is the most controversial topic.
What is auto-tipping, you might ask?
It's the practice of a cruise line telling you that tipping is not required. However… "for your convenience," a certain fee per person is added to your invoice each day. That is unless you opt out of automatic tips for your cruise.
Every cruise line that participates in auto-tipping lists the suggested gratuities in your contract. The problem is that many cruisers do not read through that lengthy document. As a result, more than a few passengers have been blindsided at the end of their cruise by the auto-tips.
Remember, cruise ship passengers are free to adjust these suggested tips up or down — or opt-out entirely. However, you must decide about auto-tipping before you disembark from the ship. You can visit guest relations at any time during your cruise to make these adjustments.
Whether you prefer to pre-pay, tip in cash, or maybe not even tip at all is a personal choice. But it's critical to understand your cruise line's policy so you don't get sticker shock at the end of your journey.
How to make sure you don't end up without clothes on your cruise
Unfortunately, many cruisers have come to us with terrible tales about cruising without their clothes. Whether by airline, cruise line, or passenger error, the results are all the same: a distressed traveler with no clothing.
You can cut down on the chances of ending up in this situation by:
Making sure that your bags have identification tags on the outside and the inside
At the airport, ensure that the airline agent has tagged your luggage to the correct destination.
At your arrival city, keep your eyes on your bags. Don't leave your belongings with airline or cruise line porters unless you receive a receipt. Ask for clear instructions about where your bags are going.
Never pack your passport in your luggage — unless you don't mind the possibility of missing your cruise entirely.
Don't assume someone else will bring your baggage to the port.
Be aware that the cruise lines' lost and damaged luggage liability limits are very low. Passengers should always purchase travel insurance which includes primary coverage for misdirected baggage. That way if the worst happens and your clothes don't make it to the ship, you'll be able to buy replacement items and receive reimbursement later. Make sure to keep all receipts.
If your cruise plans involve an overnight stay at a hotel before embarkation (which hopefully they do), make sure you understand how your luggage will get to the port.
Remember, unless a hotel specifically tells you that it's transferring your suitcases to the ship, it won't. Bring your bags to the hotel shuttle and ensure they're in the vehicle with you. When you arrive at the port, collect your luggage, and check in for your cruise.
Pamela Shane wished someone had given her this information before she left her luggage with a bellhop before her cruise. She thought her bags would be delivered to MSC's Seaside, but the hotel had no such service. As a result of this misunderstanding, Pamela took a cruise without her belongings.
Don't let that happen to you. Make sure that you do not leave your luggage anywhere unattended. You can be sure that if you do, you'll likely be cruising "clothes-less."
But if you do happen to find yourself onboard a cruise, separated from your clothing, contact your ship's guest relations. That team can help track down your missing luggage and often can provide you with some loaner clothes until your belongings are located.
Expert Tip: It's a good idea to pack a change of clothes, your bathing suit and some toiletries in your carry-on. That way, if the worst-case scenario happens and your checked bags get delayed, you'll be able to enjoy your cruise while you wait.
Bonus Tip: Take photos of everything in your baggage before you head to the airport. That will help should you need to make a claim with the airline or your travel insurance company later. But you'll want to make sure that you don't aim too high with that, or it could be rejected entirely. Check your contract of carriage and insurance policy for liability limits.
The cruise line changed my itinerary! Can I get a refund?
One aspect of cruising that never fails to shock novice cruisers is the fluid nature of itineraries.
Fact: When you book a cruise, you're booking a trip on a ship — not a journey to a guaranteed destination.
If you don't believe me, check your cruise contract. The information is all there. You should never book a cruise based on a must-see destination. Cruise itineraries can change at a moment's notice. Some of these changes can be minor — but there is no guarantee against a massive change in your itinerary. For instance, you may be planning for the Caribbean, but if a hurricane rolls in, you might end up going to Canada instead.
And the bad news about cruise itinerary changes? Passengers have no recourse in these situations. Your cruise contract explains that your itinerary can change for any reason the captain sees fit. International maritime law supports this policy.
Iris Fennel found this out in the most unpleasant way. For years, she planned for an unforgettable birthday cruise through the Baltic sea. It turned out unforgettable, alright — but for all the wrong reasons. Unfortunately, ongoing lousy weather made the entire cruise a dud. She missed most of her much-anticipated ports of call.
To avoid such terrible disappointment, consider purchasing insurance that covers cruise itinerary changes.
Avoid impulse buying during your cruise
One more frequent complaint I've received is from passengers who've made expensive and impulsive purchases during their cruise.
From jewelry to pricey art work to timeshares and more, the story is always the same — the cruiser wasn't prepared for the hard sell they encountered during their excursion. It's never a good idea to impulsively buy any expensive item you didn't thoroughly research and plan for. Unexpectedly spending thousands of dollars on something that wasn't in your budget can quickly ruin an otherwise lovely vacation.
Be aware that during a cruise excursion, salespeople might try to lure you into a store. They might invite you in for a free bracelet or cold drink. These breadcrumbs are all part of the sales pitch.
Once you're inside the store, the goal is to get you to make a purchase — and the bigger, the better. These salesmen know they have a limited amount of time to seal the deal. The sales tactics can be overwhelming for some cruisers not familiar with the song and dance. And although some consumers who have purchased thousands of dollars worth of jewelry have reported feeling intimidated during these shopping excursions inside upscale diamond shops, it's important to remember there is no physical danger
The best way to handle aggressive salespeople is to avoid them altogether. If you're not in the market for a piece of jewelry or art, etc., decline the invitation. Just keep walking past the shop. If you're already inside the store when you're feeling the pressure, get up and walk out. Under no circumstances should you hand over your credit card and buy something to ensure your release. Just leave.
How to make a complaint before, during, and after your cruise
If you have a complaint during your cruise, you should avail yourself of the guest services department onboard the ship. Those professionals dedicate themselves to resolving any problems you might encounter while you're on your trip. They can also answer any questions you might have about the vessel and any other aspect of the cruise.
If the issue appears after you've disembarked, you'll want to review all the tips in Consumer Rescue's guide to fixing your own consumer problem. That article provides step-by-step instructions to take your complaint to executives within the company who can help you.
If that doesn't solve your problem, you can request mediation through the Federal Maritime Commission.
And, of course, if all else fails, you can always submit your request for help to the Consumer Rescue team. Three hundred sixty-five days a year, the Consumer Rescue team is always here to help. (Michelle Couch-Friedman, Consumer Rescue)
Last Updated on September 13, 2023 by Michelle Couch-Friedman